East York Civic Centre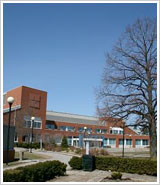 East York Civic Centre
850 Coxwell Avenue


(North-west corner of Coxwell Avenue and Mortimer Avenue)
Toronto, ON M4C 5R1
Public transit: subway to Coxwell, then O'Connor bus #70 north on Coxwell.
Accessible entrances and ramps
The primary accessible entrance to East York Civic Centre is from the fully accessible ramp located south of the main doors.
There is a door bell at the main doors that can be used to contact the Security Desk for assistance. See map for location.
Wheel-Trans
The Wheel-Trans drop-off and pick-up location is the accessible ramp near the main doors.
Parking
There is Municipal Parking (Green P) accessible parking at the base of the assessible ramp. See map for location. For more information please call 416-393-7275 or visit www.greenp.com.
Security Desk
Should you require accessibility information or assistance, please call East York Civic Centre Security at 416-397-4655. For general inquiries, please call 311.
Building hours
The building is open Monday to Friday from 7:30 a.m. to 9:30 p.m. and Saturday, Sunday and statutory/designated holidays from 8 a.m. to 6 p.m.
For details and business hours of specific counter services (e.g. marriage licences, building permits), please search the 311 Knowledge Base or call 311.