David Pecaut Square, South Kiosk: Space for Lease
215 King Street West, Toronto, ON, Canada
Property Type: Retail
Address: David Pecaut Square, 215 King St. W.
Unit number: N/A
Intersection: King Street West & John Street
Area (ft²): 55
Price range: Gross Licence for $3,300 per month plus HST (2015)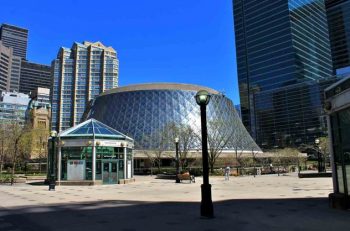 David Pecaut Square
_____________________________________________________
Interested in leasing this property?
Fill out and send us an Expression of Interest Form by fax, email or mail:
City of Toronto
Derek Wei, Property Officer
Leasing & Site Management
55 John St., 2nd Floor
Toronto, ON M5V 3C6
Phone: 416-392-1259
Fax: 416-392-1880
Notes
All measurements are approximate – irregular shape
The City of Toronto is seeking a tenant to operate the south kiosk in David Pecaut Square. Ideal for a food operator. Seasonal licence from April to October. Kiosk includes fixtures and equipment.David Pecaut Square is connected to the PATH System and adjacent to Metro Hall. Excellent visibility and high pedestrian traffic area. Unique views of Metro Hall, Roy Thomson Hall and the Royal Alexandra Theatre. Unique and rare opportunity.