New Community Council Boundaries for the City of Toronto
Update on Ward Boundaries and the 2018 Municipal Elections
On July 30, 2018, the Province of Ontario introduced Bill 5, the Better Local Government Act, 2018. The Bill received Royal Assent on August 14, 2018 reducing the number of Toronto City wards from 47 to 25 with the boundaries aligning with current federal and provincial electoral ridings. It is anticipated that the Minister of Municipal Affairs and Housing will be enacting regulations to provide further details to implement the new legislation. These changes will be in place for the October 22, 2018 municipal election.
The City Clerk will provide notice to candidates, electors and the public as it becomes available. Please visit Election Services for updated information, and visit the Ministry of Municipal Affairs and Housing to obtain additional information for the 2018 municipal election.
---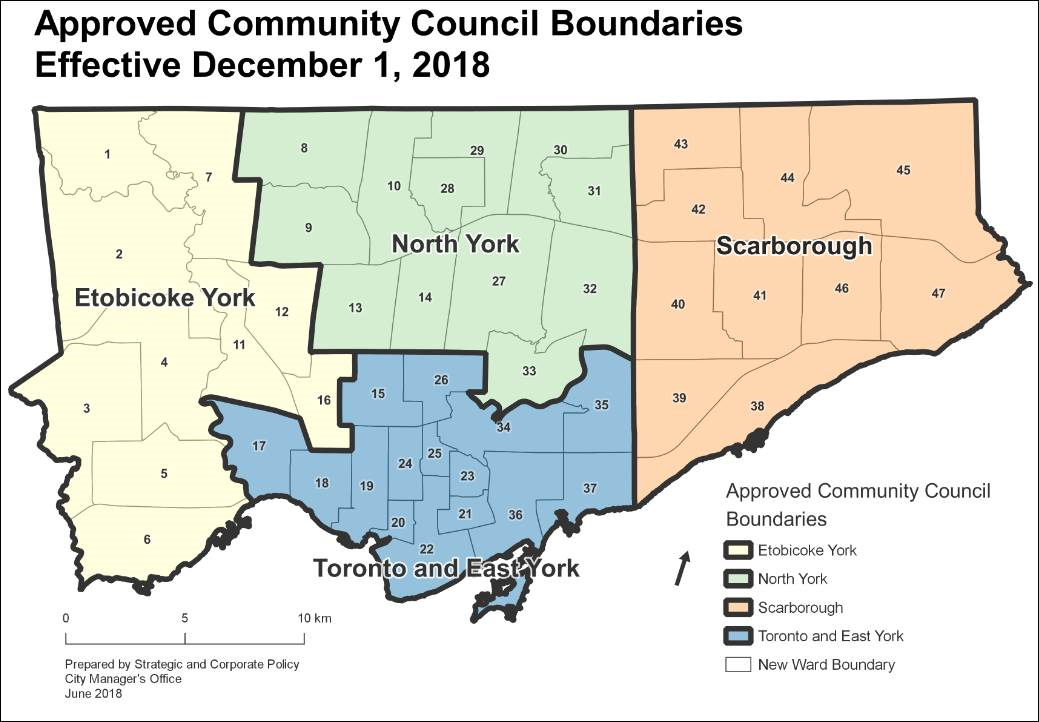 Community Councils are made up of groupings of City wards and their membership comprises the City Councillors of those wards. Each Community Council represents a geographic area of the city.
Toronto City Council adopted new Community Council boundaries because the City's ward boundaries will change on December 1, 2018. Currently, each of the four Community Councils have 10 to 12 wards, but the total number of wards is increasing from 44 to 47. The old Community Council boundaries would not have lined up with the new ward boundaries and adjustments were needed to accommodate the three new wards.
Confirming new boundaries before the end of the current term supports a smooth transition to the new Council term and the municipal election in October 2018.
What Community Councils Do
Community Council responsibilities include making recommendations and decisions on local planning and development, as well as neighbourhood matters including traffic plans and parking regulations.
Community Councils report to City Council but they also have final decision-making power on certain items, such as traffic and parking, fence by-law exemptions and appointments to local boards and Business Improvement Areas.
Additional information about the City's Community Councils, including information and agendas for past and upcoming Community Council meetings is regularly posted to the Toronto City Council and Committees portal.