How the City Works
Information about how the City operates, the City's Legislative Structure and other information to help residents understand, access and participate in the daily life of the City of Toronto.
The City of Toronto is your local government, also known as municipal government. In Canada we have three levels of government: federal, provincial and municipal. Each level has different responsibilities and often work together. The City of Toronto provides services that have a direct impact on our daily lives.
Federal
The federal Government of Canada is responsible for: national defence and Canadian Armed Forces, postal service, banking, employment, citizenship and immigration, census, foreign affairs and international trade, agriculture and more.
Provincial
The provincial Government of Ontario is responsible for: health, education, driver and vehicle licensing, energy, human rights, natural resources, environment, social services and more.
Municipal
The City of Toronto is your local government and is responsible for: water treatment, parks, libraries, garbage collection, public transit, land use planning, traffic signals, police, paramedics, fire services, sewers, homeless shelters, childcare, recreation centres and more.
City of Toronto facts
Home to about 2.8 million people
5,600 km of roads
6,000 km of water mains
84 fire stations and 45 ambulance stations
600 km of park trails
135 recreation centres
100 libraries
(Based on figures from 2014 and 2015.)
City of Toronto Learning Guides
These introductory guides summarize topics related to how the City of Toronto works, how decisions are made and what opportunities exist for Toronto residents to participate in a variety of issues:
Accountability
Affordable Housing
City Agencies and Corporations
City Council and its Committees
City Planning
Decision-Making
Elections
Role of the City, Provincial and Federal Government
Roles of the Mayor and City Council
Toronto Public Service
Ward All-Candidate Meetings
There are several ways that residents and visitors to Toronto can learn more about the City of Toronto through YouTube:
City of Toronto YouTube Channel 
Learn more about your city, its programs and services, and how to get involved through a series of videos on the City of Toronto's official YouTube channel.
Toronto City Council Live YouTube Channel
Watch meetings of Toronto City Council and the Standing Committees of Council broadcast live on the Toronto City Council Live YouTube Channel operated by the Toronto City Clerk's Office. Accessing information about items being considered by Committee and/or City Council in tandem with the City Clerk's Office's Meetings, Agendas and Minutes website.
Get Involved Toronto YouTube Channel
Watch public consultations and other opportunities for public engagement, participation and public input with the City of Toronto on  a variety of issues and subject matter on the City's Get Involved Toronto YouTube Channel.

City Council is made up of 45 members: the Mayor, who is elected city-wide, and 44 Councillors who are elected in each ward across the city.
The Mayor provides leadership to City Council and:
represents Toronto across Canada and around the world
works with different levels of government
chairs the Executive Committee
appoints Councillors to chair the Standing Committees of City Council
Councillors talk to residents, businesses and community groups about City programs and services and listen to their concerns. Councillors:
attend City Council and Committee meetings
sit on the boards of City agencies and corporations
propose changes to the decisions City Council makes
introduce motions to propose action or raise awareness of issues
hold or attend community meetings to get input from the public
host or get involved in community events
help people access City services
Standing Committees & Community Councils
Some Councillors take on additional roles by chairing Committees or boards.
The mayor and Councillors must balance the needs of many different communities and interests across the city. In order to manage their workload and study items in greater detail City Council uses a system of Committees. There are two types of Committees: Standing Committees and Community Councils. City Council also manages its workload by delegating certain responsibilities to City boards.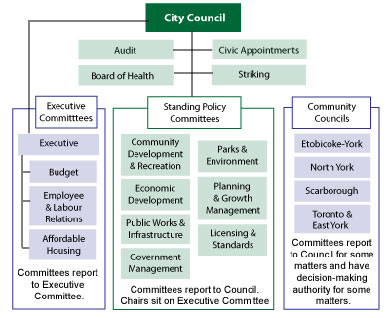 Committees are each made up of between 3 and 13 Councillors. Committees hear from the public and make recommendations to City Council on specific items. City Council and its committees meet on a 4 to 5 week cycle throughout the year. Each cycle starts with committee meetings and ends with a full City Council meeting.
Standing Committees make recommendations on city-wide issues, such as parks, budget, roads and bridges, garbage and recycling, housing, planning, economic development, licensing and more. Final decisions are made at City Council meetings. There is an Executive Committee, chaired by the Mayor, as well as seven Standing Committees: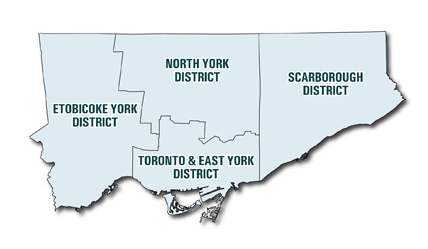 Community Councils make recommendations on local issues such as traffic lights, tree removal, parking permits, fence bylaws, appointments to local boards, local planning and development applications and more. They can make some final decisions without going to City Council. There are four Community Councils and each represents an area of the city:
Boards of agencies and corporations govern and manage various City services on behalf of City Council. Boards of agencies and corporations include both Councillors and members of the public who contribute their skills and experience to the running of the City. Examples of agencies and corporations include the TTC, Toronto Zoo, and Toronto Hydro.
The City of Toronto Act is legislation provided by the provincial government. The Act gives the City power to make decisions and provide the services and programs the public needs.
When a new City Council is elected, City staff prepare briefing material for all Councillors. These briefing binders contain information on the wide range of programs, policies, and issues Councillors need to know about. The 2014 briefing material is available online. It is an excellent resource for anyone interested in learning about many of the things City Council discusses.
City Council Briefing Book: Volume 1 (444 pages, 20.3 MB)
City Council Briefing Book: Volume 2(385 pages, 16.9 MB)
Follow Civic Engagement on Twitter