2014-2015 Poverty Reduction Strategy Engagement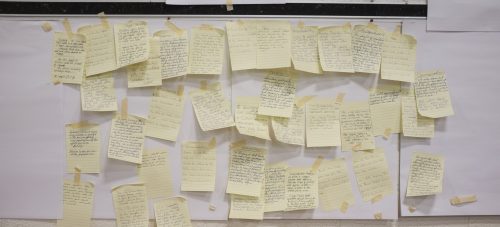 Between October 2014 and September 2015, staff in Social Development, Finance and Administration and Toronto Employment and Social Services worked with a community advisory committee, resident animators with lived experience of poverty, United Way Toronto & York Region, and a variety of community groups to engage over 1,950 residents from across the city. This engagement took place through:
11 citywide public meetings;
117 community-led conversations;
a full-day multi-sector dialogue;
four roundtable discussions with sector experts; and,
two online questionnaires for residents.
In September 2015, as per Council direction, the Interim Poverty Reduction Strategy was considered at 11 Standing Committees, Budget Committee and the Boards of the Toronto Public Library, Toronto Public Health, and the Toronto Transit Commission. An additional 117 residents shared their thoughts and experiences through this process.
Once TO Prosperity was approved, on November of 2015, City staff started to build an Implementation & Accountability Structure. In 2016, the focus of this work was the creation of the Lived Experience Advisory Group (LEAG). In 2017, City staff will provide the supports LEAG members require to become effective poverty reduction partners and advocates, while continuing the work on the creation of an inclusive implementation and accountability structure.