2018 Key to the City
2018 Key to the City Recipients – Presented by Mayor John Tory
Zanana Akande
Officially presented June 23, 2018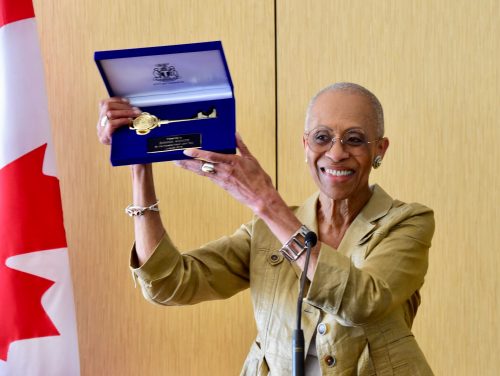 Official citation: After serving for many years as an educator, Zanana Akande was the first Black woman elected to the Legislative Assembly of Ontario and the first appointed as a Cabinet Minister. She has served many organizations over the years including the YWCA, Centennial College, Harbourfront Centre and the Urban Alliance on Race Relations. Zanana is presented with a Key to the City for dedicating her life's work to addressing equity issues in the community and improving the social, economic, cultural and political status of women in Toronto.
Susan Gapka
Officially presented May 17, 2018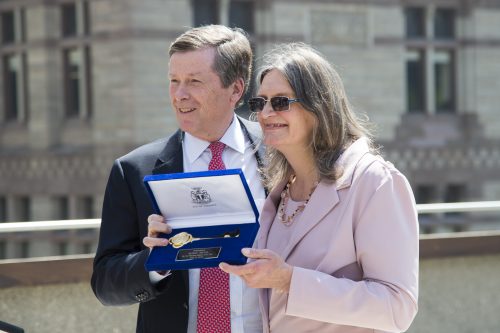 Official citation: Susan Gapka is well-known as a tireless and effective campaigner for social justice. Susan is presented with a Key to the City for her long and proud record of addressing issues related to affordable housing, education, mental health, and community safety in the LGBTQ2S community. Susan has actively contributed to organizations such as Central Neighbourhood House, the 51 Division Community Liaison Police Committee, the Mental Health Commission of Canada, Save Our Structures, and the Toronto Trans Coalition Project.
Wilmot and Judy Matthews
Official presentation date TBA
Official citation: Judy and Wilmot (Wil) Matthews are civic leaders and philanthropists who give to a wide variety of Toronto-based organizations that support education, medical research and advancement, culture and city-building initiatives. As passionate Torontonians, they are deeply committed to enriching the city and its residents. Will and Judy are presented with a Key to the City to honour their philanthropic work including their $25 million donation to The Bentway, a unique and innovative public space that transforms 1.75 km underneath Toronto's Gardiner Expressway into a vibrant new gathering place for our city's growing population.
Patricia Moore
Officially presented June 30, 2018
Official citation: Patricia Moore has lived in Flemingdon and Thorncliffe Park for more than 40 years. Patricia is presented with a Key to the City for working tirelessly to ensure that those without a voice in our city, have one. She is known as an advocate for the underdog on issues related to housing as well as youth and women's rights. Over the years, her work has contributed to the creation of tenants' associations, which help to protect the rights of tenants, as well as more available co-op housing within the community. She has raised awareness of the need to stop violence against women and has created community programs to support the growing youth population in her neighbourhood.
Peter Oundjian
Officially presented June 22, 2018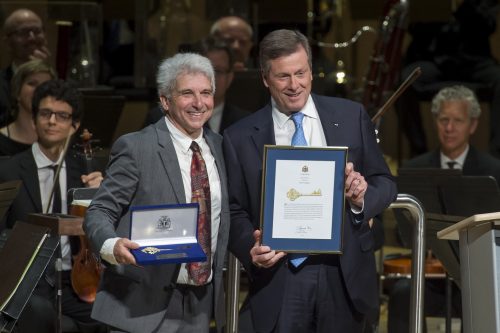 Official citation: Peter Oundjian began studying the violin at age seven, before shifting his focus to conducting. After serving as Artistic Director of several international festivals and orchestras, he was named Music Director of the Toronto Symphony Orchestra (TSO) in January 2003 and became the first Canadian to hold the position since 1973. Peter is presented with a Key to the City for invigorating the TSO with recordings, tours, and innovative programming during his tenure. He found ways to grow the audience and improve appeal of the TSO which has strengthened the ensemble's presence and popularity around the world. As Conductor Emeritus, his final season culminated in June 2018 as part of a month-long musical celebration of his career.
Fran Sonshine
Officially presented June 25, 2018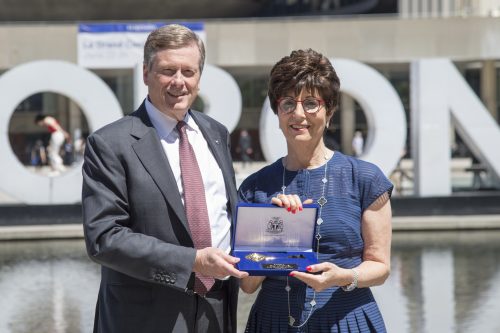 Official citation: Fran Sonshine is presented with a Key to the City for being a philanthropic and volunteer leader in Toronto. She is the National Chair of the Canadian Society for Yad Vashem, which seeks to promote awareness of the Holocaust and its universal lessons through educational and commemorative programming, and played a key role in fundraising to build Canada's Holocaust Monument in Ottawa. Fran has participated on several boards in Toronto including the Baycrest Centre Board, North York General Hospital Advisory Board, the ROM Board of Governors and the Toronto United Jewish Appeal's Annual Campaign. Fran has been honoured with numerous awards for her contributions to many organizations and campaigns.