#TorontoStrong Vigil
This short video captures the emotion of the Toronto Strong Vigil and was created by award winning documentary filmmaker and Toronto resident, Rouzbeh Heydari. The soundtrack, Amazing Grace, was performed by The Choir of Metropolitan Community Church of Toronto – featuring Stephanie Martin. The choir was part of the Vigil program.
Thank you for joining the Toronto community and supporting those impacted by Monday's tragedy at the #Toronto Strong Vigil on April 29. The event was hosted in collaboration with community groups Faith in the City and the Toronto Area Interfaith Council.
Hosts
Lily Cheng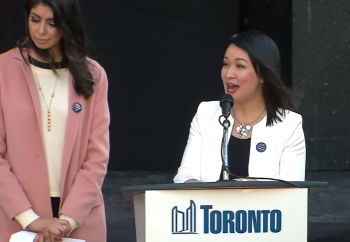 Lily Cheng is a mom of two and a passionate community builder. She is founder of North York Moms with over 7,000 members and co-founder of We Love Willowdale.
Pooja Handa
Pooja Handa is a veteran Toronto broadcaster with more than a decade of experience. She is a co-host of CP24 Breakfast and spends her time giving back to her local community through a variety of events and mentoring opportunities.
Dwight Drummond
Dwight Drummond has been a reporter and news anchor for over two decades and is currently the co-host of CBC NewsToronto. He has received numerous awards for his reporting and commendations for his community work.
Reverend Alexa Gilmour
Alexa Gilmour is a well-known dedicated community builder, and devoted local faith leader. She is Minister at the Windermere United Church in Toronto as well as Chair of Stone Soup Network.
Speakers
Willard Metzgar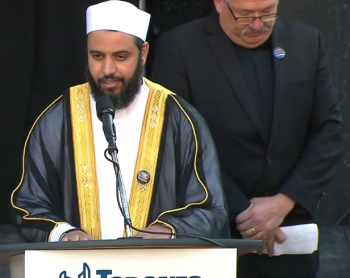 Willard Metzger is Vice President of the Canadian Council of Churches and has served as a pastor for two decades with the Mennonite Church. He is also a speaker, author and teacher.
Imam Refaat Mohamed
Refaat Mohamed was born and raised in Egypt and a graduate of the prestigious Islamic university of Alazhar Egypt and has served as a religious scholar Imam in Canada since 2007. Currently, he is the founder and Imam of Alabrar Muslim Association Aurora and V.P. of the Canadian Council of Imams.
Pandit Suraj Persad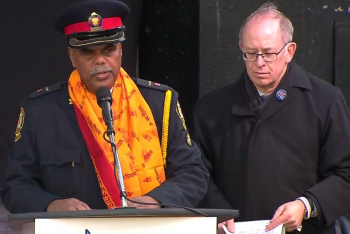 Suraj Persad is the Hindu Chaplain with the Multi-Faith Campus Chaplains Association of the University of Toronto and the Multi-Faith Chaplaincy of the Toronto Police Service. She is also the president of the Hindu Dharma Mission (Canada).
Rabbi Baruch Frydman-Kohl
Rabbi Baruch Frydman-Kohl is the Anne and Max Tanenbaum Senior Rabbi of Beth Tzedec Congregation, the largest synagogue community in Canada.
Rabbi Yael Splansky
Yael Splansky is the Senior Rabbi of Holy Blossom Temple, Toronto's first synagogue, founded in 1856. Rabbi Splansky currently serves on the executive committee of the Toronto Board of Rabbis. Her contributions to interfaith relations include organizing seven Rings of Peace around local mosques in response to the horrific shooting in Quebec City.
Venerable Dr. Bhante Saranapala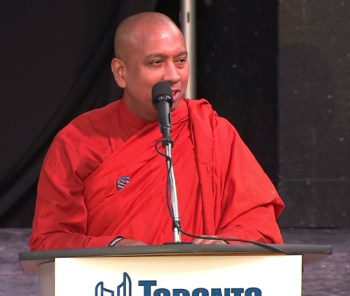 Venerable Bhante Saranapala, well known as the Urban Buddhist Monk, is the deputy abbot of the West End Buddhist Temple and Meditation Centre and global mindfulness meditation teacher. A recipient of the Canada 150 Medal and Sesquicentennial Community Award, Bhante Saranapala also serves as the Buddhist Chaplain of the University of Toronto.
Eva Goldfinger
Eva Goldfinger is from the inter-faith team was originally ordained by the Leadership Conference of Secular and Humanistic Jews ("LCSHJ") as a "Leader/Madrikha" and certified as a "Philosophical Counsellor". She was later ordained as a Rabbi and has been an educator, therapist and spiritual leader for the Oraynu for many years.
Cardinal Carter Academy for the Arts and Earl Haig Claude Watson Secondary Arts Combined Choir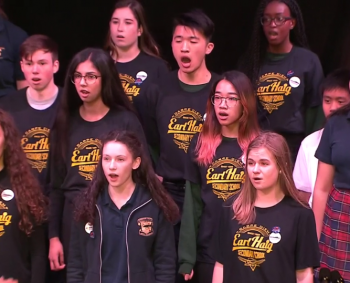 The Claude Watson Arts Program at Earl Haig Secondary School, and the Cardinal Carter Academy for the Arts are two enriched arts programs in the North York community. The choirs from both vocal programs are recognized for their excellence in performances at festivals, concerts, and community events. The combined choir features vocal students from grades 7 to 12.
Choir of Metropolitan Community Church of Toronto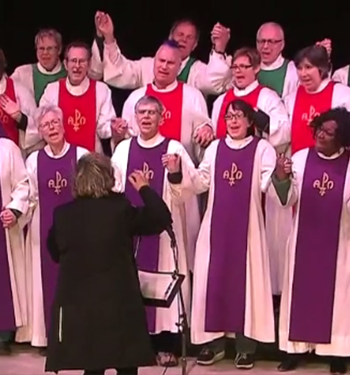 The Choir of Metropolitan Community Church of Toronto is the Chancel Choir for the Metropolitan Community Church of Toronto and also performs at many different functions throughout each year including Pride Toronto festivities.
Red Spirit Singers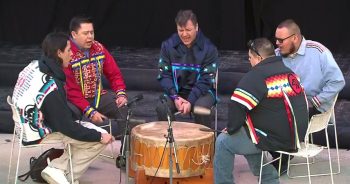 The Red Spirit Singers consist of First Nations people from the Ojibway, Cree, Mic Mac, and Dakota Nations. They have performed at Pow Wows, cultural presentations and opening ceremonies including the World AIDS Conference and World Youth Day in Toronto.
Toronto Children's Concert Choir & Performing Arts Company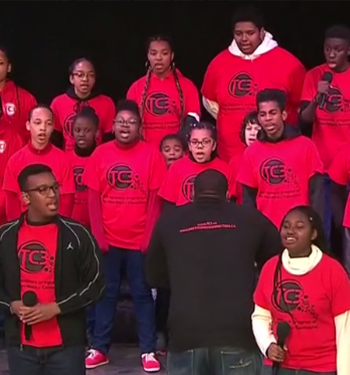 The Toronto Children's Concert Choir & Performing Arts Company (TC3), is an arts initiative for youth ages 7 to 18. TC3 is the signature program of The HopeWorks Connection, working to empower youth through the performing arts, academics and relieving poverty.
Toronto Jewish Chorus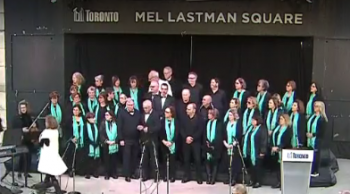 Founded in 2009, the Toronto Jewish Chorus has performed at The Toronto Jewish Film Festival, Toronto Jewish Music Week, as well as numerous theatres and temples.
The choir is led by Judy Adelman Gershon, and joined by Ellen Meyer, pianist and Ines Pagliari, violinist.
Willowdale Community Choir
Under the direction of Dr. Melissa Davis, Assistant Professor of Music and Worship Arts at Tyndale University, singers from Tyndale University, the Peoples Church, Evangel Temple and throughout the GTA have joined forces at this time to offer hope and healing to a hurting community through the powerful message of the Gospel of Jesus Christ.
Thank you to the many community members, organizations and businesses who donated time or resources to the #TorontoStrong Vigil.
People
Lily Cheng, We Love Willowdale
Dwight Drummond, CBC
Minister Alexa Gilmour, Windermere United Church
Pooja Handa, CP24
Organizations
Faith in the City
Government of Ontario – Office of International Relations & Protocol
Hong Fook
St. John's Ambulance Dog Program
The People's Church
Toronto District School Board (Ted Liberal & Patrick Mohammed)
Toronto Area Interfaith Council
University of Toronto
Victim Services Toronto
We Love Willowdale
Businesses
Ahbi at Print2Go
Lowblaw
Starbucks
Safety GWL Realty Advisors Inc. (Victor Hill & Gabor R. Szabo)
Toronto Centre for the Arts