Toronto Public Health
Toronto Public Health reduces health inequalities and improves the health of the entire population by delivering services that meet community health needs, comply with Ontario Public Health Standards, and make wise use of human and financial resources.
Toronto Public Health reduces health inequities and improves the health of the whole population.
Toronto Public Health (TPH) reduces health inequities and improves the health of the entire population by delivering services that meet community health needs, comply with Ontario Public Health Standards, and make wise use of human and financial resources.
2018 Budget Summary
The total cost to deliver these services to Toronto residents is $251.292 million gross and $63.185 million net.
For 2018, TPH identified $1.242 million in opening budget pressures arising from the annualized impacts of new & enhanced priorities approved in 2017, salaries & benefits and inflationary increases applied to contracts.  TPH was able to offset the opening pressures through expenditure reductions, service efficiencies and revenue increases. Funding to conclude the 6-year expansion for Nutrition Program, provide year-4 funding and 15% expansion for Toronto Urban Health Fund and to support other two new initiatives (Immunization of School Pupils Act and Adult Ontario Works Dental Services) results in a net increase of $2.4 million.
Fast Facts
Toronto Public Health is one of 36 public health units funded by the Ministry of Health and Long Term Care (MOHLTC).
The average lifespan of Canadians has increased by more than 30 years since 1900s, from an average life span of 65 years in 1970, to over 85 years in 2010. 25 out of the 30 year gain in life expectancy are attributable to advances in public health.
The Return on Investment (ROI) in Public Health services is considerably high, as an example, every $1 invested in Mental Health & Addictions saves $30 million in lost productivity and social costs and $1 invested in immunizing children saves $16 in health care costs.
Trends
Since 2015, the amount of funding for 100% provincially funded programs has increased from $49.0 million to $51.5 million in 2017. The increase is due to the addition of new programs like Harm Reduction Program Enhancement, Smoke Free Ontario and Healthy Smiles Ontario.
With the City's increased investment in the 100% municipally funded Student Nutrition Program, the municipal cost per person for Public Health has also gradually increased from $21.90 in 2015 to $23.10 in 2017 and is projected to further increase in future years.
Key Service Deliverables for 2018
Toronto Public Health offers a diverse range of public health programs and services to Torontonians as per its legislated mandate.
The 2018 Operating Budget will enable TPH to continue to:
Collect, assess, monitor and report data for deaths in the homeless population.
Conduct 100% of mandatory annual tobacco vendor Display and Promotion inspections, bi-annual Youth Access inspections, and annual secondary school inspections (SFOA)
Inspect 3,800 critical and semi-critical personal services settings (PSS) and 1,000 licensed child care facilities.
Provide case management for 100% of all TB cases for the 6-24 months required for cure, to prevent further spread and development of drug resistance.
Investigate and provide follow up for over 16,000 confirmed cases of Chlamydia, gonorrhea, syphilis and HIV.
Inspect 16,227 food premises and receive and respond within 24 hours to reports of suspected and confirmed blood-borne illness or outbreaks, unsafe food handling practices, food recalls, adulteration, consumer complaints and food-related issues.
Update TPH Emergency Plan, Risk Specific Plans and Supporting Documents.
Deliver 65,000 educational sessions to improve families' knowledge in healthy pregnancy, positive parenting, healthy eating and breastfeeding to enable children and parents to attain and sustain optimal health and development.
Assess 100% of immunization records for 5 to 17 year old children.
Provide dental care to 19,322 children and youth, 5,884 adults and 11,650 seniors.
Our Key Issues & Priority Actions
Increased demand for health related education due to increased legislative requirements (including the new federal legislation for Cannabis in Canada, effective July 2018) is a challenge for Toronto Public Health.

Collaborate with schools and post-secondary institutions to enhance knowledge and awareness of Cannabis legislation and health impacts for youth and young adults.
Integrate the Child Friendly Policy Framework across City Divisions to proactively embed a 'child lens' into the development of new municipal healthy public policies going forward.
Develop new and strengthen existing partnerships with other city divisions to implement innovative cross-city initiatives to improve the determinants of health.

The 2018 Operating Budget includes base funding of $0.400 million for the implementation of the Toronto Overdose Plan.
2018 Operating Budget Highlights
The 2018 Operating Budget for Toronto Public Health is $251.292 million gross and $63.185 million net representing an increase of $2.358 million as compared to the 2017 Approved Operating Budget. Savings were identified through the following measures:

Base expenditure reductions ($0.059 million).
Revenue changes ($0.021 million).
Efficiency savings ($0.124 million).

Staff complement will increase by 13 positions from 1,855.9 to 1,868.9 positions in 2018.
New and enhanced funding ($4.273 million gross & $2.379 million net) is included to conclude 6-year expansion for Student Nutrition Program, year 4 funding and further 15% expansion for Toronto Urban Health Fund, to ensure compliance with Immunization of Schools Pupils Act and for Adult Ontario Works Dental.
The 2018 Operating Budget provides funding for:

Creation of healthy environments to reduce the risk of chronic diseases and injuries.
Emergency Preparedness and Family Health.
Prevention and control of communicable diseases.
Toronto Public Health (TPH), under the provincial Health Protection and Promotion Act, is committed to reducing health inequalities and improving the health of Toronto's diverse communities by delivering services that meet their health needs and anticipating and responding to emerging public health threats.
Toronto Public Health's (TPH) 2018-2027 Capital Budget and Plan has been established to support its strategic direction to invest in information technology (IT) to support improvements in service delivery.
The investments in technology will assist TPH to meet the public's demand for access to TPH information and services, enhance its ability to collect and share critical health information, improve access to quality information, and improve services by improving workforce skills and abilities to provide high quality service to clients.
The 10-Year Capital Budget and Plan of $25.417 million addresses changes in provincial legislation and is established to leverage provincial resources, as well as other City of Toronto initiatives, to reduce project development costs.
The 10-Year Capital Plan will decrease TPH's future year Operating Budgets by a total of $0.128 million net over the 2018 – 2027 period, primarily as a result of efficiencies realized from the completion of 6 capital projects.
Where does the money go?
The 2018 – 2027 Capital Budget and Plan totalling $25.417 million provides funding of:
$0.164 million for one legislated, 100% provincially funded project for the ongoing development and implementation of the pan-Canadian Panorama System for infectious disease control. This project will improve exchange of information with other jurisdictions in the province and across Canada.
$7.974 million to continue the state of good repair projects to enhance or replace systems that have reached their end of life due to obsolete technology such as the Community Health Information System, Chemical Tracking Information System, Inspection Management, Reporting Environment Enhancement and Early Abilities Information System.
$17.279 million for Service Improvement projects that will fund new systems such as data warehousing and electronic medical records systems for better planning, managing, monitoring of information, integration and replacement of multiple business systems, and establishment of enhanced systems.
Where does the money come from?
The 10-Year Capital Plan requires:
Debt funding of $25.253 million or 99.4% of total funding, which is at the debt target over the 10 years.
Provincial funding of $0.164 million or 0.6% to provide funding for the Legislated Infectious Disease Control System capital project.
State of Good Repair Backlog
TPH has no facility State of Good Repair (SOGR) backlog as all capital facility projects were transferred from TPH and consolidated within the Facilities Management and Real Estate Capital Budget to ensure consistency in maintenance standards across the City facilities.
The 2018-2027 Capital Budget and Plan includes funding of $7.794 million for several State of Good Repair projects aimed at life cycle replacement or enhancement of various software systems/applications managed by TPH.
Key Issues & Priority Actions
Demand for Online Access to Government Services and Information is one of TPH's service priorities. Several IT projects included in the 10-Year Plan are aimed at improving the use of Social Media channels and mobile applications.

Public eLearning to enhance public health education and learning for Toronto citizens electronically.
Public Notifications & Advisories to enable public access via mobile devices and receive automatic information alerts.
Mobile Enablement to provide access to information pertaining to pre and post-natal support, health alerts, and agencies providing public health services.

Service Metrics and Real Time Quality Data is critical for efficient service delivery and accountability.   TPH strives to provide tools and systems that staff need to enhance performance and provide high quality service to clients.

DataMart Data Warehouse will support further improvements in reporting, performance measurement and decision making across data sources within different programs offered by TPH.
2018 Capital Budget Highlights
The 2018 Capital Budget for Toronto Public Health of $3.182 million, excluding carry forward funding, will:
Continue the Community Health Information System project to enhance the Toronto Community Health Information System.
Begin the DataMart Data Warehouse-Phase 3 project to better monitor performance and analyze trends to adjust programs and meet mandatory requirements.
Begin the Electronic Medical Records Phase 3 project to provide a comprehensive electronic record of patients' health-related information.
Continue the Dental and Oral Health Information System project that will improve business processes and information sharing through process redesign, automation and system integration.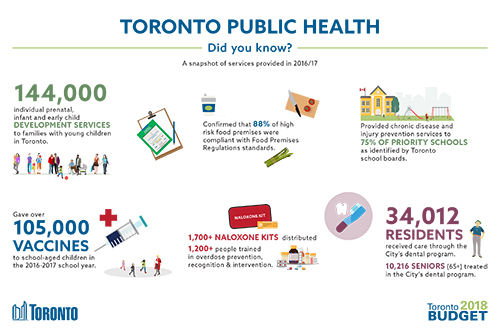 Toronto Public Health Infographic