Toronto Transit Commission
The TTC provides Conventional Transit service for an estimated 539 million rides with service that spans 247 million kilometres and 9.2 million hours in 2018. Wheel-Trans provides door-to-door accessible transit service on 4.8 million rides for riders with physical disabilities.
Budget Notes
The TTC strives to provide safe, reliable, courteous and efficient regular transit services to the public.
View the TTC Program Map in greater detail.
The TTC provides Conventional Transit service for an estimated 539 million rides with service that spans 247 million kilometres and 9.2 million hours in 2018.  Wheel-Trans provides door-to-door accessible transit service on 4.8 million rides for riders with physical disabilities.
2018 Budget Summary
The total cost to deliver Conventional and Wheel Trans services to Toronto residents is $1.978 billion gross and $722.266 million net.
The 2018 Operating Budget includes increased funding of $23.025 million gross and $32.742 million net primarily the result of operations related to the opening of the TYSSE line, continued PRESTO implementation, legislative changes related to Bill 148 Fair Workplace Act and the loss of $4.6 million in revenues.
Fast Facts
TTC is the largest City transit service in Canada and third largest in North America.
TTC operates 800 subway cars, 260 streetcars/ LRVs and 1,900 buses to transport 539 million riders with a staff of 5,700 operators.
The Yonge-University-Spadina subway line is the busiest TTC route carrying 780,000 riders per day, followed by the Bloor-Danforth subway line carrying 550,000 riders per day.
Wheel-Trans operates 201 accessible buses to transport 4.1 million riders projected in 2017 with a staff of 351 operators.
Trends
The budgeted ridership for 2018 is 539 million rides, representing a 3.4 million increase over the 2017 projection but a decrease of 4.4 million rides from the 2017 budget of 543.8 million.
The total projected ridership growth of 0.6% for 2018 is not as aggressive in comparison to the ridership forecasts in the 2016 and 2017 budgets. The forecast is impacted by economic growth, service improvements including Go Co-Fare, TYSSE new ridership, subway closures, elimination of Public Tax Credit, and changing fare media including decreasing Metropass/Day Pass sales.

Future year ridership projections will be updated in 2018 pending completion of the Ridership Growth Strategy.
Key Service Deliverables for 2018
TTC and Wheel-Trans are responsible for providing transit service to the people of Toronto.
The 2018 Operating Budget will enable the TTC Program to continue to:
Provide transit service to an anticipated 539.4 million riders, representing a 3.4 million, or 0.6% increase over the 2017 ridership projected year-end ridership of 536 million rides.
Provide rail, streetcar and bus service spanning 247 million kilometers and 9.25 million hours of service.
Operating the new Toronto York Spadina Subway Extension (TYSSE).
Maintain 2017 Service levels with no fare increase.
Wheel-Trans Service:
Accommodate an 11.5% increase in ridership over 2017 projected year-end ridership incorporating new AODA classifications on disabilities and eligibility criteria.
Improve customer service telephone performance by reducing wait times and call abandonment rates to industry standards.
Prepare for evolving service delivery methods, and increase efficiency on Wheel-Trans Buses
Our Key Issues & Priority Actions
Maintain service levels and accommodating growing ridership demand.

Budgeting for an anticipated 539 million rides in 2018.
Maintaining 2017 service levels provided to customers.
Operating TYSSE
No fare increase proposed for 2018.

Modernization Investment and Impacts on Service Delivery–

Implementation of Presto and impacts on fare media offerings, installation of gates and adoption rates in 2018.

Assumed average 2018 adoption rates of 45% in 2018 – 2% increase in average adoption rates will result in additional 2018 transitional costs of $1.1 million.
1% change in average fare results in $5.4 million pressure.

Implementation of ATC and One Person Train Operations..
SAP Financial and Vision System enhancements to improve service delivery
2018 Operating Budget Highlights
The 2018 Operating Budget for TTC is $1,978.5 billion gross and $722.266 million net representing an increase of $32.742.2 million or 4.7% to the 2017 Approved Operating Budget. The TTC could not meet the budget target largely due to impacts from prior year decisions.

Opening of the Toronto York Spadina Subway Extension (TYSSE) – $25.3 million (Net)
Continued implementation of PRESTO – $8.2 million
Bill 148: payment of 2 Emergency Leave days – $4.1 million

The 2018 Operating Budget provides funding for:

TYSEE – An additional 96,000 hours of service to operate the TYSSE.
The operation and maintenance of 6 new subway stations.
Bill 148 –Address emergency leave provisions in the act.
VISION – the system will enhance route management to improve on-time performance and reliability.
The Toronto Transit Commission delivers transit services with an estimated 539.4 million riders in 2018, using buses, subway trains, rapid transit trains, light rail vehicles (LRVs), and the new streetcars that began service in the fall of 2014.
The TTC is responsible for the stewardship of transit assets with a total estimated replacement value of $15.973 billion to ensure that vehicles, subway tunnels, subway track, surface track, bridges and other facility infrastructure are maintained in a state of good repair.
The TTC's 10-Year Capital Plan, excluding funding carried forward from 2017, totals $6.290 billion and focuses on meeting three key objectives: the replacement of existing vehicles and the addition of growth vehicles to meet ridership demand; the associated facility construction and improvements to accommodate those vehicles; and maintaining track, tunnels, bridges and buildings in a state of good repair.
In addition to TTC's base capital program, the 10-Year Capital Plan funds projects focused on transit expansion for planning and preparing the Scarborough Subway Extension, as well as planning and design work for components of the Waterfront Transit Reset and the Relief Line.
Where Does the Money Go?
The 2018 – 2027 Capital Budget and Plan totalling $6.290 billion provides funding for:
SOGR projects totalling $5.144 billion or 81.8%

$3.396 billion to continue the state of good repair projects for transit related infrastructure and vehicle replacement.
$766.935 million to rehabilitate, repair and maintain the transit facilities, and support Automatic Train Control (ATC) on Line 1.

Growth related initiatives totalling $291.8 million in part to support the McNicoll bus garage facility and the property acquisition for the new Subway Maintenance and Storages Facility.
Service Improvements of $208.5 million; mainly related to the purchase of "Run as Directed" buses ($82.010 million).
Legislated projects of $645.744 million; primarily for the Easier Access Program ($471.728 million) to ensure AODA compliance by 2025.
Where Does the Money Come From?
The 10-Year Capital Plan requires:
Debt funding of $1.815 billion (29%), which is $585.0 million below the Program debt target as a result of the application of incremental gas tax in lieu of debt.
Funding of $264.341 million (4.2%) to be provided from reserve/reserve funds including Capital Financing Reserve.
$78.903 million in funding from Development Charges for a total of $516.404 million (8.2%).
Provincial/Federal grants of $3.541 billion (56.2%) includes additional Provincial Gas Tax funding of $585.126 million along with $557 million of Public Transit Infrastructure Fund (PTIF) funding.
Other Revenue funding of $153.5 million (3%).
State of Good Repair Backlog
The 10-Year Capital Plan's spending on State of Good Repair is $5.144 billion which will not be adequate to reduce the accumulated backlog of $26.155 million in 2018 which is anticipated to increase to $426.949 million by 2027.
Key Issues & Priority Actions
Federal Public Transit Infrastructure Fund (PTIF) program, up to $856 million has been made available to the City of Toronto for transit and transportation upgrades and improvements for projects.

In 2017 the TTC has been allocated $1.289 billion gross and $664.9 million in Public Transit Infrastructure Fund (PTIF) of which $557.190 million gross ($278.595 million PTIF) remains available for the 2018-2027 Capital Budget and plan. An additional $73.364 million gross ($36.528 million PTIF) has been added for the purchase of additional buses.

Transit Expansion, There are a number of transit expansion projects included in the 10-Year Capital Budget and Plan with varying levels of secured funding including:

Rail Expansion projects (Relief Line, Waterfront Transit, Scarborough Subway Extension)
Facilities (McNicoll Bus Garage, New Subway Maintenance and Storage Facility)
Vehicles (Bus Purchases, Line and ATC)

Unfunded Capital projects, The TTC and City staff will need to address and develop a prioritization and financing strategy for the $2.275 billion in unfunded base capital projects to ensure service delivery is not negatively impacted.
2018 Capital Budget Highlights
The 2018 Capital Budget for the TTC of $1.157 billion, excluding carry forward funding, will:
Fund the purchase of buses ($209.137 million) of which $191.951 million or 91.8% are for replacement. McNicoll Bus Garage Facility construction of an indoor storage and maintenance facility for 250 buses to accommodate ridership growth and expanding bus fleet ($29.947 million).
Pay for anticipated delivery of Streetcars ($153.765 million).
Fund the Bus Overhaul Program ($45.326 million) to support the delays associated with the Streetcar delivery.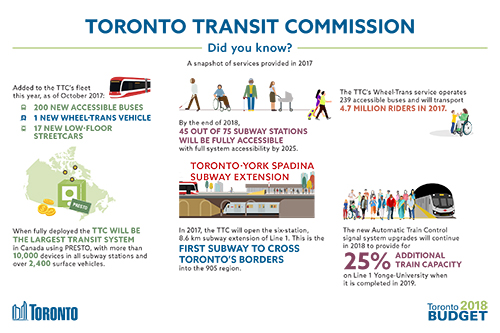 Toronto Transit Commission Infographic