2018 Emergency Management
This Note is part of a series of Notes on key City issues to update City Council at the start of its 2018 – 2022 term.
Issue description
---
Toronto faces a number of natural hazards such as extreme heat and cold, flooding, and severe wind, ice and rain storms. These environmental risks are expected to intensify as a result of climate change, with more frequent extreme weather anticipated in the years to come. Other potential natural, technological and human-caused hazards include power outages, nuclear emergencies, train derailments, terrorist attacks (including cyberattacks), fires and explosions, and human health (pandemic/epidemic) emergencies.
Some residents are more vulnerable than others to the impacts of these events due to age, socioeconomic level, health status, language ability, and level of social connectedness. When these hazards occur and their impact overwhelms the community's ability to cope using existing resources, an emergency situation can occur.
The Office of Emergency Management (OEM) coordinates the City's preparedness, response and recovery to emergencies, along with other City divisions, agencies, and corporations.
Status
---
City staff will review the Emergency Social Services Policy in 2019 to identify amendments needed to update the eight year old policy.
The Chief Resilience Officer will present the Resilience Strategy to City Council in 2019, which will include Emergency management as one component.
Background
---
Municipal emergency management programs are governed by provincial legislation, the Emergency Management and Civil Protection Act, which requires Ontario municipalities to develop an emergency plan, training and exercise program, conduct public education and conduct a Hazard Identification and Risk Assessment.
The Toronto Municipal Code, Chapter 59, governs the City's municipal emergency management program and delegates' operational responsibility to the Toronto Emergency Management Program Committee (TEMPC), chaired by the Mayor and comprised of senior management from City divisions, agencies and corporations.
Emergency planning and response
The OEM maintains the City's Emergency Operations Centre (EOC), which can be activated in response to an emergency. Trained staff from across City divisions and related agencies are deployed to the EOC to ensure a coordinated response to an incident.  The EOC is activated based on the response needed as outlined the table below.  When there is no emergency it is maintained in a state of readiness.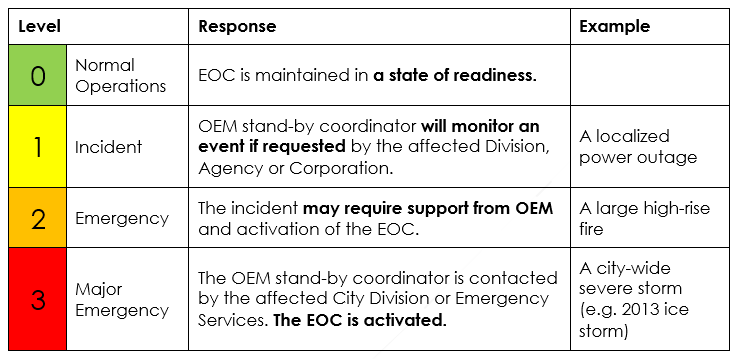 The City's Emergency Plan and Emergency Support Functions outline roles and responsibilities of City divisions and provides a framework for emergency response.
The OEM is responsible for managing the provision of emergency social services in accordance with City policy. This policy allows for up to 14 days of services such as accommodation and personal supports to residents displaced by an emergency with no other sources of support. Under certain circumstances the 14-day period can be extended, provided residents qualify under the low-income cut-off criteria.
For small-scale emergencies, such as house fires and power outages, services are provided at the emergency site. Large-scale emergencies might require the activation of an Emergency Reception Centre, generally a City facility like a community centre.
The OEM coordinates the City's Emergency Planning for Special Events program, to ensure that large-scale events have adequate emergency plans in place and that information is coordinated in advance with emergency services and City divisions.
Capacity and capability building
The OEM is responsible for managing the City's Corporate Business Continuity Management program, ensuring divisions have effective plans in place to continue or recover their operations in the event of a disruption.
An emergency management training program ensures that City staff and City agency and corporation personnel are qualified to be assigned to work in the EOC and assist in coordinating the emergency responses. Emergency exercises are regularly conducted to enable staff to practice the use of tools and systems at the EOC.
Resilience and community engagement
Emergency preparedness is a key component of the ResilientTO initiative; the OEM has been working closely with the Chief Resilience Officer on the inclusion of emergency management recommendations in the Resilience Strategy (planned for City Council, in early 2019), as well as the application of a resilience lens to the work of the OEM.
The OEM is enhancing its community engagement with private-sector partners and community and neighbourhood organizations to improve public education, local preparedness, and better address the needs of vulnerable populations during emergencies.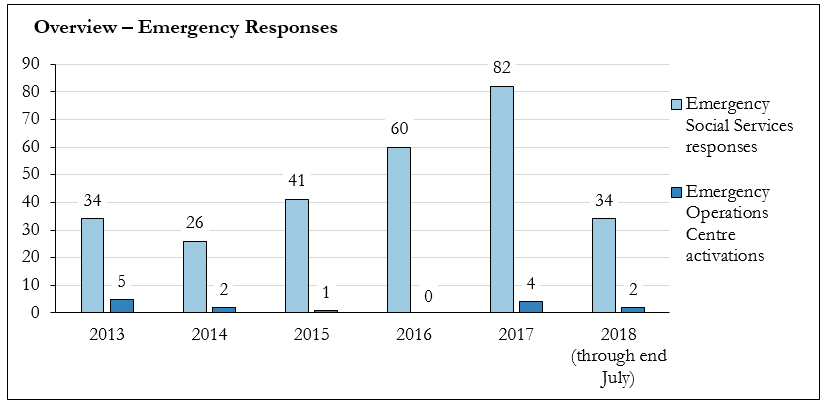 Actions or Plans
---
The City's Emergency Management program is governed by the Toronto Emergency Management Program Committee (TEMPC) and required to report annually to Executive Committee. Council direction has informed the OEM's current operations following the December 2013 Ice Storm and lessons learned from other events.