2018 Gun & Gang Violence
This Note is part of a series of Notes on key City issues to update City Council at the start of its 2018 – 2022 term.
Issue description
---
Toronto is a safe city. In 2017, The Economist ranked Toronto the fourth safest major city in the world and the safest major city in North America against 60 other cities. Toronto's homicide rate for 2017 was 1.5 per 100,000 – below the national average of 1.8 per 100,000, and ranked 17th out of 33 cities on Statistics Canada's violent crime index. Since 2015, however, trends in gun violence have been increasing. In 2018, Toronto experienced a spike in homicides and gun violence, with 91 homicides by mid-November 2018.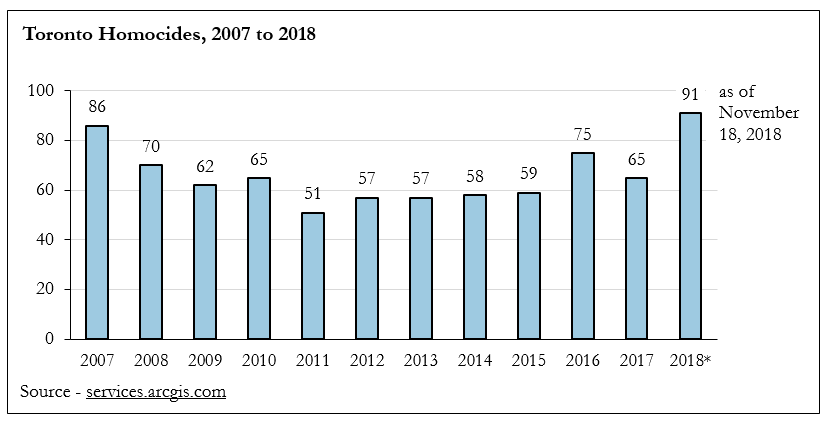 Status
---
The City's risk intervention and violence prevention programs will continue, however, the expansion of these programs requires support from other levels of government. In July 2018, the City, Toronto Police Service (TPS) and Toronto Community Housing Corporation (TCHC) applied for over $50 million in funding from the National Crime Prevention Strategy (NCPS). The City, TPS and TCHC will continue to monitor the impact of these investments and City staff will report through the 2019 budget process on any additional resources required to fund a proactive community safety plan.
Background
---
In addition to causing injury and death, gun violence is traumatizing and negatively impacts the mental health of residents, particularly those in communities with high rates of violence.
Gun violence involves youth more than any other demographic group. Youth violence has changed over recent years and has become more complex. An array of factors contribute to youth violence, most of which are rooted in systemic racism and poverty. They include:
Involvement of increasingly younger youth in gun violence.
Increased rates of complex youth mental health challenges and lack of culturally appropriate services.
Increased drug use and heightened toxicity of drugs.
Increased social media presence is promoting gang culture, which is contributing to retaliatory responses to violence and victimization.
Lack of programs available to support youth to reintegrate following incarceration or exiting gang life.
Changes in gang structure have impacted gang leadership and decision-making.
Increased sophistication in the caliber of weapons available.
Limited coordination of culturally-relevant social supports and inadequate investment in resident engagement in social housing communities.
Lack of emergency housing transfers for families impacted by violence.
Difficulty engaging young people who have been failed by systems including education and employment.
City and Community Agency Services, Strategies and Programs
The City of Toronto has a commitment to provide inclusive and safe neighbourhoods and communities. Given the complex root causes of gun and gang violence, the City works closely with vulnerable and marginalized populations and with community partners to provide direct interventions and strengthen community capacity.
TPS, TCHC, the United Way and the City have been working on violence prevention initiatives for many years. The City's strategies, programs and services aimed at risk intervention and the reduction of vulnerability of serious violence and crime include:
Toronto Youth Equity Strategy (TYES)
Toronto Youth Partnerships & Employment (TYPE)
Youth Violence Prevention (YVP)
Toronto Strong Neighbourhood Strategy (TSNS 2020)
In 2016, the City of Toronto created the Community Safety and Wellbeing Unit in Social Development, Finance and Administration (SDF&A) to provide a structure for programs and services that advance community safety goals in Toronto. The Unit includes the:
Community Crisis Response Program (CCRP) providing supports to communities that have been impacted by violent and traumatic incidents to assist with recovery and healing. Services include convening residents, conducting neighbourhood outreach and mobilizing services for victim/witness support, psychosocial support, counselling, safety planning, and conflict de-escalation.
FOCUS is a youth violence prevention process co-led by the City, United Way Greater Toronto, and TPS. It works to reduce youth-involved crime and victimization by convening local community agencies at a weekly situation table to review elevated risks and plan, administer and monitor interventions. Currently, four FOCUS situation tables are operating across the City with the plan to expand to seven tables. The FOCUS tables are aligned with police divisions that are addressing high crime rates.
TPS's Action Plan: The Way Forward (TWF), contains 32 recommendations aimed to create a modern police service focused on where the public need is greatest, partnerships to create safe communities, and on the complex needs of a large city. An additional recommendation to establish a Neighbourhood Officer Program was added to advance the TWF goal of building safe communities and neighbourhoods.
TPS is also developing an Integrated Gang Prevention Task Force to prevent the increase of gang violence and membership through a multi-sectoral approach focused on education, prevention, intervention and suppression in partnership with community agencies.
Intergovernmental Activities
The Government of Ontario and Government of Canada have indicated a willingness to support Toronto's immediate response to the increased levels of violence. The Federal Government's National Crime Prevention Strategy supports crime prevention programs for up to five years. The City, TCHC and TPS have recently collectively applied for over $50 million in funding under this strategy. Further, the Federal Government has committed $328 million in funding over five years, and $100 million annually to support their Initiative to Take Action Against Guns and Gangs. Although still under development, the Initiative is intended to support community-level prevention and enforcement efforts. The Federal Government has also introduced Bill C-71 which proposes new provisions to enhance background checks and requirements for gun retailers to maintain records of buyers and has initiated a consultation and examination on banning handguns and assault weapons.
In May 2018, the former Provincial Government passed the Police Services Act, 2018, which includes a provision for municipalities to develop a Community Safety and Well-Being Plan by January 1, 2021. In addition, the legislation requires that TPS' Strategic Plans align with municipal Community Safety and Well-Being Plans. In its Throne Speech on July 12, 2018, the incoming Provincial Government committed to ensuring Ontario's police services "have the tools, support and resources they need to enforce the law and protect innocent families from the menace of drug, gun and gang-related violence." On August 9, 2018, the Premier announced funding of $18 million for the TPS to provide additional digital, investigative and analytical resources necessary for fighting drug gangs and gun criminals.
City Council has requested that federal and provincial governments, as appropriate, ban handguns and the purchase of ammunition in Toronto, tackle trafficking of guns (both domestic and across the border), review bail provisions for repeat offenders, improve record keeping on guns and gun owners, and introduce tougher screening for gun owners and those seeking firearm permits.