2018 Official Plan – Growth Management Strategy
This Note is part of a series of Notes on key City issues to update City Council at the start of its 2018 – 2022 term.
Issue description
---
Toronto's strong development prospects will bring more people and jobs to the city, and increased demand on existing infrastructure for both hard and soft services. Managing this growth is critical for the city's quality of life. Understanding development trends, directing growth and ensuring that growth is aligned with infrastructure is an ongoing process for the City and requires a regular review of provincial growth plans and the City's Official Plan.
Status
---
In July 2017, the Province of Ontario's Growth Plan for the Greater Golden Horseshoe, 2017, came into effect, replacing the 2006 Growth Plan. Every municipality in Ontario must bring their official plans into conformity with the new Growth Plan by completing Growth Plan Conformity and Municipal Compressive reviews. To support implementation, the Province issued two draft guidance documents, the Municipal Comprehensive Review Process and Application of the Intensification and Density Targets.
City staff will continue to meet with the Province to better understand what is required to undertake the review processes, including the delineation of Toronto's over 160 Major Transit Station Areas that have new Growth Plan specified density targets for people and jobs. Once a final methodology on applying the new density targets is agreed upon with the Province, City staff will report to City Council to outline the necessary work to undertake and complete the Municipal Comprehensive Review and Official Plan update.
Background
---
The City is experiencing significant development activity. From 2013 to 2017, almost 376,500 residential units and over 10 million square metres of non-residential gross floor area were proposed in active development projects. The 2017 Growth Plan forecasts 3.4 million people and 1.7 million jobs in the City of Toronto by 2041.
Urban Structure
Directing growth to areas identified for growth and away from stable residential neighbourhoods and green spaces is a key objective of the Official Plan. The Plan's growth management strategy establishes an urban structure in which "growth areas" are identified where higher order transit can be provided along major transit corridors and at rapid transit stations.
The Official Plan directs growth to the growth areas, described below, and promotes mixed-use development to increase opportunities for people to live close to work and encourage walking, cycling and transit use.
Overall, the growth management strategy has been successful with 87 percent of new residential development proposed in areas targeted for growth by the City's Official Plan. Employment Areas are home to 31 percent of proposed non-residential Gross Floor Area (GFA) and 84 percent of proposed industrial GFA in the City.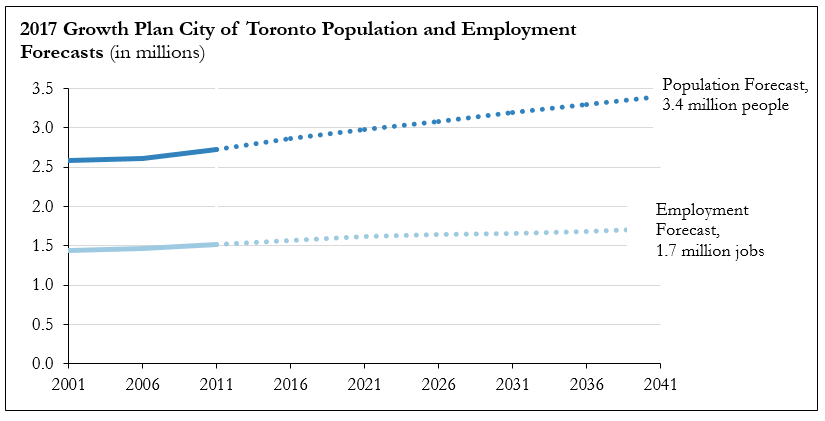 Downtown and Central Waterfront
The Downtown and Central Waterfront area has the City's largest percentage of proposed development. City Council recently enacted a new Secondary Plan for the Downtown (OPA 406) which provides a comprehensive and integrated policy framework and blueprint to align growth with the provision of infrastructure, sustain liveability, achieve complete communities and ensure there is space for the economy to grow over the next 25 years.
Five infrastructure strategies for water, energy, mobility, parks and public realm, and community services and facilities will assist in implementing the Secondary Plan policies and will be considered by City Council during this term.
Centres
Four key locations, North York Centre, Yonge-Eglinton Centre, Scarborough Centre and Etobicoke Centre, along with the city's rapid transit system, serve as focal points for jobs, housing, transit infrastructure and services. Each Centre has a Secondary Plan identifying how and where growth will occur and ensuring community and institutional services required to support growth are provided. Secondary Plans are periodically reviewed to update them, respond to growth pressures and reflect provincial policy.
The Yonge-Eglinton Secondary Plan Update, recently considered by City Council, applies to the Yonge-Eglinton Centre and a 6 square kilometre segment of Midtown Toronto.
Avenues
The Avenues are important corridors along major streets well served by transit that are expected to redevelop incrementally over time with the opportunity to accommodate significant growth. Since 2013, approximately 81,500 residential units (about 22 percent of the proposed units in the City), and about 699,000 m² of non-residential GFA has been proposed along the Avenues.
Employment Areas
Toronto's Employment Areas are a key part of the city's land use framework designated for a variety of employment uses. In addition to providing locations for economic activities unsuited to mixed-use environments or compatible with sensitive uses such as residential uses, these areas are important as regionally and globally competitive locations for national and international business and business formation.
Current Status with respect to the Provincial Growth Plan Conformity
---
The Growth Plan, 2017 sets out new requirements for the Municipal Comprehensive Review (MCR). This review must address employment land conversions. New requirements include an employment strategy, addressing requests for major retail in employment areas, and the identification of density targets for major transit station areas and other strategic growth areas in the Official Plan. The Province of Ontario approves the Growth Plan Conformity review under the Planning Act. The City will be advancing the Growth Plan and MCR work program for City Council's consideration early in the upcoming term of Council.
Key elements of the MCR includes the following:
Major Transit Station Areas (MTSAs): The Growth Plan, 2017 contains new requirements for municipalities to delineate Major Transit Station Areas in their Official Plans.
MTSAs are areas around transit stations which shall be "planned to achieve" minimum density targets set out by the Growth Plan. Generally, MTSAs will be defined as an area within an approximate 500-metre radius of a transit station. The minimum density requirement differs by mode: 200 people and jobs per hectare around a subway station, 160 around light rail transit (LRT) and bus rapid transit (BRT) stations, and 150 around GO Transit stations. This requirement is different from other density targets in the plan, such as urban growth centres, in that the planned density does not have to be achieved by 2031 but the planning must be in place so that it could be.
Toronto has 162 MTSAs, over half of the approximately 300 in the Greater Toronto and Hamilton Area. These areas include stations on all subway lines, the LRT lines planned or under construction (i.e., Eglinton, Finch West and Sheppard East), and GO Transit stations within the city. Not all stations will or should meet the density target. The Province of Ontario may approve an alternative target for a station if the average density of all stations on the same line meets the required target.
Strategic Growth Area (SGA): SGAs are nodes, corridors, and other areas identified by municipalities or the Province of Ontario to be the focus for accommodating intensification and higher-density mixed uses in a more compact built form. Some SGAs are identified by the Province, including urban growth centres and major transit station areas. Municipalities may also choose to identify other SGAs such as areas which provide opportunities for infill, redevelopment, brownfield sites, the expansion or conversion of existing buildings or greyfields. Lands along major roads, arterials, or other areas with existing or planned frequent transit service or higher order transit corridors may also be identified as SGAs.
Employment Areas: A key element of the MCR process is the review and protection of employment areas. The MCR is the only opportunity for lands to be converted from employment areas to non-employment uses. Toronto's employment areas are locations of economic activity which are critical to the economy as a whole but are especially important for the manufacturing sector, and land-intensive employment uses.