2018 Issue Briefing: Toronto's Economy
This Note is part of a series of Notes on key City issues to update City Council at the start of its 2018 – 2022 term.
Issue description
---
Toronto's economy has performed well since the global financial crisis of 2008 however, growth has been uneven across the city, which has contributed to increased inequality and economic disparities. Action by the City to promote the local economy will be mitigated by external factors such as international trade and global markets.
Status
---
City staff will present the following actions for City Council's consideration in 2019:
Evaluation of tax policy tools to support small businesses;
Strategy to support Toronto's main street retail areas, including businesses impacted by major construction projects; and
Strengthening of the Imagination, Manufacturing, Innovation, and Technology (IMIT) Property Tax Incentive Program to ensure that developments supported through IMIT provide quality employment opportunities for Toronto residents.
Background
---
Toronto's economy has produced strong results in recent years.
Toronto's Gross Domestic Product (GDP) growth is significantly outpacing the national average – The Toronto region's GDP has grown by an average of 2.4 percent annually since 2009 compared to a national rate of 1.8 percent. In 2017, the Toronto region's GDP grew by approximately 3.3 percent (Source: Conference Board of Canada, Moody's, Oxford Analytics, Statistics Canada, 2017).
Employment in Toronto is growing steadily – The Toronto Employment Survey showed employment at businesses in Toronto grew by 16 percent between 2008 and 2017 from 1.31 million to 1.52 million, twice the national growth rate over the same period.
Toronto continues to attract immigrants from all over the world – Toronto's economic success is based in large part on a diverse and highly-educated labour force. Toronto remains home to the largest number of recent immigrants of any Canadian city. In 2016, Toronto, at 8 percent of the country's population, was home to 18 percent of all recent immigrants to Canada.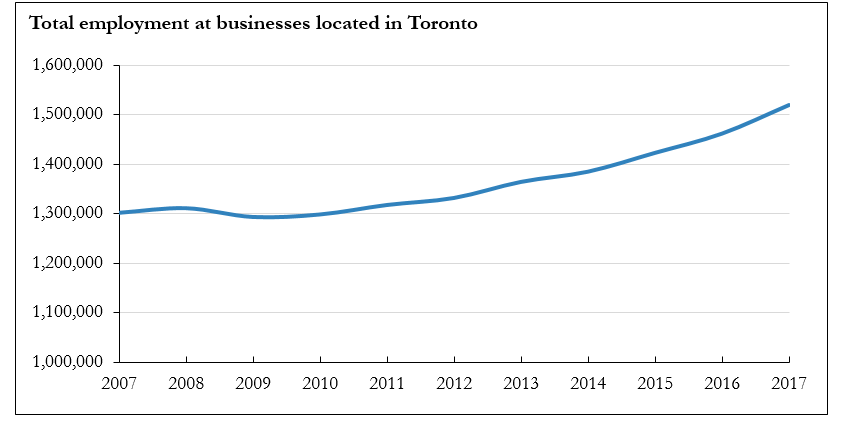 Trends which challenge Toronto's economic development include:
Investment, development, and employment growth outside the downtown core is uneven, and unemployment is disproportionately higher among youth and newcomer populations.
Longstanding trends towards more income inequality continue. A United Way analysis of census data found that inequality between Toronto's neighbourhoods increased by 96 percent from 1980 to 2010.
The number of residents working in part-time jobs is growing faster than those in full-time jobs. From 2008 to 2016, part-time jobs increased by 19 percent, or almost twice as quickly as full-time jobs (11 percent). Self-employment is also growing. As of July 2018, self-employment stood at 17 percent, the highest level in 30 years. These trends exacerbate precarious employment in Toronto (Source: Statistics Canada, Labour Force Survey, 2018).
In intensifying parts of Toronto, increasing real estate costs – driven in part by higher property assessments – are displacing existing businesses to more affordable locations.
For new and expanding businesses, limited land availability and low vacancy rates in Employment Lands raise challenges in comparison to greenfield sites in surrounding municipalities.
The high costs of living in Toronto – particularly housing, child care, and education – are barriers for many residents, impacting their ability to successfully move into and through the labour market and sustain employment. Affordable child care, for instance, allows parents to pursue employment, education or training, and is recognized by economists as an active contributor to a healthy economy and as a critical factor in reducing the gender gap in the labour market.
Actions or Plans
---
Plans and Initiatives
City Council approved Collaborating for Competitiveness in 2013, to guide the City's economic development initiatives. In 2017, Economic Development and Culture (EDC) undertook consultations to produce a plan that builds on Collaborating for Competitiveness and to guide the division's programs and services over five years (2018-22). EDC's plan identifies four focus areas to inform economic development work at the City, equity and inclusion, talent and innovation, space and access, and operational excellence.
The City's economic development efforts are linked with other City-wide initiatives that support social cohesion and sustainability, including the Toronto Poverty Reduction Strategy, Working as One: A Workforce Development Strategy for Toronto, the Toronto Action Plan to Confront Anti-Black Racism, Toronto's Licensed Child Care Growth Strategy, TransformTO Climate Action Strategy and Toronto Strong Neighbourhoods Strategy 2020. Looking ahead, to achieve results that benefit all Torontonians it will be essential to take an inclusive, City-wide approach to economic development to achieve result that benefit all Torontonians.
Tax Policy
As part of the 2018 Budget, City Council adopted an interim tax policy strategy to limit 2018 tax increases to 10 percent for any property in the commercial, industrial and multi-residential tax classes. Council also directed staff to engage in public consultations to review additional property tax options for 2019 and future years. In July 2018, City staff identified eight considerations for the incoming Council to evaluate in establishing tax policies for 2019 and beyond based on the results of the consultations. The report is available at app.toronto.ca/tmmis/viewAgendaItemHistory.do?item=2018.EX36.7 
Cultural facilities have similarly experienced significant tax increases. In 2018, both City Council and the Government of Ontario approved the creation of a new creative co-location facilities property tax subclass, providing considerable tax relief to creative hubs and helping to ensure their long-term viability.
The City has recently undertaken a review of the Imagination, Manufacturing, Innovation and Technology (IMIT) Property Tax Incentive Program to improve its effectiveness. The IMIT Program provides grants (equivalent to 60%-77% of property taxes over 10-12 years) to support the construction or major renovation of buildings in targeted employment sectors and uses. In 2018, City Council approved changes to the IMIT Program that excluded developments within the Financial District from being eligible for grants, recognizing such incentives are no longer required within this area. (Note: this Council decision is under appeal to the Local Planning Appeal Tribunal (LPAT)).
City staff will present City Council with a report in early 2019 that will identify strategies to ensure that developments that receive IMIT incentives provide quality employment opportunities for Toronto residents.
The Global Economy
Toronto's economy is impacted by the external environment, including decisions made by other orders of government and internationally. City staff continue to monitor developments related to federal and provincial economic development programs, new American trade tariffs, the impact of corporate tax cuts in the United States on Toronto's competitiveness, the replacement of the North American Free Trade Agreement (NAFTA) with the Canada-United States-Mexico Agreement (CUSMA), and implementation of the Canada-European Union Comprehensive Economic and Trade Agreement (CETA).