Transit Network Expansion
This Note is part of a series of Notes on key City issues to update City Council at the start of its 2018 – 2022 term.
Issue description
---
The City of Toronto, the Toronto Transit Commission (TTC) and Metrolinx are working together to bring more transit to communities across the city with connections to the entire Greater Toronto and Hamilton Area (GTHA).
There are a number of transit expansion projects underway, each in different phases of planning, approval, design and construction. Collectively, these projects are building on Toronto and the region's rapid transit network.
Status
---
City staff anticipate a comprehensive report to City Council in early 2019 on Toronto's transit expansion program, including the identification of transit network priority projects to be submitted for federal infrastructure funding.
Background
---
Transit network expansion is a key component of the City's broader transportation system improvement plans. Access to rapid transit is critical to achieving Toronto's social inclusion and economic development objectives. Approximately 37 percent of Toronto residents rely on transit infrastructure to make important connections to employment, school and community and social services.
To support both existing and anticipated growth of the City over the coming decades, the City of Toronto, TTC and Metrolinx are working together to plan and deliver a multibillion-dollar transit expansion program. Several large-scale investments have recently been made to expand Toronto's rapid transit network, including the Province of Ontario's Toronto Light Rail Transit (LRT) Program (2012), GO Expansion (2014), the opening of the Toronto-York Spadina Subway Extension (2017), and the City of Toronto's SmartTrack Stations Program (2018).
Toronto's 2031 Rapid Transit Network Plan
In March 2016, City Council adopted the report Developing Toronto's Transit Network Plan: Phase 1 (EX13.3), which presented a comprehensive 2031 transit network plan based on the City's Rapid Transit Evaluation Framework's (RTEF) three city-building objectives of serving people, strengthening places, and supporting prosperity.
The 2031 Transit Network Plan includes the following key projects currently at various stages of planning and design:
Scarborough Subway Extension
Relief Line South
Waterfront Transit
Eglinton West and East LRT Extensions
SmartTrack
Since then, City Council has considered a series of reports that have advanced planning and design of Toronto's transit network. Key reports and actions, as well as the current status of each project, can be found on the linked project websites below.
Connecting Toronto and the Region
In 2017, the TTC moved 533 million riders, and today it continues to be the largest transit agency in Canada, serving roughly 85 percent of all local transit trips in the GTHA (TTC Operating Statistics, 2017). The TTC is essential to moving the GTHA as a whole, given the number of GO trips that include transfers with the TTC. Demand on the TTC network will continue to increase given anticipated growth in the City and region over the coming decades, particularly in Toronto's downtown core. To meet growing demand and improve connectivity work is underway to integrate local and regional services to ensure seamless travel across the city and the GTHA. These initiatives include the GO Expansion Program, the SmartTrack Stations Program, the GO-TTC Discounted Double Fare Initiative, and work on fare integration.
The City and TTC also continue to work closely with Metrolinx to implement the 2041 Regional Transportation Plan (RTP) for the GTHA, which was adopted by the Metrolinx Board in March 2018. The 2041 RTP guides transformation of the regional transportation system in the GTHA that will provide more people with access to fast, frequent, and reliable transit and transportation options.
The RTP prioritizes the completion of many transit network expansion projects in Toronto. Implementing the 2041 RTP is a shared responsibility that requires the participation of all municipal partners.
Toronto's 15 Year Rapid Transit Network Plan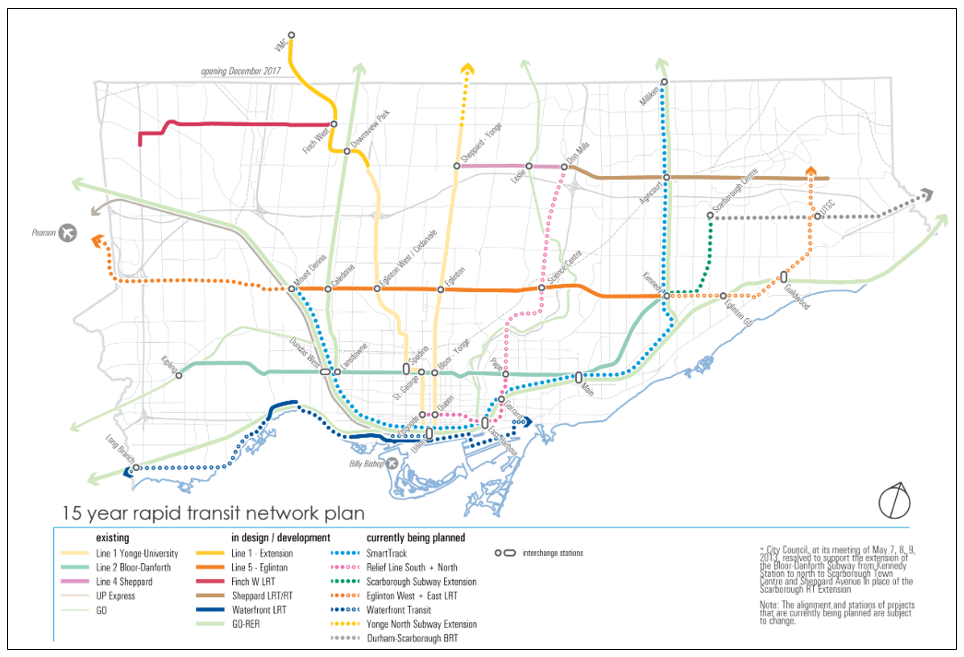 Actions or Plans
---
Back to 2018 Council Issues Notes main page.