2018 Traffic Safety: The Vision Zero Road Safety Plan
This Note is part of a series of Notes on key City issues to update City Council at the start of its 2018 – 2022 term.
Issue description
---
Overall, traffic collisions in Toronto have been stable for over a decade, but Toronto has seen an increase in traffic-related fatalities – most notably involving pedestrians, cyclists and older adults. From 2011 to 2016, there was an increasing trend in the annual number of fatalities with the highest number of traffic fatalities being 77 in 2016. In 2017, the number of traffic fatalities declined to 62.
The City is committed to Vision Zero and accepts its fundamental message: fatalities and serious injuries on roads are preventable, and the City must strive to reduce traffic-related deaths and injuries to zero through policies and actions defined in the 2016 Road Safety Plan. The Road Safety Plan is a comprehensive five year (2017-2021) action plan focused on reducing traffic-related fatalities and serious injuries on Toronto's streets. It considers all road users but places particular emphasis on vulnerable road users who are most at risk of traffic-related fatalities and serious injury which include pedestrians, cyclists, and riders of motorcycles and scooters. It also follows a widely accepted, holistic approach to improving road safety, which includes engineering, education, enforcement, engagement, evaluation and technology measures.
Status
---
Since the approval of the Vision Zero Road Safety Plan in July 2016, City Council has increased the amount of capital funding allocated by $22 million, enabling City staff to accelerate the implementation of the Plan. The Vision Zero Road Safety Plan (2017-2021) has authorization through 2021, and funding for the plan is approved annually through the capital budget cycle.
City staff are working on an update to the Vision Zero Road Safety Plan and anticipate submitting it to Council for consideration in 2019.
Background
---
The Vision Zero concept originated in Sweden and has been adopted by many large cities within North America. A Vision Zero approach is based on the principle that people make mistakes and the transportation system needs to be designed and operated in a way that caters to human error to eliminate fatalities and serious injuries.
Since adopting the Vision Zero approach, other jurisdictions have put policies, programs and projects in place that have ultimately resulted in significant reductions in traffic-related fatalities. For example in 2014, New York City became the first city in the United States to adopt Vision Zero, and the city's traffic fatalities have declined 28 percent with a 45 percent decline in pedestrian fatalities.
In 2015, the City commenced development of a road safety plan that would adopt the Vision Zero philosophy. Transportation Services partnered with the Toronto Police Service, Toronto Public Health, school boards, and other stakeholders involved in road safety in the city, to develop the plan that leverages the experiences from other North American cities who have already joined an international movement to eliminate serious traffic collisions. These plans emphasize committed partnerships among road safety organizations and on "killed and serious injury (KSI) collisions," which prioritizes vulnerable road users who are more likely to be seriously injured or killed in collisions.
Getting to zero requires a culture change and sustained implementation efforts. The number of traffic fatalities in Toronto fell by 18 percent in 2017 compared to 2016. However, it is important to consider the trend rather than year-to-year comparison and place the trend in the context of transportation patterns, population growth, and vehicle kilometres travelled. The graph below shows the number of road fatalities per 100,000 population from 2005 to 2017. Over this same period, the City has seen a 14 percent increase of vehicle kilometres travelled, a 13 percent growth in employment and an 8 percent growth in population. On average, 74 percent of all road fatalities have involved vulnerable road users such as pedestrians and cyclists.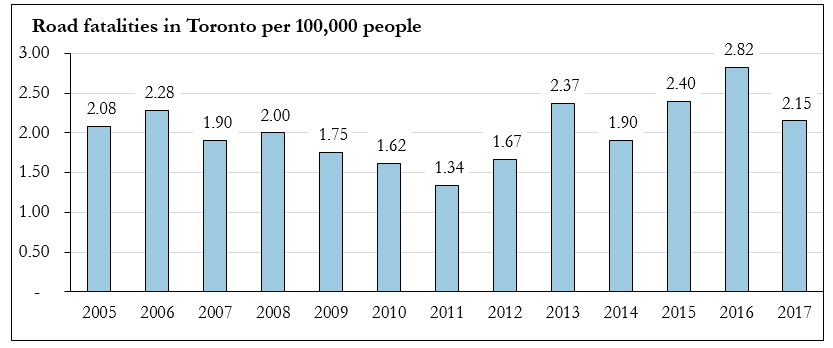 The Vision Zero Road Safety Plan's six key emphasis areas focused on improving safety for:
School Children
City staff prioritize schools within a 1 km radius of a killed or serious injury collision involving a child and conduct in-depth reviews to see if there are opportunities for safety improvements such as pavement markings and signage, "Watch Your Speed" driver-feedback signs, police enforcement targeting safety concerns for children or other safety improvements both within the school zone and along designated active and safe routes to school.
Pedestrians
City staff prioritize and target corridors where pedestrians have been seriously injured or killed for safety improvements such as speed reductions, shortened crossing distances, no-right-turns on red, advance greens for pedestrians, fully protected left-turns and police enforcement for compliance with traffic rules that affect pedestrian safety. These measures improve pedestrian safety by reducing crossing distances, making pedestrian crossings more accessible and reducing vehicle/pedestrian conflicts.
Older Adults
City staff are providing special consideration to locations where there are higher concentrations of older pedestrians living and interacting and where people have been killed or seriously injured in collisions. These areas will be targeted for speed reductions, increased walk times at traffic signals, enhanced pavement markings, "Watch Your Speed" driver-feedback signs, and police enforcement for aggressive driving behaviours that affect senior pedestrians.
Cyclists
City staff are reviewing locations where cyclists have been killed or injured along cycle tracks to see if there are any opportunities to enhance the cycling facilities to improve safety. Such initiatives include the implementation of cyclist signals, bike boxes, advance green for cyclists, and police enforcement targeting behaviours that impact cyclist safety such as dooring and improper use of bicycle lanes.
Motorcyclists
Motorcyclists killed or serious injury collisions tend to occur at either significant bends or junctions in the road combined with aggressive riding, distraction or impairment. Police enforcement and signs will be deployed at these locations to warn of hazards unique to motorcyclists.
Aggressive Driving and Distraction
City staff are reviewing corridors were death or injuries involve aggressive driving or distraction to determine the possibility of implementing measures such as speed reductions, geometric safety improvements or other traffic calming measures. Reports on corridors with higher degrees of killed or serious injury collisions involving aggressive driving will also be forwarded to the police for targeted enforcement.
Actions or Plans
---
Building on the Vision Zero Road Safety Plan, in May 2018, City Council approved a pilot for an automated speed enforcement program around schools and community safety zones. City staff are working with other municipalities and the Province of Ontario to advance this program and the implementation of the necessary regulations. The pilot makes it easier to approve new traffic safety measures within School Safety Zones and Community Safety Zones next to School Safety Zones.
In June 2018, City Council approved additional funding and an accelerated program for:
the implementation of previously approved traffic calming measures, safety improvements, and street design interventions;
expansion of the installation program for permanent "Watch Your Speed" signs at every school zone;
doubling the number of red-light cameras and evaluating the feasibility of further expanding the Red Light Camera program;
the implementation of 10 "complete intersection" pilots (i.e. intersections that are redesigned to be safe for all users: people who walk, bicycle, take transit or drive, and people of varying ages and levels of ability); and
the installation of 30 kilometre-an-hour speed limit signs in the Toronto and East York District.