2018 Youth Development
This Note is part of a series of Notes on key City issues to update City Council at the start of its 2018 – 2022 term.
Issue description
---
Youth (15 to 29 years) contribute to the vibrancy and diversity of the city and require support to enable them to flourish and contribute their full potential. For example, youth aged 20 to 24 are among the most engaged in political activities within the community. While the majority of youth have the required supports to live meaningful lives, some experience difficulty accessing supports that can help youth redirect from or avoid challenging situations.
Status
---
Youth remain a priority for all levels of government. There are strategies focused on youth development, employment and engagement. The Province of Ontario has taken a population-specific approach for youth experiencing intersecting barriers. Ongoing collaboration exists between the Ministry of Children, Community and Social Services (formerly the Ministry of Children & Youth Services) and the City of Toronto through the Bi-Lateral Youth Table, a forum for coordinated information sharing, recommendations, and decision-making to support youth success and community safety across neighbourhoods. The not-for-profit sector also supports programs to enhance positive youth development and engagement approaches.
Youth safety is a priority and with it, a focus to reduce gun violence and victimization in the community. Increasing economic opportunities for vulnerable youth, especially Black youth, is important to the vitality of Toronto. However, overall funding to achieve youth success remains mostly uncoordinated.
Background
---
Many City funded programs and initiatives address the risk and protective factors of vulnerable youth, including alienation, low self-esteem, empathy, connection to caring adult allies and high expectations as discussed in the seminal Roots of Youth Violence Report, 2008. Programs such as pre-charge diversion (which direct certain young people who face minor charges to community agencies instead of charging them), recreation, peer-support to promote mental wellness, employment, intensive outreach and engagement continue to provide a solid foundation for positive youth development.
Significant challenges remain in neighbourhoods characterized by severe, concentrated and growing disadvantage for some youth, including hyper-exposure to violence, elevated mental health concerns, and intensified youth unemployment, particularly for youth residing in social housing communities. Across Toronto's 140 neighbourhoods, one-third (36) have a youth unemployment rate higher than 18 percent (compared to a city average unemployment rate of 7 percent), and smaller subset of these neighbourhoods have an unemployment rate of 25 percent. Research has shown that there is a trend for racialized and newcomer youth, Indigenous youth, and Black and youth living in poor neighbourhoods, to be overrepresented in unemployment numbers.
New investments in education are not reaching many of the children and youth who need the most help because identified barriers to learning are not being addressed (see Ontario's Equity and Inclusive Education Strategy). Barriers include racism, specifically anti-Black racism, religious intolerance, lessons that do not reflect the lived experiences of students, disruptive disciplinary action and inadequate in-class supports for students with diverse learning needs. The Ministry of Education continues to make strides to enhance educational attainment for an increasingly complex student population.
Ontario's youth justice system is harming some youth because it has no overall coordination, remains punitive in ways that are not strategic and permits increasingly problematic police-youth relations (see the Review of Youth Violence, by The Honourable Roy McMurtry and Dr. Alvin Curling).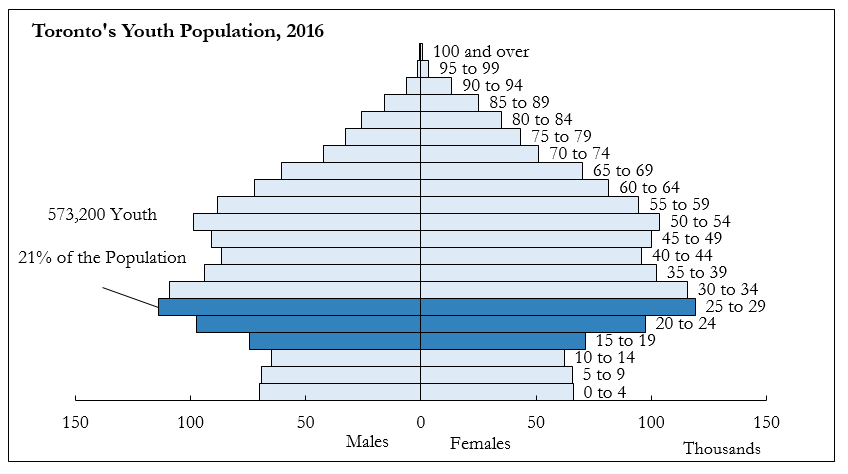 Actions or Plans
City Council passed the Toronto Youth Equity Strategy (TYES) in 2014, to advance 28 recommendations and 111 actions serving young people vulnerable to serious violence and crime. TYES will continue collaborations across City divisions & Toronto Community Housing to improve the resiliency of vulnerable youth. Further, applications were submitted to Public Safety Canada through the National Crime Prevention Fund for more than $30M in potential funding to support youth prevention and intervention efforts. Funding, if approved, will flow by April 1, 2019.
Recognizing the complexity and breadth of barriers faced by youth in Toronto, a range of coordinated and complementary policies and approaches are needed immediately and in the long term. Coordination across sectors including public, private and non-profit is required to address challenges and improve service delivery. Youth engagement and consultation is essential to the development of services and supports. All levels of government have approved multiple strategies focused on intersecting barriers and demographics to address the challenges facing vulnerable youth.