Councillor Cesar Palacio
Profile: Ward 17 Davenport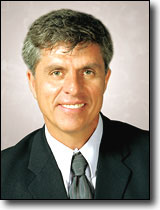 Councillor Palacio's appointments
Council and its Committees
Business Improvement Areas
Cesar Palacio, born in Loja Ecuador, is the Toronto City Councillor for Ward 17 and Toronto's first Hispanic City Councillor elect.
Unanimously appointed in 2000, Cesar served as the interim Councillor for Ward 17.
Running on a platform of transparency, accountability, accessibility and financial sustainability, Cesar was formally elected City Councillor for Ward 17 – Davenport in 2003.
As a member of Toronto City Council, re-elected for the fourth time, Cesar has played and continues to play a key role in major policy changes, notably the revamping of the City of Toronto's Fair Wage Policy – legislation to aid undocumented workers. Cesar has also been instrumental in creating a more accessible and fair procurement process and continues to look for ways to increase accountability of service delivery, where possible.
Cesar has served on notable Standing Committees at City Hall including: Public Works & Infrastructure, Government Management and Planning & Growth.  In 2010, he was asked by the former Mayor Elect to serve on the City's Executive Committee as Chair of the City Licensing and Standards Committee and more recently, in 2014, he was hand-picked by the newly elected Mayor to once again join the Executive Committee retaining his position as Chair of the Licensing and Standards Committee.
As Chair of the Licensing & Standards Committee Cesar has worked on a new modernized, affordable, and innovative regulatory licensing regime that eliminates red tape and embraces new technologies facilitating the issuing of business licenses.
Cesar remains a dynamic, forward thinking voice at Toronto City Hall. His tactical approach focused on delivering better City services to the tax payer, using the most efficient means possible, has made him strong voice at City Hall.
(Information provided by Councillor)