Councillor Christin Carmichael Greb
Profile: Ward 16 Eglinton-Lawrence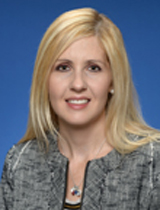 Councillor Carmichael Greb's appointments
Council and its Committees
Other Boards and Committees
Business Improvement Areas
Christin Carmichael Greb was elected as the City Councillor for Ward 16 (Eglinton-Lawrence) in the 2014 municipal election and was sworn into office on December 2, 2014.
Christin has deep roots in Ward 16. As someone who was born and raised in North Toronto, she is motivated to serve and represent the community. Her husband and their three children are proud to call ward 16 home. Christin has always believed that strong families are the fabric that makes up strong communities.
Having long envisioned her children growing up in a city that continues to flourish, she wants to contribute to good governance at City Hall. As such, her decisions will be the product of consultation and collaboration with her constituents, the expert advice from City staff and the principles and commitments that she was elected upon.
Top priorities:
1. Making every customer service interaction matter
2. Getting Toronto moving while keeping local streets safe
3. Engaging communities to manage growth responsibly
4. Investing in vital infrastructure while respecting taxpayers
(Information provided by Councillor)