Councillor Frank Di Giorgio
Profile: Ward 12 York South-Weston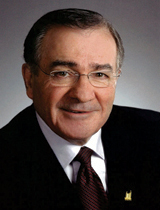 Councillor Di Giorgio's appointments
Council and its Committees
Other Boards and Committees
Business Improvement Areas
Frank Di Giorgio started his political career in 1985 as a Councillor in the former City of North York. In 2000, he was elected Toronto City Councillor for York South-Weston. A former Budget Chief for the City of Toronto, Frank serves on a variety of committees.
While in North York, Frank served as a member of the Executive Committee and chaired all major standing committees, including Works, Transportation, Planning Advisory, Library Board, Parks and Recreation, and Capital Planning.
A graduate of McMaster University in Mathematics and the University of Western Ontario Business School, Frank has a diverse background that encompasses teaching, coaching, business management, and politics.
As a teacher, Frank was an Assistant Head of Mathematics at Western Technology Secondary School, and an Associate of the Ontario College of Education. He also coached championship football teams before pursuing postgraduate training in business administration.
Frank has consistently focused on improving the quality of life for residents of both his ward and the City of Toronto.
Frank and his wife Mary have two children, Liana and Daniel.
(Information provided by Councillor)