Councillor Janet Davis
Profile: Ward 31 Beaches-East York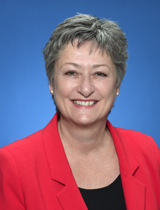 Councillor Davis' appointments
Council and its Committees
Other Boards and Committees
Business Improvement Areas
Executive Assistant
Communications Assistant
Constituency Assistant
Special Assistant
Constituency Assistant
Janet Davis was first elected as City Councillor for Ward 31, Beaches-East York in 2003.
Janet is a strong voice for the East York community and a leading advocate at City Hall. She has led many efforts to protect and improve of important City services.
Janet has pushed to preserve and expand child care, recreation and library services, support tenants and improve the diversity on City's boards. Janet has championed improvements to the City's Lead Water pipe replacement program, Long Term Waste Strategy, and Cycling Infrastructure. Janet continues to push for a sustainable financial model for the City and a Transit system that is accessible, affordable and reliable.
This term, Janet is the Vice Chair of the Government Management Committee, a member of Tenant Issues Committee, the City–School Boards Advisory Committee, the Employee Labour Relations Committee, and the Toronto East York Community Council.
(Information provided by Councillor)