Councillor John Campbell
Profile: Ward 4 Etobicoke Centre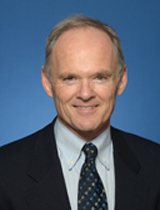 Councillor Campbell's appointments
Council and its Committees
Other Boards and Committees
John Campbell was elected to City Council as Councillor for Ward 4 (Etobicoke Centre) in the October 27, 2014 municipal election.
Prior to serving as Councillor, his public service record consists of seven years (2003-2010) as a Trustee with the TDSB, with two years as Chair of the Board (2008, 2009) and three years as the Chair of the Administration, Finance and Accountability Committee. The TDSB is Canada's largest school board and its budget, at the time, was $2.6 billion.
A graduate of the University of Toronto (Political Science and Economics), John's business career has been in consumer goods sales management and marketing for over 30 years. Since 2008, he has operated his own company representing and distributing products for companies from Canada, the US, Australia, and the UK to national retailers.
In 1999, John earned an MBA from the Schulich School of Business (Finance and Strategic Management) after four and a half years of evening study.
He is proud to call Etobicoke home and has lived in Etobicoke Centre for over 35 years where his two daughters were raised and attended local schools. One of John's priorities is to maintain the existing city services provided to local residents while providing effective growth opportunities that yield tangible benefits to the community.
John serves on the TTC Commission, the Planning and Growth Committee, the Environmental Nominating Panel, the Toronto Atmospheric Fund, and Etobicoke/York Community Council. Additionally, he is the Vice Chair of the Budget Committee. He is happy to be able to represent his constituents on such important issues as city development, transit and budget planning.
(Information provided by Councillor)