Councillor Justin Di Ciano
Profile: Ward 5 Etobicoke Lakeshore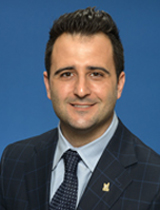 Councillor Di Ciano's appointments
Council and its Committees
Other Boards and Committees
Business Improvement Areas
Chief of Staff
Administrative Assistant
Administrative Assistant
Administrative Assistant
Justin Di Ciano was elected City Councillor for Ward 5 on October 27th 2014. Justin has lived in the Etobicoke-Lakeshore community his entire adult life. Justin lives with his wife Kristen and their two young children Makayla and Julien.
Prior to being elected to office, Justin owned and operated businesses in the financial, medical and commercial real estate industries. In 2009, Justin was recognized as one of the Top 40 Under 40 Italian-Canadians in Canada by the Italian Canadian Chamber of Commerce for his efforts in business and leadership in his community.
Justin's extensive philanthropic initiatives include support for many of Canada's most established charities and educational institutions. Mr. Di Ciano is a Social Entrepreneur with the PACT Urban Peace Program, an award winning charity that in Partnership with the TDSB works with inner city youth across Toronto.
As a long standing member of the Rotary Club of Etobicoke, Justin is Chair of Toronto Ribfest Food & Music Festival, one of Canada's largest annual fundraisers. Justin is also the co-founder of the Jean Augustine Centre for Young Women's Empowerment, a privately funded teaching and training centre focusing on education, nutrition and real-world job training for underprivileged youth in Etobicoke.
(Information provided by Councillor)