Councillor Sarah Doucette
Profile: Ward 13 Parkdale-High Park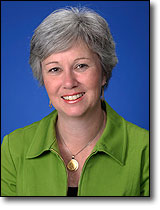 Councillor Doucette's appointments
Council and its Committees
Other Boards and Committees
Business Improvement Areas
Sarah Doucette became Councillor for Ward 13 on December 1, 2010. This year Sarah will be celebrating her 20th year in Swansea where she raised her children with her husband Alan.  Since moving to the ward, Sarah has been a successful neighbourhood volunteer, engaging the community to build playgrounds, keep swimming pools open, and save the Swansea Memorial Library from closing, amongst other advocacy work.
Since becoming Councillor, Sarah has continued to work hard for Ward 13.  She saved the High Park Zoo, the Lambton bus, and the Runnymede CI and Keele PS pools from closing.  She has also stopped cuts to our library hours and TTC services, while successfully expanding childcare services.  With our local residents' associations, Sarah has fought to protect our avenues from unreasonable development and is implementing the tools for planning and heritage studies.  Currently, Sarah is working to return skating to Grenadier pond, and improve safety regulations on our residential streets.
As City Councillor Sarah has listened to her residents and worked hard improving the services that are vital to making Ward 13 an amazing place to live work and play.
(Information provided by Councillor)