Councillor Vincent Crisanti
Profile: Ward 1 Etobicoke North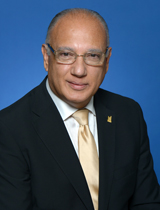 Councillor Crisanti's appointments
Council and its Committees
External Boards and Committees
Thistletown Multi-Service Centre Board of Management
Business Improvement Areas
Executive Assistant
Constituency Assistant and Community Outreach
Administrative Assistant
Administrative Assistant
Vincent Crisanti was elected as City Councillor for Ward 1 – Etobicoke North in October 2010. A councillor in the former City of Etobicoke, Vincent brings a background in public service, community involvement and success in the private sector. Vincent is committed to providing exceptional service for constituents in Ward 1 and to working with the Mayor, Council and the community to make Etobicoke North and the entire City of Toronto a better place to live and work.
As a councillor in the former City of Etobicoke, Vincent was instrumental in bringing the DARE anti-drug program into local schools. Vincent recognizes that safe and healthy communities are created through partnerships and relationships between individuals, community groups, charities and the City of Toronto.
Through his professional activities, Vincent has developed a keen sense of how to make business work. Prior to his election, he managed a GTA-based outdoor signage business and a real estate company. Vincent is engaged with the Albion Islington Square Business Improvement Area and with local businesses to bring good jobs to the community.
Vincent is a 32-year resident of North Etobicoke. He is married with two children and has two grandchildren.
(Information provided by Councillor)