Ward 37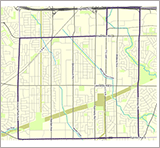 2011 Scarborough Community Council Area Profiles
2011 Ward Profile – 2011 Census
2011 Ward Profile – 2011 National Household Survey
The 2011 Ward Profiles are being updated. 2016 Ward Profiles will be forthcoming in early 2018. For assistance with the 2011 Ward Profiles, please contact cityplanning@toronto.ca.

Looking for the 2006 or 2001 Census Profiles?Need assistance reading content? Call 311 or email cityplanning@toronto.ca.
Biscayne Boulevard Road Resurfacing
Courton Drive Watermain Replacement
Delfield Road Road Resurfacing
Dewey Road Road Resurfacing
Hardcastle Street Road Resurfacing
Ivordale Crescent Road Resurfacing
Ivorwood Crescent Road Resurfacing
Lozoway Drive Road Resurfacing
Noreen Drive Road Resurfacing
Oakley Boulevard and other local roads Road Resurfacing
Rintella Court Watermain Replacement
Robertsfield Crescent Road Resurfacing
Shangarry Drive Road Resurfacing
A road classification system designates streets into different groups or classes according to the type of service each group is intended to provide. This is a fundamental tool for urban development and road management. Grouping roads with similar functions can improve transportation planning, road infrastructure design, maintenance, traffic and road operations.
Every street owned by the City of Toronto has been given one of five classifications (with the exception of public laneways).
Ward 37 Map
City-Wide Maps
The City of Toronto ensures that tenants live in safe, well-maintained buildings through RentSafeTO, a bylaw enforcement program. Building owners must comply with the bylaws within the program or face financial penalties.
The information in this report states the results from scheduled apartment building audits conducted by Municipal Licensing & Standards bylaw officers.
RentSafeTO Ward 37 Audit Report