Toronto Employment Survey
Since 1983, Toronto's City Planning Division has monitored the City's employment by conducting an annual survey of businesses. The data collected is vital to monitor the City's economic health, as well as aiding in decision and policy making. It is essential background information for forecasting and planning the City's infrastructure and services for the citizens and businesses of Toronto. The Survey is a unique resource in Canada for the private and public sectors.
The 2017 Survey
The 2017 Toronto Employment Survey began May 8, 2017 and ran until August 18, 2017. Thank you for your participation. The 2017 Employment Bulletin will be available in January 2018.
Throughout the summer, surveyors from the City Planning Division's Policy & Research section visit each and every business establishment in the City of Toronto. That's over 75,710 locations. The surveyors collect information about the number of employees working there, and the type of work that is taking place. No other programme relates Toronto employment and land use.
Your information is confidential
The information collected is treated as strictly confidential. The data is only released to the public in aggregate form. This allows employment patterns to be studied without revealing specific information on individual businesses.
We need you
The continued success of this important survey depends on the co-operation and assistance of the City's business community. We rely on each business establishment to provide us with information on the number of full- and part-time employees as well as the type of employment activity taking place at each location.
Watch out for a surveyor at your business this summer and count your business in.
The revised 2016 Employment Bulletin summarizes the results of the 34th annual Toronto Employment Survey and provides an analysis of changes in Toronto's economy over the past decade. The bulletin reports on key employment trends by sector, and on evolving employment patterns across the City and in Downtown, the Centres, Employment Areas, and Secondary Plan areas. This edition of the bulletin also discusses the survey's improvements to usage and validation of North American Industry Classification System (NAICS) coding, and assesses coverage of establishments across the city through a comparison of survey data to data from Statistics Canada's Business Register and Environics Analytics' Business Locations.
Toronto Employment Concentration, 2016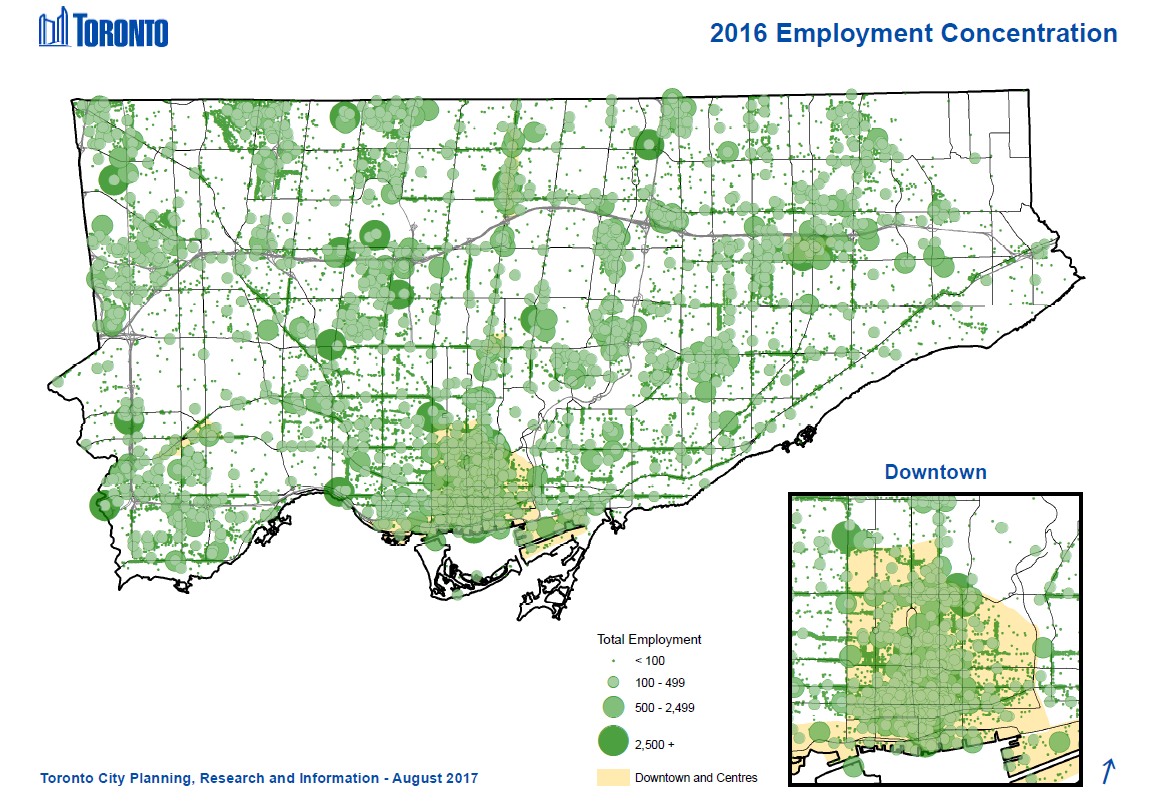 Highlights
The 2016 survey counted 1,461,020 jobs, an increase of 38,740 jobs or 2.7% from Toronto's overall employment base in 2015.
Full-time employment has surpassed the 1 million mark for the 11th consecutive year.
Part-time jobs increased by 8.4% from 2015, an addition of 28,760 jobs.
The Office category remains the largest sector in Toronto, accounting for almost 1 out of every 2 jobs.
In 2016, approximately 600,560 jobs were located in Toronto's Downtown and Centres, 41.1% of all jobs.
North York Centre, with 40,320 jobs, remains Toronto's largest employment Centre after Downtown.
Yonge-Eglinton Centre has Toronto's highest employment density of any Centre with over 30,000 jobs per km2.
In 2016, 398,350 jobs were located in Employment Areas, or 27.3% of all jobs in Toronto.
The survey counted 75,290 establishments in 2016, a net loss of 420 establishments.
79.5% of all Manufacturing establishments and 92.8% of all Manufacturing jobs are in Employment Areas.
The Community and Entertainment category added the most establishments in 2016, increasing by 550 or 27.6% since 2015.
Total Employment in City of Toronto, 1983-2016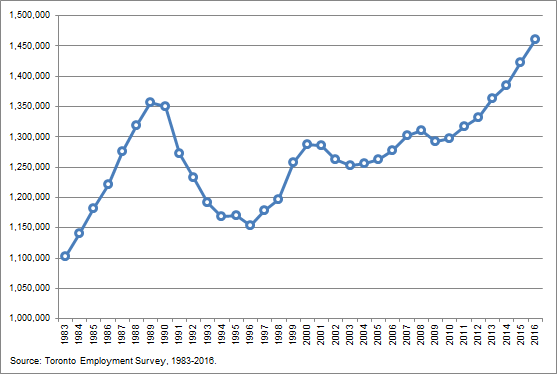 Total Employment – 2006, 2015, 2016
Employment
Total Number of Employees
Net Change
Growth Rate
Net Change
Annual Growth Rate 
2006
2011
2016
2006-2016
2015-2016
Full-time
1,001,060
1,077,930
1,087,930
86,870
8.7%
10,000
0.9%
Part-time
276,950
344,350
373,090
96,140
34.7%
28,740
8.3%
Total
1,278,010
1,422,280
1,461,020
183,010
14.3%
38,740
2.7%
Source: Toronto Employment Survey, 2006, 2011 and 2016.
For copies of the Employment Bulletins (2003 onward), please contact Hailey Toft at City Planning by telephone at 416-392-8343 or by email at cityplanning@toronto.ca.