City-Wide Study of Existing Dog Off-Leash Areas
The City of Toronto is running a study to find out how the City's existing Dog Off-Leash Areas (OLAs) can be improved to accommodate an increasing human and dog population.
Study Goals
Improve existing OLAs through better design, maintenance and operation
Encourage healthy relationships between dog owners and non-dog owners
Elevate OLAs as spaces that provide a healthy, safe, accessible and sustainable environment
Develop guidelines to ensure consistent maintenance and operation across Toronto
Develop design recommendations that can be applied to all existing OLAs
Improve community involvement and develop future ongoing partnerships
Project Details
With the number of people and dogs in Toronto growing, the use of dog off-leash areas (OLAs) continues to grow. The Parks & Recreation Facilities Master Plan (2017) recommended the City develop criteria for improving existing dog off-leash areas.
This study will explore common issues, consider community needs and suggest solutions to help improve the City's existing OLAs. As part of the study process, the City will choose and review ten (10) case studies to understand how local challenges and opportunities could help inform the Study's recommendations, which will apply to all OLAs city-wide.
Accommodating Dogs and People
The City considers:
Dog and human safety, health and enjoyment
Harmonizing uses in parks and meeting a diversity of needs
Cost, including design, construction and maintenance
Environmental impacts, such as foliage protection and surface erosion
Accessibility and feasibility
Feedback from park users
Design, Operations and Maintenance Considerations
The design of an OLA and its maintenance are interconnected. As each OLA has its own challenges and opportunities, tailoring design elements and maintenance programs will be an important consideration of this study.
Potential elements of a successful OLA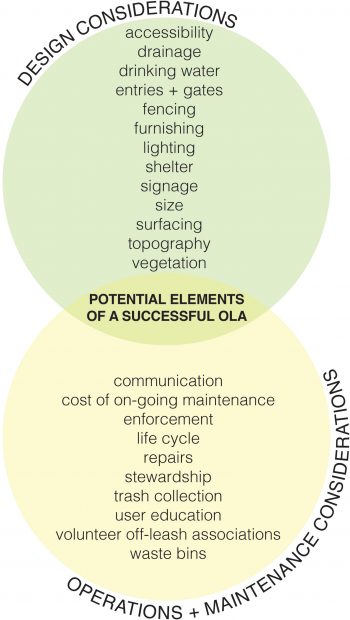 Design considerations:
accessibility
drainage
drinking water
gates and entrances
fencing
furnishing
lighting
shelter
signage
size
surfacing
topography
vegetation
Operations and maintenance considerations:
communication
cost of on-going maintenance
enforcement
life cycle
repairs
stewardship
trash collection
user education
volunteer off-leash associations
waste bins
Project Timelines
The study started in spring 2019 and is expected to end in winter 2019.
Consultation Process
The consultation process will happen in three phases and will involve everyone from Dog Owner Associations to local communities to the city-wide public.
Phase 1: Build Understanding (spring to summer 2019)
Present and seek feedback on common issues, best practices, and potential solutions to common issues
Phase 2: Testing Ideas (summer to fall 2019)
Present and seek feedback on ten (10) local DOLA case studies and draft city-wide recommendations
Phase 3: Finalizing Recommendations (Fall to winter 2019)
Present and seek feedback on the preferred recommendations
Get Involved
Your ideas, opinions and knowledge will help us improve the City's existing Dog Off-Leash Areas.
Ways to Get Involved
There are three different types of engagement planned over the course of the process:
Stakeholder Group Meetings
The City and its consultant team will meet with representatives of Dog Owners Associations and organizations that have an interest in OLAs design, operations, and maintenance. The purpose of these meetings is to discuss common issues, potential strategies to address issues and draft recommendations. There will be four Stakeholder Group Meetings over the course of the process.
Stakeholder Meeting 1, June 20, 2019
The City of Toronto hosted a stakeholder meeting for its City-Wide Study of Dog Off-Leash Areas. The purpose of the meeting was to introduce stakeholders to the Study and to present and seek feedback on: a preliminary best practices review; draft criteria to select case study sites; and a proposed approach to a public-facing survey and Discussion Guide to inform the Study. Approximately 30 people attended the meeting, including members of Dog Owners' Associations, dog walkers' associations and others.
'Pup' Ups in 10 Sites
'Pup' up events will be scheduled in fall 2019.
The City and its team will host pop up events in each of the 10 case study sites to connect with dog-owners and park users. The purpose of these events is to share information about the Study and seek feedback on potential city-wide recommendations to improve OLAs.
Public Surveys
The City will host two online Public Surveys over the course of the process. The purpose of these surveys is to seek feedback from the broader public on common issues, potential strategies to address issues, and draft recommendations related to the improvement of OLAs city-wide.