Monsignor Fraser College – Annex Campus
Construction is planned to start in May 2019 and is expected to last three months, weather permitting. Construction is delayed because tendered bids for the project exceeded the budget. To complete the proposed enhancements, the project will be re-tendered in fall 2018.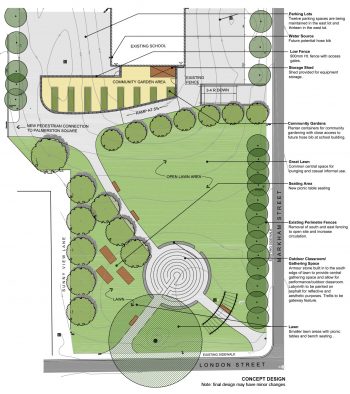 Stay tuned for a detailed construction schedule.
The City of Toronto and Toronto Catholic District School Board (TCDSB) are partnering to improve the Monsignor Fraser College (Annex Campus) asphalt schoolyard. This will increase opportunities for expanded programming and new green space for the students and Seaton Village community.
The proposed enhancements include:
removal of asphalt schoolyard, south of school building
partial removal of existing perimeter fencing
new lawn areas
new pathways
informal outdoor classroom and gathering space
community garden
benches and picnic tables
trees
Background
Monsignor Fraser College is located at 700 Markham Street, north of Bloor Street West and west of Bathurst Street. TCDSB, owners of the 0.3-hectare site are entering into a long-term agreement with the City to create a new public space open to the community at large.
A public consultation meeting was held in January 2018 to share a preliminary proposed plan, receive public feedback and discuss priorities for improvements. This meeting built off previous community consultation hosted by the TCDSB prior to the City's involvement.