Upper Highland Creek Access Improvements
Connecting Gatineau Trail with Morningside Park
The Pan Am Path is a multi-use recreational trail network which spans the City of Toronto. Most of Pan Am Path runs through river valleys and along hydro corridors. However, certain sections of the Pan Am Path detour along municipal roads. In the summer of 2014, the City of Toronto and Toronto and Region Conservation Authority (TRCA) began planning a trail connection project within Morningside Park in order to develop an important connection to the Pan Am Path through the Highland Creek Valley Corridor.
The preferred trail connection alternative endorsed by the City and TRCA is shown here.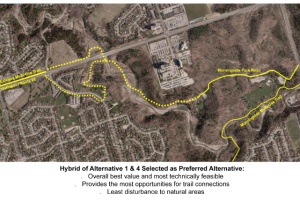 This alternative was preferred as it employs existing under-developed trail infrastructure that provided additional trail connection opportunities from both Ellesmere Road and Orton Park Road. This option also provides the overall best value, is most technically feasible, and causes the least disturbance to surrounding natural areas.
Other proposals to reduce the number of bridges were also considered. These options were eliminated from further consideration due to concerns that certain slope sections were steep and potentially unstable.
Following completion of the detailed designs and receipt of necessary permits and approvals, the trail connection works will be implemented over the next several years with capital funding allocated to the project on an annual basis.
Project timeline
Public Consultation: May 2017
Design and Tendering: July 2017-March 2018
Construction of Trail: Summer 2018-Spring 2020
Trail Opening: Summer 2020
Phase 1 was completed in early 2016 and the focus was inventory and analysis. The project team completed various tasks related to the inventory and analysis including reviewing existing planning policies, conducting archaeological assessments, carrying out tree inventories and topographic surveying, and completing an Ontario Stream Assessment Protocol Monitoring report. Phase 1 has concluded with a clear picture of the opportunities and constraints for the proposed Pan Am Path Connection and set the stage for conceptual design work in Phase 2.
Phase 2 consists of securing all necessary permits and approvals and creating an implementation schedule with preliminary cost estimates. Consultations will provide important feedback to help determine priorities. Phase 2 should be complete by March of 2018.
Phase 3 will consist of the implementation of the three bridges as well as asphalt paving works along the existing gravel trail within Morningside Park, and will commence between July and December of 2018.
A public meeting was held on May 23, 2017.
For more information about the project, download a shortened version of the presentation: Highland PanAm MultiUse Trail.