Streetscape Types
The Streetscape Manual categorizes all Major and Minor Arterial Roads identified by Transportation Services Road Classification System as Main Streets or Green Streets depending on the street use, built form pattern, type of public or business activities, transportation priorities and natural features.
Main Streets and Green Streets are sub-divided into a hierarchy of streetscape types. The hierarchy helps assign appropriate design treatments to reflect the character and significance of an arterial street within Toronto. Streetscape treatments remain generally consistent on streets of the same type across the city.
The hierarchy of streetscape types includes:
Main Streets

Special Streets
Major Streets
Existing Main Streets
Emerging Main Streets

Green Streets

Scenic Streets
Intermediate Streets

Special Areas
Since many streets cross long distances and a range of areas in the city, it is possible that the streetscape type may change several times from beginning to end.
Main Street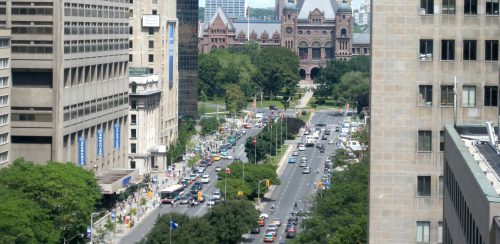 Main Streets focus on commercial, residential and mixed-use buildings which generate grade-related activities. The buildings create a continuous street wall with a direct or 'storefront' relationship to both the pedestrian realm and the vehicular portion of the street. They support public transportation networks, pedestrians, cyclists and private vehicles. This streetscape category encourages diverse types of economic stimulation and social interaction at a pedestrian scale.
Special Streets can be distinguished by their high level of importance in the city resulting from historical, cultural, physical or functional characteristics. Often used as ceremonial routes, they are recognized provincially, nationally or even internationally as making significant contributions to the character of Toronto.
Special Streets are usually lined with important public and institutional buildings. They support a high volume of pedestrian movement, as well as vehicular traffic, and are well-connected by public transit. The distinct identities of Special Streets should be complemented with customized design elements and the highest quality materials.
Major Streets are well-established streets that lead to or are lined with important public buildings, and therefore, have provincial and city-wide importance. They are predominantly lined by institutional and commercial buildings, with some ground floor retail and restaurant uses. Businesses are well-established and contribute to the municipal and provincial economy. They are well-connected with public transportation and support a high volume of pedestrian and vehicular traffic.

Major Streets generally require many years of development to achieve their provincial and city-wide importance and tend to have a moderate level of historical significance. As with Special Streets, Major Streets are not restricted to any particular area in the city, however, due to the high concentration of institutions and businesses, as well as intensity of land use, the majority of them are within the Downtown and Central Waterfront areas.
Existing Main Streets are predominantly commercial and mixed-use in nature, with residential areas in close proximity. The livelihood of the businesses is dependant on the local community, therefore, making them the most important street in the neighbourhood. They are the focus of public life in a neighbourhood and support local festivities such as sidewalk sales and festivals.

Existing Main Streets are usually supported by public transportation in the form of streetcars or buses, and their local scale supports a comfortable pedestrian environment. They typically retain some aspect of an earlier era such as a post office, banks, community religious centres and/or rows of older commercial buildings.
Emerging Main Streets are predominantly commercial in nature, with suburban characteristics, and are undergoing both commercial and residential intensification. Although the existing businesses may be less established than those on Existing Main Streets, they are important contributors to the local community. Therefore, Emerging Main Streets are often the most important street in the neighbourhood.
Emerging Main Streets are supported by public transportation, usually in the form of a network of bus routes. With significantly wider road widths than Existing Main Streets, vehicles have a strong presence on these streets and substantial parking areas are usually adjacent to businesses. Although Emerging Main Streets do not currently provide significant pedestrian amenities, the extra road width provides opportunities for improved pedestrian environments, such as grassy boulevards and street tree planting. Emerging Main Streets share some qualities with Existing Main Streets; however, their transitional state requires their streetscape design to be flexible.
Green Streets
Green Streets are highlighted by adjacent natural areas, public parks and open spaces. The urban elements within the streetscape are integrated with natural environments and enhanced with street tree planting, creating open space corridors with a naturalized form. Green Streets play a similar role as the Green Space System (Toronto Official Plan), while still supporting vehicular traffic, pedestrians and cyclists. This streetscape category encourages diverse types of environmental protection and social interaction at a pedestrian scale.
Scenic Streets are adjacent or have a direct physical relationship with natural features such as parks, ravines, rivers and lakes. This relationship often provides important views. Buildings plays a minor role in the character of Scenic Streets, however, when present, they are usually residential.

Scenic Streets have wide boulevards, often with grassy or tree planted medians which reduce the impact of vehicles. Their generous width provides opportunities for pedestrian and bicycle trails which often connect to a wider recreational system. Their significance can be regional, city or provincial-wide. Scenic Streets are usually supported by public transportation in the form of buses.
Intermediate Streets have a stronger presence of buildings than Scenic Streets and therefore, the edge of the street is better defined. Although the buildings are usually residential, there are often mixed-use buildings. Intermediate Streets exhibit suburban characteristics such as wide set-backs, substantial parking areas and residential lots with rear gardens and privacy fences facing the street. The reverse lot conditions offer no connection to adjacent buildings and limited vehicular and pedestrian access.

Intermediate Streets connect important places in a neighbourhood such as schools and community facilities. They provide an uninterrupted flow of vehicular traffic and are connected by public transportation, most often in the form of buses. Given the wide set-backs, Intermediate Streets often have significant street tree plantings or opportunities for such. Reverse lot conditions can benefit from screen planting along privacy fences to soften the boundary. Similar to Emerging Main Streets, Intermediate Streets support opportunities for intensification. They can evolve into an Emerging Main Street or stay as an Intermediate Street, depending on the use and level of development.
Special Areas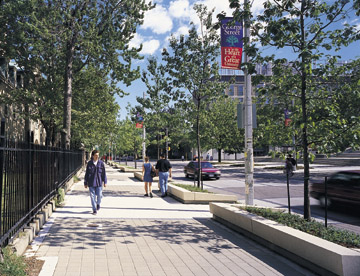 Although the Streetscape Manual deals mainly with streets in the City's arterial road network, it does include recommendations for some local and collector roads within Special Areas.
The Manual identifies these neighbourhood streets with a "Special Area" designation to indicate that special planning circumstances exist, for example, the street is located within a historically significant area, a Centre, a special district, a business improvement area, or an educational campus.
Special Area streetscapes may be main streets or green streets and include enhanced paving, lighting, or other design features that reinforce the history or character of the surrounding area.