Blue's Report Card
Blue is ready to be adopted. See her at the East Shelter at 821 Progress Ave.
Type of dog:
German Shepherd Mix
---
Meet Blue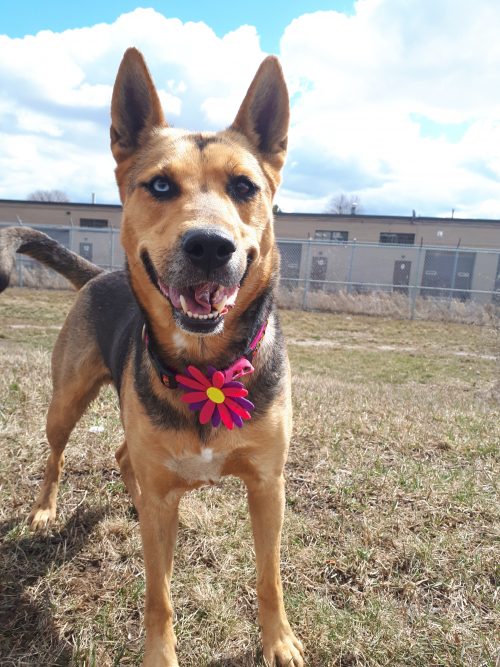 When this German Shepherd came to Toronto Animal Services last November, she caught everyone's attention with her one blue eye, giving her the name "Blue." She had another few surprises up her sleeve. Despite being a stray with an unknown background, she already knew a few tricks: how to sit, shake a paw, and basic manners. She was friendly, but let her handlers know she wasn't comfortable around other dogs and didn't like sharing her toys and food. However, she is overall a really sweet girl who likes to lay on her side, get belly rubs and just be loved. We put her in our program to help her with her anxiety and resource issues, and to learn new skills to help her find her second chance family.
What Blue needs when you adopt her:
We want to find Blue a family that is prepared to provide her with positive reinforcement training so she understands that people and dogs can be her friends. Redirection during play will be required, and she needs a lot of exercise to overcome her anxious behaviors. Consistency and support will work wonders with this dog.
Blue's Progress:
From his trainers: "Blue is a great dog and her behaviors are very manageable.She will need consistent positive training to make sure that she keeps responding appropriately around other dogs, her food bowl and bones. But the nice thing about Blue is that she gives clear warnings when she is not comfortable with something. She is starting to understand that she will be rewarded when she sees another dog. During reactivity training, she has learned to stay on task and focus on her handler. Over time during classes with another reactive dog, Blue has learned how to remain focused on her handler and does not get involved. We have continued to build a strong connection with saying her name and rewarding her as soon as she looks at us, so that we can redirect her focus when she sees another dog. This has worked very well at calming her."
Watch Blue demonstrate all she has learned in the training centre in an agility course. She can sit, stand, go on the table, stay, jump over obstacles – and most importantly, keep her focus on her handler.