Georgia's Report Card
Georgia is ready to be adopted. Come visit her at the North Shelter at 1300 Sheppard Ave W.
Type of dog:
American Bulldog/Mastiff Mix
---
Meet Georgia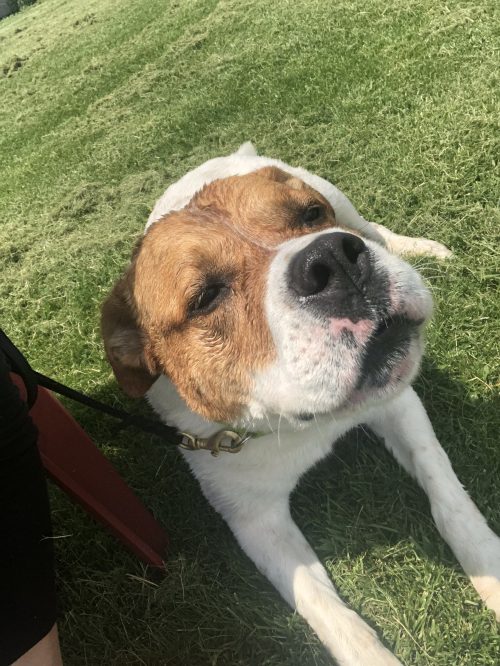 When Georgia arrived at Toronto Animal Services, she was very uncertain about her new environment and who to trust. With continuous work, Georgia's confidence has increased and she thoroughly enjoys seeking attention from staff. Staff are extremely pleased how outgoing she has become. Georgia loves toys/tennis balls and needs some help with some resource guarding.
What Georgia needs when you adopt her:
Georgia will require an experienced owner that will continue with her training and has no other dogs. She is good with other dogs but tends to be a bit pushy and forward, and does not like to share her toys. She has been introduced to both male and female dogs, but she can get into some trouble once play begins. Her new family will need to work on these issues with continuous positive reinforcement training.
Georgia's Progress:
From her trainers: Georgia has been working with the trainer and learning how to exchange tennis balls and bones exchange for another ball/bone of higher value to her instead of hogging or guarding them. She is learning to release the ball first prior to being given another ball as well as "leave it" when walking around the room while surrounded by multiple balls, while she is leashed. She is also learning to exchange the ball for treats.
Georgia has continued to do well with her training. She is now dropping her ball when she cued "out" for a treat/reward and given the opportunity to continue playing. She has learned to leave the ball on a verbal cue and to take the ball when verbally cued.
Georgia has improved greatly with guarding her toys. She has now progressed to leaving and taking a ball on verbal cue. As this is a manageable behaviour, it would be best not to introduce toys to her while other dogs are in her presence.