Harvey's Report Card
Call 416-338-7297 if you're interested in adopting Harvey.
Type of dog:
Cane Corso mix
---
Meet Harvey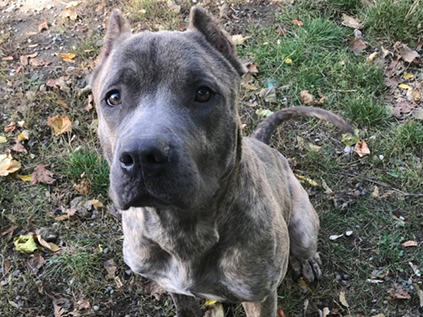 Harvey came to Toronto Animal Services as a stray and his owner never came to claim him. Luckily for Harvey, he came to the right place! Harvey was initially head shy with the staff but it only took him a few days to realize he could trust his new friends. The staff saw Harvey's potential and knew he deserved a second chance. Harvey did not come to us with any manners. He does not understand his strength or size and lacks boundaries with humans and other dogs. He likes to jump up and be mouthy so he can be difficult to handle. Harvey is going to spend some time at board and train where he learns self-control and appropriate behaviours with new dogs and people. He will also learn some basic manners with positive reinforcement training.
Harvey's Progress
WEEK 1:
From his trainers: "Harvey is a fun boy with boundless energy." Harvey has been introduced to positive reinforcement training with the use of clicker sound base learning and a reward for success system. He understands the meaning of the click and works to repeat behaviour to gain the opportunity for reinforcement. He likes his training sessions but has a difficult time with focus and attention. Harvey is strong and difficult to control. He lacks social skills with dogs and does not read or send appropriate signals. He exhibits extreme rough play and needs to be redirected when allowed to engage with another dog. Harvey is beginning to learn some impulse control with consistent boundaries. He has learned to sit before released from his run. He is learning some focus skills but is still easily distracted.
As Harvey's confidence grows, he will be able to learn proper social interaction both with people and dogs.