Rocky's Report Card
Rocky will be available for adoption on May 19. Call 416-338-7297 for more details.
---
Meet Rocky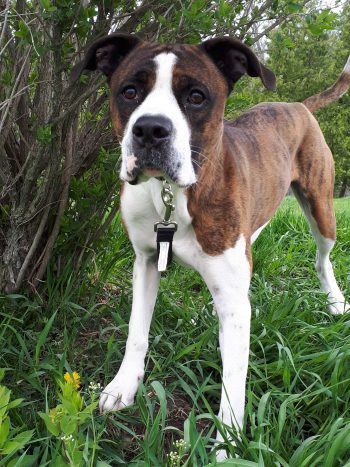 Rocky is a cheerful, fun dog and staff have really enjoyed his companionship. He was originally a little unruly during his interactions with staff, displaying anxious behaviours, such as jumping up and mouthing at his handler. With consistent routine and positive reinforcement, Rocky is learning to adjust to the environment and is becoming a more confident dog. Rocky looks forward to his daily play time and interaction with staff.
What Rocky needs when you adopt him:
We want to find someone who will take their time with him, is committed to meeting his needs and realizes that he can get overstimulated. Ideally, the best family would need to help him learn self-control.
Rocky requires an experienced family that can continue to provide consistency, boundaries and positive training methods.  An active home is important for Rocky as he requires a lot of exercise and mental stimulation.  Another dog would be ideal, providing they meet each other. At this time, a home with no children would be best for Rocky.
Rocky's Progress:
From his trainers: "Rocky presents himself as very focused, anxious and starts mouthing and barking once he becomes overstimulated. He is learning that these behaviours have consequences. He has been working on learning new skills and behaviours such as 'watch me,' 'leave it,' 'sit down' and 'go to your bed.' Rocky has been socializing with other dogs but tends to get very excited when they won't engage with him and he is working on controlled greetings. Although Rocky is progressing with these new techniques, he will continue to receive additional time with the trainer's in an effort to continue to work on methods to help redirect him."
Another update: "Rocky has been doing great with obedience training.  He is now following all commands and responds really well with his training in all environments.  Rocky has continued to do well with his mouthing.  He has shown great improvement during his training times, while on his daily walks and when he gets to chill out with staff in their office. He has learned how to play and interact with most dogs appropriately, however, sometimes needs to be redirected. Rocky still becomes overstimulated when he is surrounded by too many dogs and sometimes becomes overwhelmed, and barks in their face."
Watch how Rocky is working on focusing his attention on his handler even though the room has a lot of distractions.