Roy's Report Card
Roy is ready to be adopted. See him at the North Shelter at 1300 Sheppard Ave W.
---
Meet Roy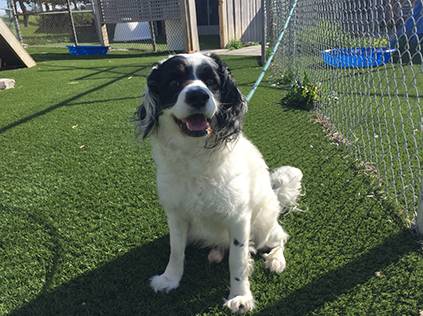 Roy arrived at Toronto Animal Services because his owner unfortunately did not have enough time to provide him the care that he needed. We saw his quirky and fun personality almost immediately. He loves to greet people, play with his toys, and roll over for belly rubs. After some time with his trainers he is quickly showing that he is willing to learn new tricks.
What Roy needs when you adopt him
We want Roy to find a place he can call home but this time for forever! Roy is coming along nicely with his interactions with dogs and does a good job most of the time reading and sending appropriate signals.
At this time, Roy should not be adopted into a home with any other pets. Roy has some areas on his body that he does not like to be touched. We have been working with him on this and it has improved, but if he is caught off guard he still responds with a yelp. Because of this reason, he should not go to a home with young children.
Roy is good with other dogs but can become annoyed with some, and his owners will have to be proactive for positive results. Overall, Roy is a fun, happy boy that likes to play and fetch. His terms of adoption will require proof of a positive reinforcement trainer to continue working with him along with a detailed training plan. His owner will need to have previous experience with owning a dog.
Roy's Progress
"Roy has displayed some minor guarding issues with other dogs but is easily redirected. He has no issues with people touching his food or toys."
"Roy's interaction with other dogs is good and he makes proper decisions when reading other dogs most of the time. He can still get annoyed with pushy dogs. He has done very well in our play all day program. He is a very vocal dog and this is also evident in his play."
"Roy is doing well with his basic skills. He is doing well in a classroom situation and has better impulse control and attention when working around other dogs. On a one on one he is doing very well with these skills. He has sit, down, attention, leave it and beginning mat work. His loose leash walking is coming along nicely."