Sizzler's Report Card
Sizzler is ready to be adopted. Visit him at the West Shelter at 146 The East Mall.
Type of dog:
American Bulldog Mix
---
Meet Sizzler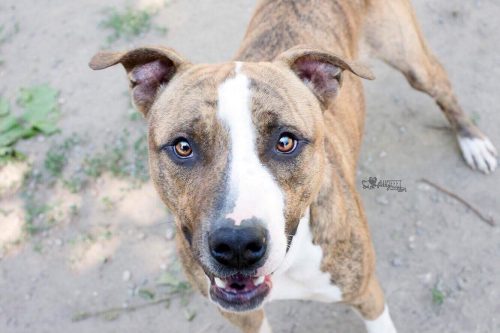 Sizzler came to us as a stray, and his family never came in to claim him.  Fortunate for Sizzler, he came to the right place – we are giving him his second chance at finding him a loving home. Sizzler is always seeking staff's affection and interaction.  His exuberant energy expels over into jumping and mouthing at his handler. But Sizzler is already improving when he is walked on a harness, or when we let him hold a toy in his mouth as a distraction. Sizzler is going to spend some time with trainers where he will learn some manners and self-control with positive reinforcement training.
What Sizzler needs when you adopt him:
We want to find Sizzler a home that has the time and patience to further continue his confidence building with positive reinforcement training.
Sizzler's Progress:
Week 1:
From his trainers: "Sizzler is a very high energy dog. It requires a lot of mental and physical stimulation to tire him out." He likes to jump up and grab his leash. He has already learned that he will not be engaged until he drops his leash and calms down. By using two leashes, they are never engaging him in a game of tug. When he starts to grab at the leash, by folding his leash up very small in their hands, there is nothing to grab onto. These methods are working for Sizzler as he is starting to grab at his leash less. Sizzler has also been working hard learning new skills such as four paws on the floor, no jumping, toy exchange, sit, lay down and go to his mat on cue. Sizzler has been socializing with small groups of calm dogs with good social skills. When he gets too rough, they tell him off and he respects them and backs off.
Sizzler has made a great start! He will continue his work with training and other dogs.
Week 2:
From his trainers: "Sizzler is starting to settle down a bit." He is starting to understand that the faster he calms down, the quicker he gets treats and an opportunity to play. Running him for 20 minutes before starting a training session helps to calm him down and helps with his leash biting. He is doing well with all of his new exercises and picking up on them quickly.
Sizzler is doing well with other large dogs but will get pushy with high energy dogs. He becomes stimulated and will bully and grab them. We are working on keeping him relaxed and focused around excitable dogs and to have calm/relaxed greetings.
Week 3:
From his trainers: "Sizzler is really starting to figure out his training." He is a bundle of energy that is really starting to be harnessed into useful behaviours. He is understanding that he is heavily rewarded when he is calm and relaxed.
Sizzler is doing well with other large dogs and we are still focusing him to be relaxed and refocussing him when he gets overstimulated. He is doing well in group classes.  He has worked his way into being in the room with a group of people and dogs and remaining focused on his handler.