Sophie's Report Card
Sophie is not yet ready to be adopted. Check back here for updates on her status.
Type of dog:
American Bulldog Mix
---
Meet Sophie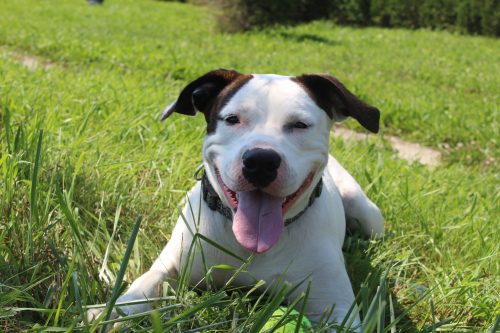 Sophie came into Toronto Animal Services in August as a stray.  Since her arrival, she has been the picture of a happy dog, and exhibits very exuberant interactions with staff. Sophie loves attention and especially belly rubs.
Staff decided to send Sophie to be trained so she can learn about leash manners and self-control to deter her from grabbing her leash, as she loves to play tug of war. She will also benefit from learning basic obedience manners, social skills while interacting with other dogs, as well as many positive experiences of meeting strangers
What Sophie needs when you adopt her:
Sophie is looking for an experienced family that can continue with her positive reinforcement training and is capable of handling her exuberance and strength.
Sophie's Progress:
The training facility reports that Sophie is a nice girl that learns very quickly. She's been doing great with basic obedience training, and staff have been working with her to get her familiar with sitting and getting rewards. She is learning how to walk with a loose leash, and been doing very well with minimal mouthing and jumping up. While Sophie enjoys playing with other dogs, she occasionally needs to be removed as she tends to become excited.  When she does settle, she is reintroduced back into play.
Sophie will continue to stay at the facility for another week to continue to work on her basic skills, loose leash walking and controlled entries/exits as well as continued socialization with other dogs.
As we receive her progress reports, this page will be updated with her special training needs. Stay tuned – it will be exciting to hear about her progress!