Spot's Report Card
Spot's adoption fee has been reduced to $50 as part of a special promotion for Second Chance Dogs. Call 416-338-7297 if you'd like to adopt Spot
Type of dog:
Siberian Husky and Australian Cattle Dog mix
---
Meet Spot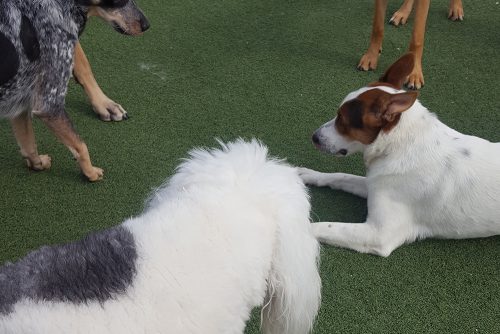 Spot is a bundle of energy and love! He came to us as a stray, and we quickly learned that he had a lot of anxious energy and liked to jump on people when he met them. He did not have the best dog-to-dog socializing skills either, and we decided he would benefit from extra training. Despite Spot's behavioral needs, we knew he had a great personality and a huge heart.
Spot's Progress:
Spot came back from training a changed dog. He now enjoys playing with other dogs and does very well in social situations. He continues to improve on his basic manners, including jumping on people and mouthing. We are confident that with the right training the mouthing and jumping will completely extinguish.
Spot's New Family
We want Spot's new family to be experienced dog people and be willing to give him the exercise, patience and love he needs. He's worth a little patience and we don't want his old behaviors to come back. Since Spot continues to jump, we would prefer that the family have no small children.