Tank's Report Card
Call 416-338-7297 if you're interested in adopting Tank.
Type of dog:
Rottie/American Bulldog mix
---
Meet Tank
Tank was surrendered by his owner when they couldn't care for him anymore. He was then adopted by another family, but sadly returned to Toronto Animal Ser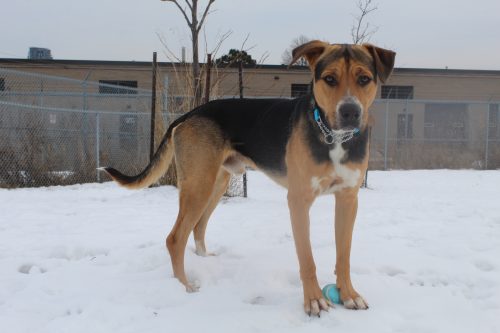 vices again. Tank is a sweet and rambunctious young dog, who would love to have a forever family.  While at the shelter, we noticed that he likes to jump up on people, can be a rough player with other dogs and doesn't like sharing his things. We enrolled Tank in our Second Change Dog training program to improve on his manners and interactions with dogs.
Tank's Progress
WEEK 1:
Tank is doing well with his food bowl. His trainers have been working on having Tank maintain a sit, until he is released with "ok" when his food is put down. He continues to work on approaching his food bowl and placing treats in around his bowl while he is eating.
WEEK 2:
Tank has done well with the other dogs he has been introduced to. He still needs to learn some manners when interacting with the other dogs, however, he is being social.
WEEK 3:
His trainers have been working with Tank being handled by touching various areas of his body, and he is doing well, although he does not like being interrupted when he is focused. They will continue to work on interrupting him and rewarding him.
Final Report
Tank is a good boy. He has improved a ton since being with us. His basic obedience and focus is very good. He is friendly and social with dogs and people.