Past Projects
Window and balcony door replacement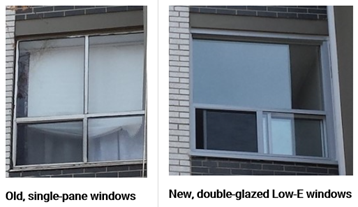 Using funding from the Hi-RIS program, a rental apartment building with 20-storeys and 304 units, completed a $1.3 million window and balcony door replacement.
Built in the 1960s, the property owners had not replaced the single-pane windows or wooden balcony doors since construction.
The project installation took place from August to November 2015 and lasted three and a half months.
The majority of the savings came from natural gas at $85,000 per year. In addition, there are annual maintenance and repair savings of $35,000. Total annual savings resulting from this building improvement are $120,000.
Project Cost Breakdown 2015
Total annual savings:
$120,000
Total amount financed:
$1.3 million
Financing costs:
4.25% fixed interest rate + 0.8%   administration charge
Term length:
15 years
Annual cost of financing:
$112,000
Estimated Net Annual Savings
$8,000
Installing new windows and balcony doors will …help to improve our buildings' energy efficiency, and will increase our buildings' value. […] We'll be able to reduce our buildings' energy usage and operating costs going forward in perpetuity, while increasing NOI, cash flow and property values.

– Randy Daiter VP, Residential Properties, M&R Property Management
---
In 2017, Hi-RIS introduced lower interest rates and to demonstrate the benefits we ran the numbers on the window and balcony door replacement project to show you how you could save more:
Project Cost Breakdown 2015
Total annual savings:
$120,000
Total amount financed:
$1.3 million
Financing costs:
3.5% fixed interest rate + 0.8% administration charge
Term length:
15 years
Annual cost of financing:
$107,000
Estimated Net Annual Savings
$12,000