Case Study: 6061 Yonge Street
Located in Ward 24, 6061 Yonge St is a high-rise rental apartment building with 304 units built in 1968. In 2015, the owners, M&R Holdings, replaced the building's 48-year-old, original, single-pane windows and wooden balcony doors with new double-pane windows and insulated balcony doors. The project was financed through the City of Toronto's High-Rise Retrofit Improvement Support (Hi-RIS) Program.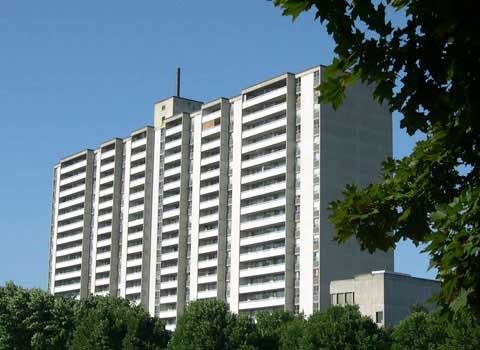 Key benefits of the project included:
Cost savings through both energy savings and reduced maintenance costs
Increased resident comfort through warmer suites and significantly reduced traffic noise
Improved tenant retention and referrals
Reduced structural, noise, air leakage & water problems
Improved building aesthetics and increased curb appeal
Improved overall building value
The building's original 48-year-old single-pane windows allowed water penetration and damage to the building structure and brick veneer, leading to expensive maintenance and repair costs. In addition to the maintenance inconveniences, air leakage through windows caused resident discomfort and increased energy use through the use of space heaters. The old, thin windows also led to noise concerns, especially for the units facing busy Yonge Street.
M&R decided to invest in a building-wide window and balcony door replacement, which took approximately 3.5 months (see a full Project Timeline below).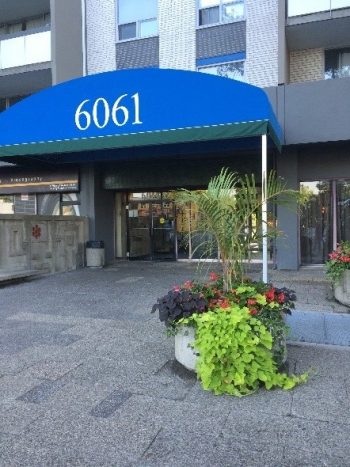 Cost Savings
Energy consumption savings from the window and balcony door replacement are projected to be higher than 26%. With a total project cost of $1.3 Million, cost savings from reduction in natural gas consumption is expected at $85,000 annually and from maintenance and repair savings at $35,000 annually, for a total savings of $120,000 annually.
The annual cost of financing is $122,500 (for a 15-year term at 4.25% plus administrative charge of 0.8%) which means the net cash flow impact is only $2,500 annually for brand new windows and balcony doors and the numerous associated benefits detailed below. Nearly 98% of the financing costs are offset by energy and maintenance savings. Once savings related to avoided electricity costs are factored in, costs are more than likely completely offset.
Tenant Satisfaction
In addition to making tenants very happy with their suites' new improvements, Randy Daiter, Vice President of Residential Properties at M&R Holdings, found that the upgrades helped the buildings' marketing efforts, as he was now able to include details about the new windows and balcony doors in advertisements. Not surprisingly, tenant referrals also increased.
"The tenants are absolutely thrilled, and this project helped us get there. It's got financial, environmental, marketing and aesthetic benefits," said Daiter. "You build up a lot more goodwill with a project like this than you do by doing garage work, putting in a new boiler or installing a new roof. It's been a fabulous experience for our tenants, for us as owners and managers and for our staff. It's been a win-win."
Good tenant engagement and support were key to this project's success – site staff only reported 5 telephone calls from tenants needing further attention, out of 304 units. M&R provided helpful notices and clear instructions to tenants. Because tenants had to vacate their unit during the daytime (for the 1 or 2 days when their windows were being replaced), M&R provided access to a hospitality suite. They also provided support to seniors free of charge for removing their drapery and moving their furniture.
Hi-RIS Financing Support
City of Toronto's Hi-RIS Program provided full project financing for this window and balcony door replacement project. Through Hi-RIS, property owners can access low-interest, fixed rate loans for energy retrofits with payment terms of up to 20 years. Property owners can make improvements today and repay the loan over time using savings to offset costs via installments on their property tax bill.
"We thought it was a very interesting program and there were a lot of benefits to it, including no need to register a mortgage on the property, which means not encumbering the property's title. It was quicker, cheaper and easier than getting traditional financing."

— Randy Daiter, vice president of Residential Properties at M&R Holdings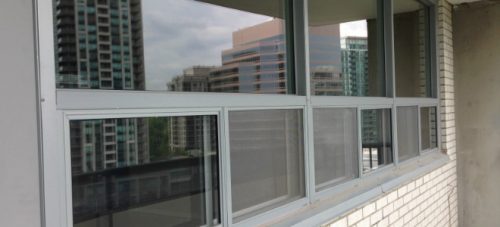 Properties enrolled in the Hi-RIS program can also receive incentives of up to $100,000 from Toronto Hydro and Enbridge Gas, as well as access to support from the City of Toronto's Tower Renewal Program staff.
Project Timeline & Costs
Project Timeline
November 2013 – Project Planning
February 2014 – Energy Audit
April 2104 – Pre-approval for Hi-RIS financing
January 2015 – Tenant Engagement roll-out
March 2015 – Procurement of contractor
August – November 2015 – Windows and balcony doors replaced
Project Costs and Savings
$1.3 million – Window and Balcony Door replacement
$ 4,276 – Cost per suite
$120,000 – Annual Cost Savings
Nearly 98% of costs offset by savings
Simply payback in 9.5 years