New Locations for Other Homeless Services
In addition to shelters, the City of Toronto offers different types of homelessness services to provide a safe, warm indoor space and connections to other supports to meet the immediate needs of people experiencing homelessness. These services operate from a low-barrier approach to serve people who may otherwise not access traditional homeless shelters.
Temporary Refugee Response Site
The City of Toronto will be welcoming a new temporary accommodation for refugee/asylum claimants to the Newtonbrook and Willowdale communities.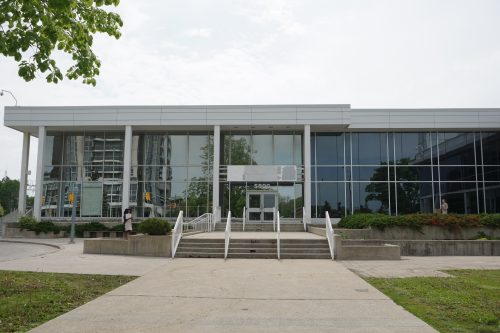 Location: 5800 Yonge St.
Client group: All gender, single refugees and asylum claimants
Number of expected overnight spaces: 200
Opening date: November 12, 2019
Service operator: Homes First in partnership with refugee-focused support organizations
The City of Toronto has leased the property at 5800 Yonge St. as a temporary accommodation for single adult refugees and asylum claimants. Homes First, an experienced service provider, in partnership with refugee-focused support organizations, will provide specialized support services onsite to assist people with their claim and other settlement issues on the City's behalf.
Since 2016, the number of refugee/asylum claimants seeking emergency shelter in Toronto has increased significantly. The opening of this site will help alleviate pressure on the shelter system and free up additional spaces for other people experiencing homelessness in need of services.
Partnership with Local Developer
Times Group Corporation, a local real estate developer, approached the City of Toronto to offer this property for lease.The founders of Times Group Corporation, who immigrated to Canada 30 years ago, chose to partner with the City in order to support efforts specifically to help people new to Canada resettle successfully.
Working with the Community
Join us for a community information session to learn more about this service and how to get involved with Homes First and our other service partners. Donations, volunteer opportunities and invitations to participate in special community-led events are just a few examples of how you can help make a difference.
Date: Thursday, November 21, 2019
Time: 7 to 9 p.m.
Location: Churchill Public School, 188 Churchill Ave.
Women's Resource Centre
The City has leased the property at 233 Carlton St. as the relocation site for the Women's Resource Centre.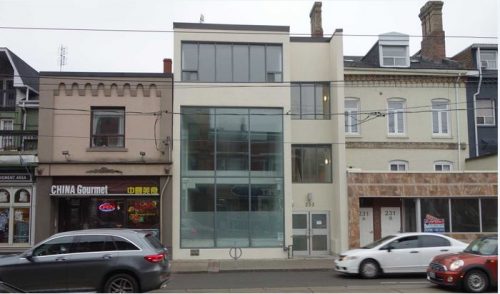 Location: 233 Carlton St.
Tentative client group: Women
Number of expected overnight spaces: 40-50
Opening date: Late 2020/Early 2021
Service operator: Fred Victor Centre with partner organizations
233 Carlton St. is expected to replace the existing Adelaide Resource Centre for Women at 67 Adelaide St. E. with a focus on providing supportive services for vulnerable women who are at risk of gender-based violence and experiencing homelessness. The Adelaide Resource Centre for Women was established in 1998. In 2014, the 24-hour women's drop-in program was created at this location as a result of Council direction to provide additional safe overnight space for women in the Downtown East neighbourhood.
The service currently includes a number of partner organizations that deliver services onsite including:
Additional project partners may be brought on board once the service is moved to 233 Carlton St. based on client and service need.
The aging infrastructure currently at 67 Adelaide St. E presents challenges for the effective delivery of the Adelaide Resource Centre for Women's services. 233 Carlton St. was identified as a suitable relocation site for a number of reasons: its close proximity to the existing location will facilitate service continuity given its important role in serving vulnerable women from the Downtown East, easy access to public transit, and space for the delivery of a range of services. As part of Council's direction to create 1000 new shelter beds, staff have been identifying suitable sites for new shelters and optimizing the use of space for existing services. Given the required renovations at 67 Adelaide St. E, the site was identified as suitable for adaptation into a homeless shelter, further necessitating the relocation of the existing Adelaide Resource Centre for Women.
Community Engagement
City staff site new locations for shelters under delegated authority as approved by City Council to address the urgent need for shelter spaces in the city of Toronto. The relocation of the Adelaide Resource Centre for Women to 233 Carlton St. falls under this authority as it is required due to 67 Adelaide St. E. being selected as a prospective new shelter site.
Community engagement usually starts six to nine months before a new location is opened and focuses on addressing concerns and how to support the success of the service in the community, rather than on service location. Community members can expect a number of engagement opportunities, led by a third-party facilitator, including but not limited to:
an information session where the community can meet and ask questions of the service provider, local partners and City staff
the formation of a Community Liaison Committee made up of local community representatives – City – and service provider staff that focuses on addressing questions, sharing information, discussing and collectively problem solving community concerns, and linking shelter needs with community offers of support
periodic e-newsletters
other opportunities for problem-solving focused stakeholder meetings
Additional information about the City's approach to working with the community is available on our community engagement web page. Infrastructure and programming updates for this location will be provided on an ongoing basis when available.
If you wish to join the City's electronic mailing list for 233 Carlton St., please email ssha.homeless@toronto.ca