2671 Islington Avenue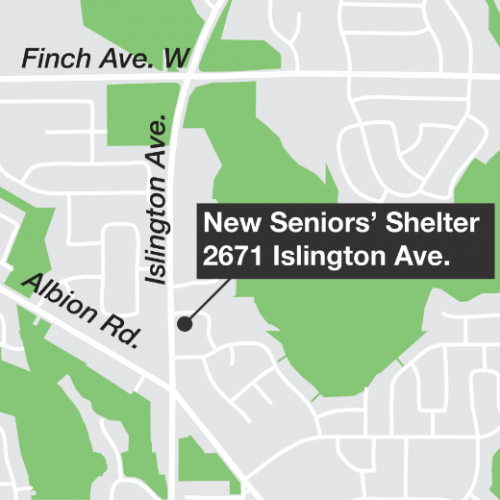 Location: 2671 Islington Avenue
Client group: Seniors
Number of beds: Up to 90
Opening date: December 15, 2018
Service operator: The Salvation Army
The City of Toronto plans to open a new shelter for seniors at 2671 Islington Avenue. The complex will comprise of three floors plus a basement.
The new shelter will help seniors who are experiencing homelessness find and keep a permanent home. During the day, residents will receive services from case managers and housing workers tailored to their specific needs. The shelter will be managed by The Salvation Army, an experienced non-profit shelter operator, who will follow the Toronto Shelter Standards.
Based on the final design of the building, total occupancy is estimated to be 90 beds. Renovations of the property are planned to happen in two phases. Phase one involves the renovation of 45 units on the third floor with several offices on the first floor expected to be operational by the end of the year. Phase two involves the renovation of the first, second and basement levels.
Community Engagement
Community engagement is essential to ensure that the new shelter is a good neighbour and serves as a valuable asset. Discussion with the community focuses on how the new shelter can be best integrated and provide benefits to local residents. The public will have an opportunity to support the shelter's success both for clients and the host community by engaging with the Community Liaison Committee. Interested residents can also sign up by e-mailing ssha.homeless@toronto.ca. The purpose of this committee is to gather resident feedback on how to best welcome clients and optimize operations of the facility. This committee will work directly with The Salvation Army's Community and Client Engagement Coordinator. The first meeting will occur following the opening of the shelter. Meetings will continue for up to six months afterwards.
Potential Community Benefits
Based on the preliminary assessment of the property, potential benefits may include: space on the first floor and/or basement for community uses (i.e. for faith-based events, meetings, etc.); landscaping elements and green space. Volunteering opportunities may be available through The Salvation Army.
Project Timeline
Summer to Fall 2018: Interviews and conversations with local stakeholders, including community leaders, business owners, service providers, and local residents
December 3, 2018: One open house community information session
December 15, 2018: New seniors' shelter opens on the third floor to clients
2019: Renovation of first, second and basement levels of the main building and implementation of community benefits as a result of community consultation
Contacts
For questions, comments, or any project related information, please contact:
Jacky Li
Independent Facilitator's Office
Swerhun Inc.
jli@swerhun.com
Shelter Support and Housing Administration
City of Toronto
ssha.homeless@toronto.ca