Anti-Black Racism
As the government closest to the people, the City of Toronto has a responsibility to create a city that works for all residents. We are taking steps to address anti-Black racism.
Online Now: Toronto Action Plan to Confront Anti-Black Racism
The development of the Toronto Action Plan to Confront Anti-Black Racism report is an example of effective community-government collaboration. Between September 5th and 29th, organizers, advocates and leaders within Toronto's Black communities worked with City staff to advance the removal of systemic barriers for Black Torontonians, following directives from the City's Executive Committee.
The Toronto Action Plan to Confront Anti-Black Racism staff report and Creative Report is now available. City Council will be considering the report on December 5.
This Roadmap highlights the Toronto Action Plan to Confront Anti-Black Racism process since March 2016.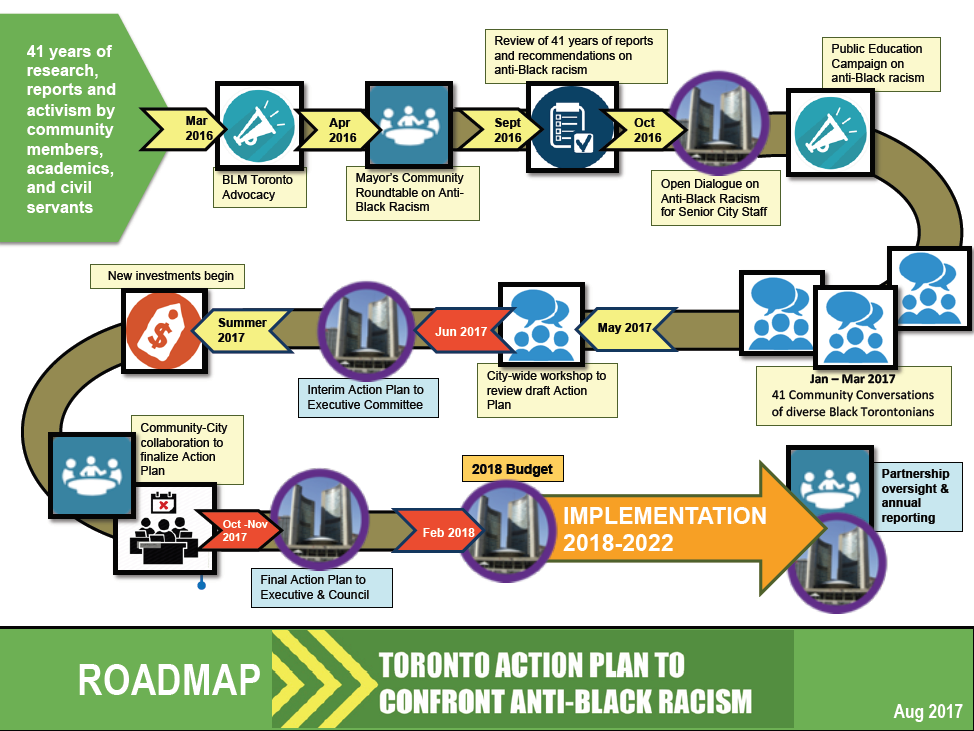 Description of Roadmap (Last Updated August 2017)
The roadmap begins by drawing on 41 years of research, reports and activism by community members, academics, and civil servants.
Black Lives Matters Toronto advocacy in March 2016 led into the Mayor's Community Roundtable on Anti-Black Racism in April 2016.
In September 2016, a review of 41 years of reports and recommendations on anti-Black racism was conducted.
In October 2016, an Open Dialogue on Anti-Black Racism for Senior City Staff was held, in addition to a public education campaign on anti-Black racism.
Between January and March 2017, 41 Community Conversations of diverse Black Torontonians were held.
In May 2017, a City-wide workshop to review the draft Action Plan was held.
In June 2017, the Interim Action Plan was approved by Executive Committee.
In the summer of 2017, new investments begin, along with Community-City collaboration to finalize the Action Plan.
Between October and November 2017, the Final Action Plan will be sent to Executive Committee and City Council for approval.
Following approval of the 2018 City budget in February 2018, implementation of the action plan will take place between 2018 and 2022. Implementation will include partnership oversight and annual reporting.
The City of Toronto invited five active members from the Black Community to join a new Community Selection Committee (CSC) that will review, assess and recommend funding for Anti-Black Racism Capacity Building Grant applications.
Terms of Reference
Purpose
The Community Selection Committee (CSC) will oversee grant making for Anti-Black Racism Capacity Building. Led by City staff in the Community Funding Unit and a project consultant on Anti-Black Racism Work, the CSC will implement both the grant call and recommend the allocation for the successful applicants.
Funding was approved by Council as part of the Anti-Black Racism Action Plan. City staff will seek approval of this grant call and the actual amount from Council in 2017.
The project consultant will facilitate and work with the CSC in the development of the grant call and adjudication with oversight from a City of Toronto Community Funding Unit Staff.
Tasks
Develop the grant call document which includes:

Objective of the grant
Eligibility criteria for applicants and project activities
Deliverables
Evaluation Criteria
Application formGrant call document in compliance with Toronto Grants Policy

Support communication regarding the grant call including hosting an Information Session
Review grant applications and deliberate to recommend the successful applicants to Social Development Finance and Administration Executive Director for approval
Timelines
The CSC's work will occur between September– November, 2017.
The timing for project milestones is as follows:
September 18: Selection and Orientation of the CSC
September 25: Develop and issue the Grant Call
October 4: Information session
October 31: Deadline for the grant application
November 8-17: Review of Grant Applications and recommendation
November 20: Allocation of Grant
Time Commitment of the CSC member
September 18 (half day) Panel orientation
September 25 feedback on the Grant Call
November 17 (half day) Deliberate on Grant applications and recommendation
November 20 (half day) Deliberate on Grant applications and recommendation (If necessary)
Membership
Community Members will be selected for the CSC based on their experience and availability to accommodate the project timelines. CSC members will be selected through Black communities, organizations and networks.
Community Members will be recruited who have experience and knowledge of
Community Granting, Access and equity issues, Anti-Black Racism issues, Capacity Building for Non-profit sector and the Black Communities in Toronto.
Four to Five members will be selected for the CSC with one or two funders who make grants in Toronto.
The Executive Director of Social Development will approve the appointment of members to the Committee on the recommendation of staff and the project consultant.
Authority
The CSC will work with staff and the project consultant to achieve each of the tasks outlined in the Terms of Reference. The CSC members will work on a consensus decision-making model. The final decision maker on the allocation of the grant is City Council.
Background
On April 20, 2016, Mayor Tory and Chief Saunders of Toronto Police Services hosted a meeting with Black leaders to discuss issues of systemic racism following Black Lives Matter Toronto's two-week encampment in front of police headquarters. As a result, Mayor Tory requested the Director of Social Policy, Analysis and Research in Social Development, Finance and Administration Division to initiate the process with Black Torontonians to talk about the impacts of anti-Black racism in Toronto and measures to address it.
In June 2017, the City of Toronto published an Interim Toronto Action Plan to Confront Anti-Black Racism and was approved by Council:
One of the recommendations of the Action Plan is the launch an Anti-Black Racism Capacity Building Grant program to enable Black-led social service agencies and Black-focused services agencies to recruit and train diverse Black Torontonians for leadership and governance roles in health and community organizations.
In May 2017, Mayor John Tory hosted a city-wide workshop to share the draft Toronto Action Plan to Confront Anti-Black Racism. The Action Plan was compiled using ideas from 41 Community Conversations that were held in partnership with 11 community agencies serving Black Torontonians between January and March 2017.
Approximately 120 members of Toronto's Black communities attended the feedback workshop, building on the initial ideas of over 800 Black Torontonians during the Community Conversations.
Feedback from the workshop is was used to refine the five-year Action Plan.
From January to March 2017, 11 community-based organizations partnered with the City to host 41 Community Conversations across Toronto. These organizations were selected as partners as they reflect the diversity of Toronto's Black communities in age, sexual orientation and gender identity, areas of residence, region of origin, and areas of interest.
In November 2016, the City and its community partner, OCASI-Ontario Council of Agencies Serving Immigrants launched a public education campaign to raise awareness about anti-Black racism in Toronto and to equip people with the means to identify it, question it and challenge it.
This was the second phase of the City's Toronto For All initiative which is intended to challenge people's perspectives and beliefs and encourage them to self-identify their implicit biases and negative attitudes in order to support a Toronto that says "no" to all forms of discrimination and racism, and which supports Toronto's motto: Diversity Our Strength.
Visit torontoforall.ca to see all the phases of our campaign.
Subscribe to receive periodic email updates.
Please type (do not copy and paste) your email address:
You will receive an email confirming your wish to subscribe.
Click to unsubscribe.