Emery Village Transportation Master Plan
The City has developed a long range plan that identifies the required transportation infrastructure to support existing and future development in Emery Village. This plan was completed in May 2009.
The recommended transportation network includes six features.
A new road connecting Toryork Drive with Finch Avenue West
A new road connecting Weston Road to Arrow Road
A new road connecting Rivalda Road to Deerhide Crescent
Pedestrian and Cycling Connections
Improved pedestrian connections from Finch Avenue West to Emery Collegiate Institute
Two Pedestrian Bridges as part of the Pedestrian and Cycling Connections
Study Area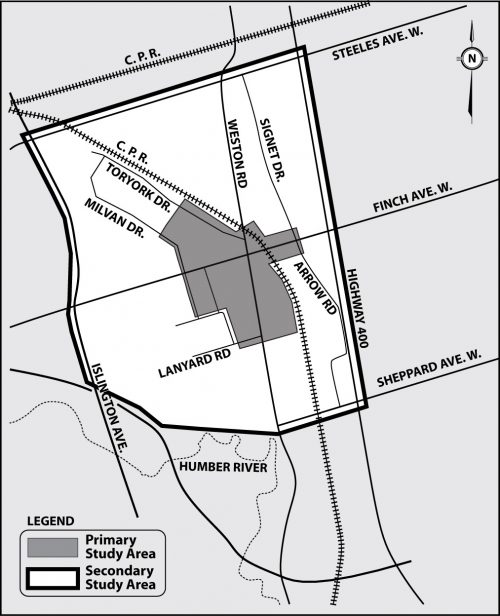 Final Report
What is a Class Environmental Assessment?
Ontario's Environmental Assessment (EA) program promotes good environmental planning by determining and managing the potential effects of a project prior to implementation.
The EA program ensures that public concerns are heard. EA balances economic, social, cultural and natural environmental needs so that projects benefit Ontario.
This study is being carried out according to the Municipal Class Environmental Assessment process. This is an approved approach to satisfying requirements of the Environmental Assessment Act specifically tailored to municipal infrastructure. The process includes identifying the problem or opportunity to be addressed, developing and evaluating a range of alternative solutions, providing opportunities for public input and identifying a preferred solution.