Get Involved
Field Ambassador
Your Field Ambassador is the main point of contact for questions and concerns about reconstruction of the Six Points Interchange Reconfiguration. Contact: etobicokecentre@toronto.ca, 416-338-7755
Sign up for Email Updates
Sign up to receive email updates on construction information and opportunities to get involved. Your contact information will be kept private and will only be used to share information about the Six Points Interchange Reconfiguration.
Construction Notification
During construction there will be temporary disruptions to local roads and traffic. Notification about construction impacts will be sent in advance of disruptions via Canada Post delivery and to the email contact list.
Jane's Walk 2019
Six Points Interchange: Walk 'Back to the Future'
Jane's Walks encourage people to share stories about their neighbourhoods and use walking as a way to connect. An exciting transformation is taking place in Etobicoke Centre! Join City of Toronto designers Allison Reid and Kellie Spence for a guided walk through the emerging Six Points reconfiguration. Look back and learn about the local history and evolution of the "spaghetti junction." See today where the bridges are demolished and experience firsthand the new roadway connections, sidewalks and streetscape designs. Look forward to the possibilities ahead and share in the vision
for future development, including the planned Etobicoke Civic Centre, community spaces, civic square and public parks. Don't miss out on this unique opportunity to walk "back to the
future" in a vibrant new urban centre designed for pedestrians.
DETAILS: Friday May 3, 2019. Meet at 1pm in Six Points Park, 10 Viking Lane (short walk from Kipling Subway). The walk will last approximately 1 hour. Wear walking shoes and dress appropriately for the weather. Rain or shine. Please note that the walk will take place on walkways made available for the public, sidewalks that are narrow, and next to fast-moving vehicles. We ask that participants wear bright-coloured, safety-themed clothing.
Construction Liaison Committee
The mandate of the Six Points Interchange Reconfiguration Construction Liaison Committee (CLC) is to provide community input and advice to City staff throughout the duration of construction work. The CLC is an advisory committee and not a formal commenting or decision-making body of the City of Toronto.
Throughout construction, membership in the CLC will reflect affected groups adjacent to construction locations including the following local interests:
Business Improvement Area (BIA)
Resident's Associations
Community Organizations
Neighbouring Properties
Ward Councillors
City Staff: Project Manager, Field Ambassador, Senior Public Consultation Coordinator
Meeting Minutes
Minutes from past CLC meetings are posted here.
Meeting 5 – November 28, 2018
Meeting 4 – October 3, 2018: Minutes
Meeting 3 – May 2, 2018: Minutes
Meeting 2 – February 21, 2018: Minutes
Meeting 1 – November 24, 2017: Minutes
Past Activities and Events
Speaker's Panel, November 27, 2018
Dozens of people gathered at Montgomery's Inn for an interactive evening to learn more about the past, present and future of Etobicoke Centre. The event also launched the Six Points Street Naming Competition and featured expert guests speakers:
Neil Cresswell, Director Community Planning, Etobicoke, City of Toronto
Lola Macanowicz, Islington Village BIA
Lois Broad, Islington Residents & Ratepayers Association
Leah Houston, Mabelle Arts
Kerry Ferguson, City of Toronto Land Surveys
moderated by Robyn Shyllit, Senior Coordinator, Public Consultation Unit, City of Toronto
Jane's Walk, May 5, 2018
Untangling Spaghetti Junction, the last walk through the interchange: Jane's Walks encourage people to share stories about their neighbourhoods and use walking as a way to connect. Walks take place in hundreds of cities around the world, and on this walk, participants "walked the unwalkable" together with Urban Designer Julie Bogdanowicz and City Staff as they shared information on Six Points past, present and future.
Community Artwork, 2017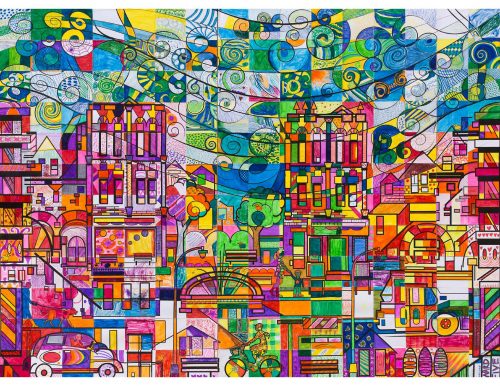 On May 11, 2017, community members came together at a public event to learn about the Six Points Interchange Reconfiguration, future Kipling Mobility Hub, and proposed new Etobicoke Civic Centre. The event included creation of a collaborative community artwork that will be displayed during construction. The design was created in partnership with The PATCH Project, and artist Monica Wickeler, and included participation from community members and local organizations: Arts Etobicoke, Creative Village Studio, and the Village of Islington Business Improvement Area. The mural is comprised of 192 individual tiles, and is 6x8feet in total size. It illustrates a Complete Street that is safe, accessible, and provides healthy and active travel choices for everyone.The mural was exhibited at the Etobicoke Civic Centre in summer 2017, and in the community at the intersection of Kipling and Bloor over the fall/winter months.
Public Event – Thursday May 11, 2017
An extensive public consultation program was carried out as part of the Six Points Reconfiguration Environmental Assessment from 2003 – 2007, and two community events helped shape the final design for the Reconfiguration in 2013 and 2014.
Detailed Design, 2013-2014
June 2013 – Community Update
June 2014 – Community Update
Environmental Assessment, 2008
To request assistance reading any files on this page, contact: etobicokecentre@toronto.ca 416-338-7755.