Humber Creek – Erosion Control & Creek Restoration
The City of Toronto has completed a Municipal Class Environmental Assessment (EA) Master Plan to identify solutions to reduce erosion, restore and rehabilitate, and protect City sewer infrastructure in Chapman Valley.
The study area is divided into four sections (or reaches) along the Humber Creek. Reach 1 is downstream of Scarlett Road while Reaches 2, 3 and 4 are upstream. Each reach maintains a separate restoration plan and recommendations.
Following consultation with agencies, City Divisions and the public, the following are the study's key recommendations, accepted by the City:
localized restoration work at priority locations along Reach 1 and 4, such as raising the creek bed and restoration of an outfall; and
complete restoration of Reach 2 and 3, including recreating the channel bed and banks using a combination of natural channel design and engineered methods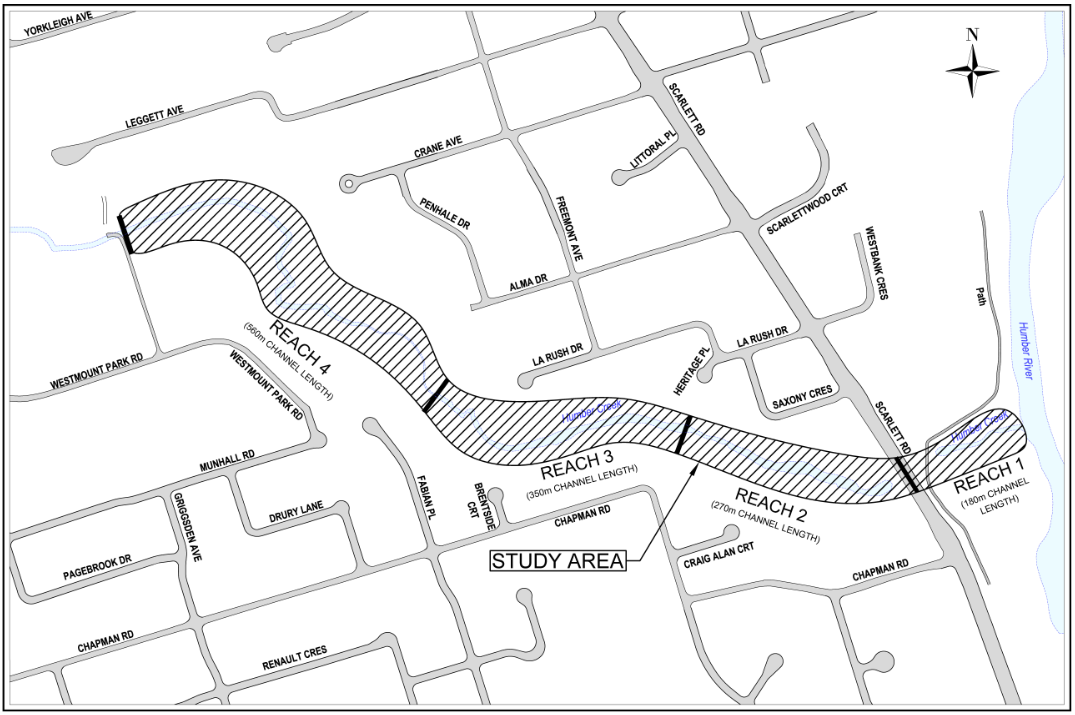 Read more about the Completed Study in the Executive Summary tab.
In 2003, Chapman Valley was identified in the City's Wet Weather Flow Master Plan as a priority site in need of repair.
The Process
The study is being conducted under the Master Planning provisions of the Municipal Class EA process (amended 2007). The Class EA process will provide members of the public and interest groups with opportunities for input to this study. The study will define the problem, consider and evaluate alternative solutions, assess impacts of the proposed solutions, and identify measures to lessen any adverse impacts.
Erosion Control Example
This Humber Creek restoration work was taken to address a single area of the creek with other areas still in need of rehabilitation.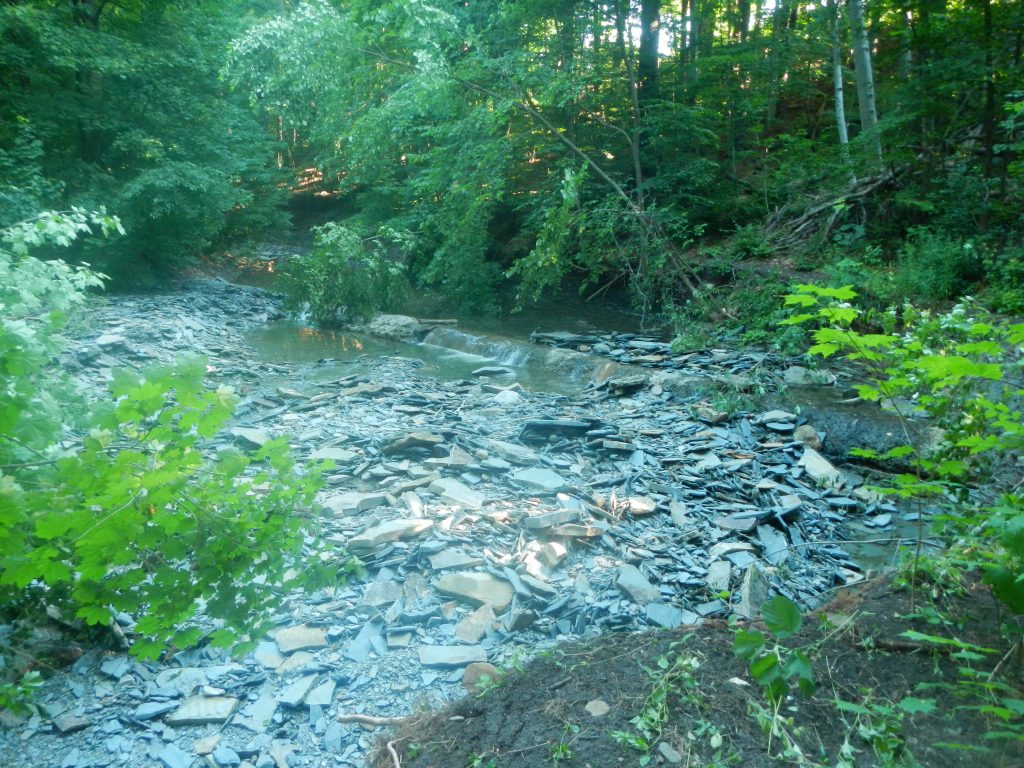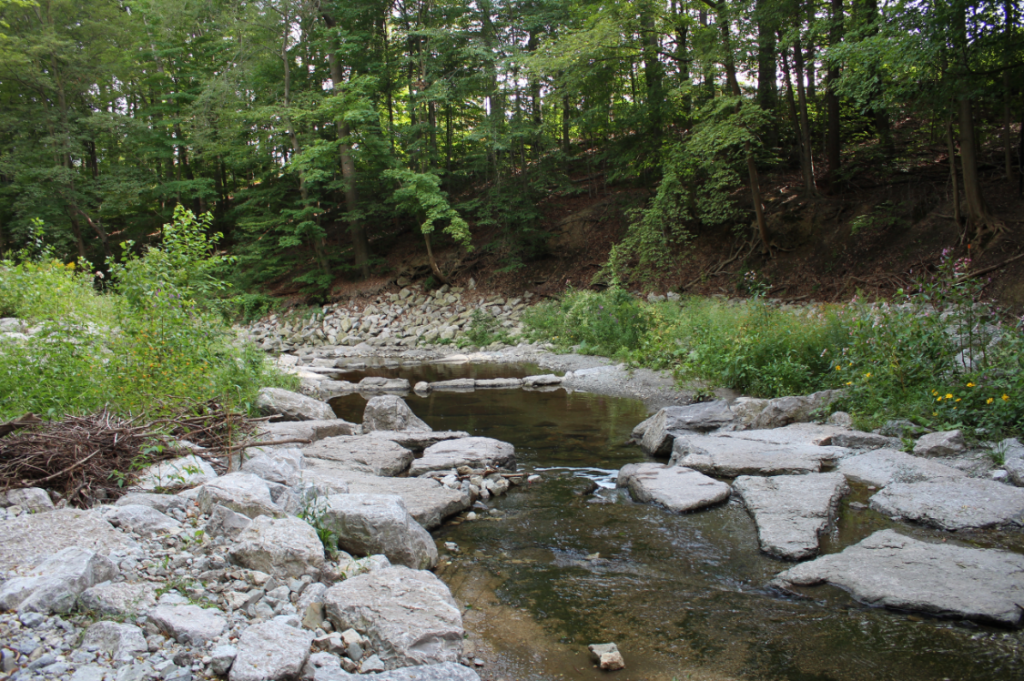 Public Drop-in Event (July 18, 2018)
Thanks to all who attended the Public Drop-in Event on July 18, 2018. You can view the notice for more information.
If you were unable to attend the event, you can view the Humber Creek display panels:
The study was carried out following the requirements for a Master Plan under the Municipal Class EA. A Master Plan study report was placed on public record for a 30-day review period from January 3 to February 1, 2019. It was available for review online or at:
Richview Library
1806 Islington Avenue
416-394-5120
Mount Dennis Library
1123 Weston Road
416-394-1008
If you have any outstanding issues with this project, please address them to City staff listed below and we will attempt to seek a mutually acceptable resolution. You have the option of sending a written request to the Ministry of the Environment, Conservation and Parks to request an order for the project to comply with Part II of the Environmental Assessment Act (referred to as a Part II Order) which addresses individual environmental assessments. A copy of the request must also be sent to the City contact. The last date when these requests can be received is February 1, 2019.
Alexa Aiken
Public Consutation Unit, City of Toronto
55 John Street, 19th Floor
Toronto, ON M5V 3C6
Tel: 416-338-2859
Email: Alexa.Aiken@toronto.ca
The Honourable Rod Phillips
Minister of the Environment, Conservation and Parks
Ferguson Block, 11th Fl.
77 Wellesley St. W
Toronto, ON M7A 2T5
Email: minister.mecp@ontario.ca
Director, Environmental Assessment and Permissions Branch
Ministry of the Environment, Conservation and Parks
135 St. Clair Ave. W, 1st Fl.
Toronto, ON M4V 1P5
Email: enviropermissions@ontario.ca
Appendicies
Large PDF files, available on request
Appendix A – Existing Conditions HEC-RAS Modelling Results
Appendix B – Geotechnical Assessment
Appendix C – Chapman Valley Environmental Impact Study
Appendix D – Letter from CTC Source Protection Region
Appendix E – Archaeological Assessment Report by TRCA
Appendix F – Public Consultation
Appendix G – Conceptual Design
Appendix H – Detailed Design Considerations
Study Process
Toronto Water is leading the Humber Creek in Chapman Valley – Erosion Control and Creek Restoration Master Plan Class Environmental Assessment, consistent with the Master Planning provisions of the Municipal Class EA Process (amended 2011), as well as the City of Toronto's Ravine Strategy (adopted 2017). Through the application of environmental assessment planning principles, an evaluation of options was undertaken using a broad based process, including consideration of environmental, social, economic, and functional criteria. The intent of the Master Plan is to provide an implementation program over the ~10 year horizon for the preferred alternatives defined through the study. The Master Planning Approach #2 was followed for this project, where the level of investigation, consultation and documentation are sufficient to fulfill the requirement of Schedule B projects.
The Ravine Strategy, developed by Parks, Forestry and Recreation, City Planning, Toronto Water, TRCA, and key stakeholders, sets out a vision with corresponding actions to guide the City in future decision making related to ravines, while addressing the challenges and opportunities associated with a wide range of varying interests.
Problem Statement
The Chapman Valley, designated as an Environmentally Sensitive Area (ESA), provides a conduit for Humber Creek and associated storm water flows, with an upstream drainage area of 815 hectares. This area is contained within the Humber River watershed, and is located within the westerly portion of Toronto, bounded by Scarlett Road, Rexdale Boulevard, Martingrove Road, and Eglinton Avenue. The majority of this area was rapidly developed in the 1950's through 1960's, beginning with residential and subsequent industrial development which altered the hydrologic characteristics of the subwatershed, significantly increasing flows within Humber Creek. The corridor also maintains a sanitary trunk sewer, constructed in 1950s, which was open cut through the valley and intersects the channel in a number of locations. At the time of construction, the sanitary sewer was entirely buried, inset into the shale bedrock well below the bed of the channel.
Over the last ~50 years, the channel has adapted to the urban development spurred hydrologic regime changes through erosion and downcutting, with rates exceeding well beyond typical thresholds. This has created an active and unstable Humber Creek channel, which has produced the following problems:
Exposures of the sanitary sewer infrastructure to the unstable Humber Creek channel

The primary risk with exposed sanitary pipes and manholes are pipe failure, which result in sewage spilling into the creek corridor, negatively impacting water quality, aquatic habitat, and public safety. Also, surcharges can occur to the sewer system, exceeding thresholds for treatment at the receiving treatment plant.

Failure of several storm sewer outfalls

Storm sewer outfalls have failed as a result of channel erosion undermining the structures, which has created extended pipe failures, along with local scour and erosion issues around the outfalls.

Erosion and slope instabilities adjacent to, and within private properties

Erosion and channel degradation adjacent to the valley walls have created oversteepened and unstable slopes, with loss of private properties, failing fencelines, and continued slope regression expected to occur.

Risks to recreational users

There is a significant network of informal trails through the study area, many of which are at unsafe proximities to vertical creek banks over 2 metres in height.

Risks to environment

The mass erosion of Humber Creek has undermined mature trees along the length of the channel. Additional impacts include negative impacts to water quality and aquatic habitat associated with erosion.
The rapid channel incision, which has one of the largest rates in the Greater Toronto Area, is caused by exposure of the Georgian shale bedrock to oxygen in air, and subsequent weathering and redox processes. A key part of the solution for reducing the weathering rate is to minimize the future exposure of the shale bedrock to air.
Consultation
Consultation, an essential requirement of the Municipal Class EA process, included the identification of interested and potentially affected parties, and informing them about the project in an effort to solicit knowledge of the local environment and receive input about key project decisions. Consultation and outreach activities occurred with regulatory and approval agencies, members of the public, public agencies, Indigenous communities, the City Councillor, with the Notice of Commencement distributed via Canada Post to 3,000 properties in the project's study area.
Alternatives considered in the evaluation methodology included the Null option (Alternative No. 1 – leaving the existing channel to continue actively eroding, downcutting, and depositing excessive bedrock particles throughout the channel system), Local Restoration (Alternative No. 2 – site scale solution provided at one or more problem locations within a reach), and Reach Scale Restoration (Alternative No. 3 – reconstruction of the complete stream reach). Each alternative was evaluated based on a set of physical, natural environment, social, cultural, and economic criteria. Physical and natural environment factors included erosion, water quality, aquatic habitat, terrestrial habitat, and terrestrial vegetation. Social and cultural factors included public safety, landowner impacts, benefit to community, and aesthetic value. Technical and engineering factors included impact on existing infrastructure and lifespan of works. Economic factors included capital cost and operations and maintenance costs.
A Public Information Centre (PIC) offered interested residents an opportunity to drop-in at their convenience to speak with City staff and consultants and review display boards regarding the project findings. The PIC was attended by approximately 20 people, with most attendees local residents to the study area with properties that backed onto the Chapman ravine. A feedback form was provided to the attendees to solicit input on the project. Following the event, the City received 26 email comments and 2 written comments from the meeting. Most comments involved opposition to the proposed hard surface (asphalt) trail connecting Chapman Road to Scarlett Road. Based on this public feedback, the existing natural surface trail will be retained. The remainder of the comments were supportive of the preferred alternative presented at the PIC, details of which are summarized in the report.
Implementation
Based on the understanding of existing conditions and the preferred strategy for addressing risks throughout the study area, an implementation plan has been developed. Six (6) distinct projects have been delineated based on risks, as well as department or agency interests. The prioritization has identified projects in which emergent conditions exist with immediate actions recommended, as well as projects which may be considered over the longer 5 – 10 year horizon. For the longer term projects, although future levels of risk have been anticipated, monitoring is recommended by the relevant agency to ensure conditions haven't worsened such that an expedited timeframe should be considered. A summary table of the proposed projects is included below, along with a figure illustrating the extents of each project at the end of the summary.
Table of Recommended Projects for Humber Creek in Chapman Valley
Priority
Project /
Reach /
Length
EA
Schedule
Preferred Solution
Cost
Estimate
Recommended
Timeframe
1
Project 2
/
Reach 2 /
Length
~90m
B
Structural encasement
of sanitary sewer
siphon, with engineered
channel restoration
tying into previous
repair works
undertaken at Scarlett
Road embankment.
Replacement of the two
storm outalls, including
scour protection.
$400 –
500k
Immediate /
Emergent
Conditions
2
Project 5
/
Reach 3 /
Length
~255m
B
Structural encasement
of the sanitary trunk
sewer, replacement of
the storm outfall with
scour protection, and
engineered channel
restoration
$1.8M
1-2 year
timeframe
3
Project 1
/
Reach 1 /
Length
~30m
A
Replacement of the
headwall structure and
scour protection to limit
further risks to the
Multi-use trail, Scarlett
Road, and the sanitary
sewer. Further
consideration regarding
the replacement of the
culvert should be
considered further.
$400 –
500k
2-4 year
timeframe
4
Project 4
/
Reach 3 /
Length
~40m
B
Toronto Water's Area
36 BF EA
recommended
replacement of the
450mm sewer with a
1200mm sewer and
enlarged outfall. There
will be a substantial
increase in outflow
from the outfall.
$300 –
400k
2-4 year
timeframe
5
Project 3
/
Reach 2 /
Length
~190m
B
Slope stabilization
consistent with the
reach based restoration
to move the
watercourse away from
the residential
properties and raise the
channel bed to improve
floodplain connectivity.
$1.3M
5-10+ year
timeframe
6
Project 6
/
Reach 4 /
Length
~190m
A
Local channel
restoration using
bioengineering around
MH, with native tree,
shrub, and ground
cover plantings
$70 –
80k
5-10 year
timeframe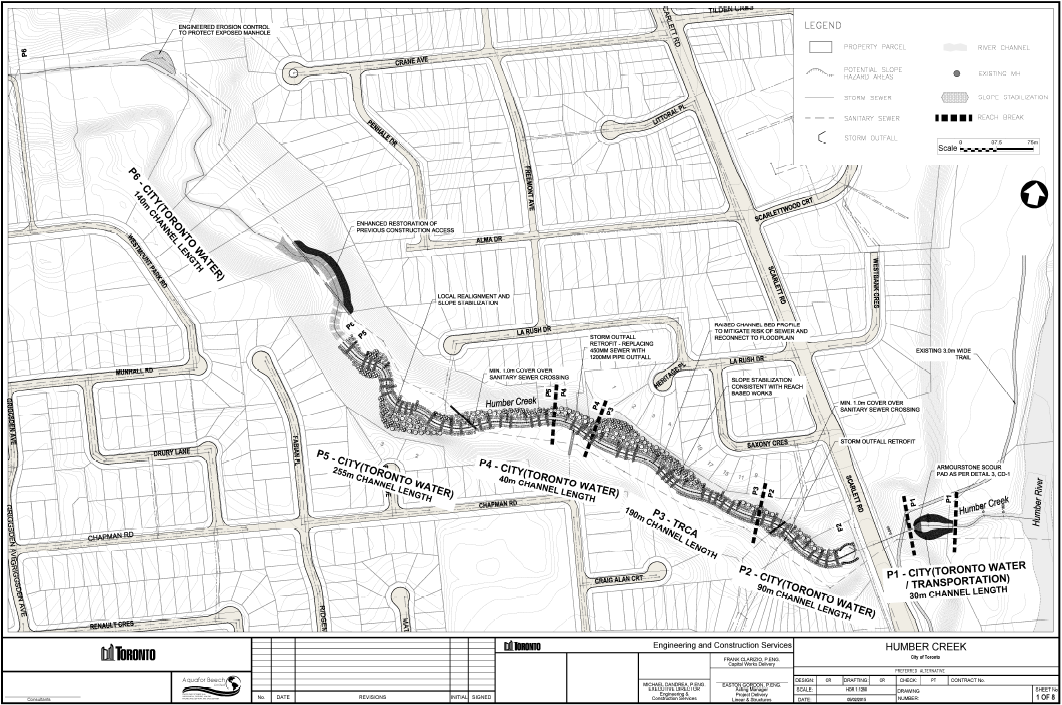 What is a Class Environmental Assessment?
Ontario's Environmental Assessment (EA) program promotes good environmental planning by determining and managing the potential effects of a project prior to implementation.
The EA program ensures that public concerns are heard. EA balances economic, social, cultural and natural environmental needs so that projects benefit Ontario.
This study is being carried out according to the Municipal Class Environmental Assessment process. This is an approved approach to satisfying requirements of the Environmental Assessment Act specifically tailored to municipal infrastructure. The process includes identifying the problem or opportunity to be addressed, developing and evaluating a range of alternative solutions, providing opportunities for public input and identifying a preferred solution.