Passmore Avenue Environmental Assessment
The City of Toronto has completed a Municipal Class Environmental on Passmore Avenue between Road and approximately 450 metres west of the intersection. The study was carried out as a "Schedule C" project under the Municipal Class EA process. The recommended design, as documented in the Environmental Study Report (ESR), includes:
a widening of Passmore Avenue from two lanes to a four lane roadway
an urban cross-section, including curbs, gutters, catch basins and underground storm sewers
a new sidewalk on the south side of the street
additional street lighting and trees
Environmental Study Report
The Environmental Study Report (ESR) was completed and placed on the public record for a 30-day review which ended on Friday, August 3, 2018.
These documents may not be fully accessible. For accessible formats or communications support, please contact: 
Maogosha Pyjor
Senior Public Consultation Coordinator
Telephone: 416-338-2850
Email: Maogosha.Pyjor@toronto.ca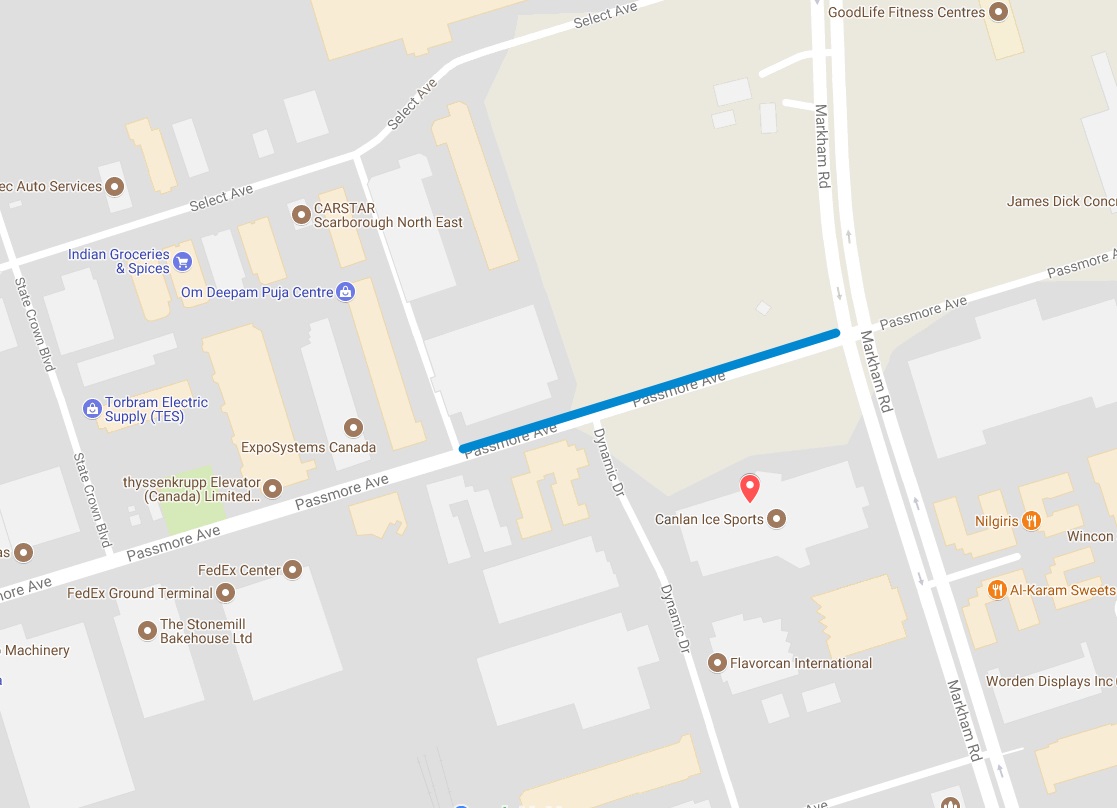 Municipal infrastructure projects are subject to the requirements under the Environmental Assessment Act (EAA).
The Municipal Engineers Association Municipal Class Environmental Assessment process is a streamlined planning process, approved under the EAA. This study is being carried out as a Schedule C activity under this streamlined planning process.
Located in the north-east part of Scarborough, Passmore Avenue is an east-west collector road in a mixed commercial/industrial area, with a 60 kilometre per hour (km/hr) operating speed.
The study area for this environmental assessment is bounded by Middlefield Road to the west, Markham Road to the east, McNicoll Avenue to the south and Steeles Avenue East to the north.
Passmore Avenue, west from the project focus area to Middlefield Road, was widened to four lanes in 1989. The project focus area, from the Markham Road intersection to approximately 450 m west, is a two lane rural road and is identified in the Official Plan to require a 27 m right-of-way.
In conjunction with necessary resurfacing work, there is an opportunity to widen this approximately 450 m segment and, in the context of future developments, extend stormwater and sanitary sewer infrastructure from Markham Road, west of Dynamic Drive, to the existing stormwater and sanitary sewer lines.
What is a Class Environmental Assessment?
Ontario's Environmental Assessment (EA) program promotes good environmental planning by determining and managing the potential effects of a project prior to implementation.
The EA program ensures that public concerns are heard. EA balances economic, social, cultural and natural environmental needs so that projects benefit Ontario.
This study is being carried out according to the Municipal Class Environmental Assessment process. This is an approved approach to satisfying requirements of the Environmental Assessment Act specifically tailored to municipal infrastructure. The process includes identifying the problem or opportunity to be addressed, developing and evaluating a range of alternative solutions, providing opportunities for public input and identifying a preferred solution.