Riverside Drive Reconstruction
The City of Toronto is reconstructing Riverside Drive from South Kingsway to Brule Gardens and resurfacing Riverside Crescent to bring the streets to a state of good repair.
Study Area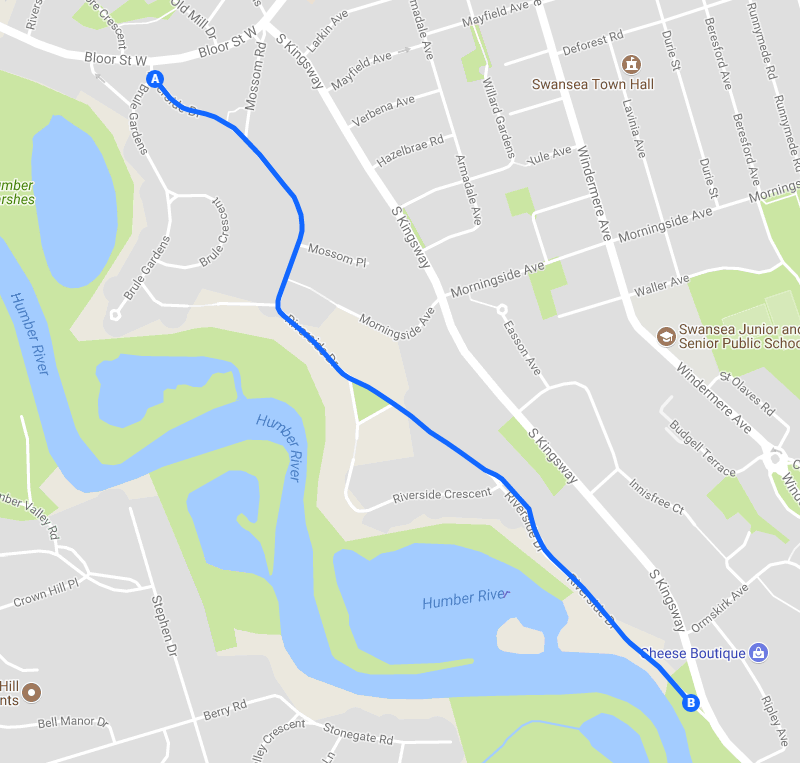 Project Background
Riverside Road is at the end of its service life and is in need of reconstruction. This work is part of the Council-approved 2016-17 Capital Works Program to renew aging city roads, sidewalks, and infrastructure, improve water distribution and reduce the risk of watermain breaks for current and future needs.
Replacing the existing retaining wall due to severe distress and corrosion, and stabilizing the slope.
Streetscape improvements, such as adding plants and trees.
Replacing the watermain and substandard water services.
Improving storm water management.
Building curbs and gutters.
A new pathway and boulevard will be installed during this process. As roads are typically fully reconstructed every 100 years, a road reconstruction project provides a once in a lifetime cost-effective opportunity to improve the street by implementing a sidewalk and further expanding the City's pedestrian network. It is the City's practice to recommend that local roads have a sidewalk on at least one side as they promote walkability, enhance pedestrian safety and comfort, and improve accessibility. The pathway will be constructed within the existing right-of-way. You can read more about sidewalks in the City's Walking Strategy.
Timeline
The timeline below is preliminary and subject to change.
2015
2016
Winter: Develop preliminary designs for Riverside Drive
February 25: Second public open house to review preliminary designs, gather comments, and answer questions
Spring: Refine designs
April 18: Second public open house to review revised designs
Summer – Fall: Revisions of final design
2017
February: Notification of Final Design
April 3: Third Public Meeting to present final designs.
Spring: Construction of the first phase of Riverside Drive, including the retaining wall
2018
May 3: Fourth Public Event to present final designs
Fall: Completion of Phase 1 work
Timing for Phase 2 work to be confirmed
Consultation
Public Open House #1
The City held a Public Open House on February 25, 2016 at Swansea Town Hall. Thank you to all who attended. Comments were accepted until March 10, 2016.
Public Open House #2
Thank you to everyone who attended the second public open house on April 18, 2016 to learn about the design, ask questions, and provide feedback. Comments were accepted until May 18, 2016.
Notification of Final Design
In February 2017 the City distributed notices of the final design for Riverside Drive. Please see the documents below for additional details:
Public Meeting #3
The City held a Public Meeting on April 3, 2017 at Swansea Town Hall. Thank you to all who attended.
Public Open House #4
The City held a final public open house event on May 3, 2018 to present the latest designs for public comment.
Construction Updates
May 2019:
Please note:
The construction plan and profile drawings show the property line, existing landscaping and utilities (gas, water/sewer) along with the location of new infrastructure (sidewalk, curb, roadway), and engineering details on the profile of the new infrastructure (height/depth)
The landscaping plan provides details on new trees and other landscape features along Riverside Drive.
January 2019: