St. Lawrence – Distillery Cycling Connections
The City of Toronto is proposing to install cycling infrastructure on The Esplanade, Mill Street and Berkeley Street (from The Esplanade to Shuter Street) as well as associated improvements for pedestrians and motor vehicle traffic. A number of options will be developed and presented to the community for feedback and input. A final recommendation will be submitted for approval to the Infrastructure and Environment Committee and City Council in 2020, followed by implementation in late 2020 or 2021.
This work is part of Cycling Network Plan Update approved by City Council in July, 2019 which builds on the Ten-Year Cycling Network Plan to connect, grow and renew cycling infrastructure across the City. The Network Plan includes both a long-term overall proposed network and three-year Near-Term Implementation Program. Please visit the Cycling Network Plan and map of existing bike routes for more information.
Subscribe for E-Updates
Subscribe to receive updates, reports and information on upcoming meetings related to the St. Lawrence – Distillery Cycling Connections.
The personal information on this form is collected under the authority of the City of Toronto Act, 2006. The information is used for follow-up communications and future consultation opportunities regarding this project. Questions about this collection can be directed to Tracy Manolakakis, Manager, Public Consultation Unit at 416-392-2990 or tmanola@toronto.ca.
Update #1, November 20, 2019.
Project staff were available at the September 26 public consultation for the revitalization of David Crombie Park. Display boards and a feedback form were shared, as well as an online link to the form to circulate. The feedback form was open until October 11, 2019. A summary of all feedback will be produced and shared with the community.
City Council Approved Network Plan
The Cycling Network Plan Update was approved by City Council in July 2019. This plan builds on the Ten Year Cycling Network Plan with a strengthened focus on safety and equity, and includes a long-term overall proposed network and three-year Near-Term Implementation Program.
More People Walking and Cycling
The neighbourhoods located near The Esplanade, Mill Street and Berkeley Street (to Shuter Street) have seen an increase in activity, including new construction and more people walking and biking. These three streets already provide key connections to cycling routes but need improvement to attract people of all ages and abilities to feel comfortable using them.
In addition to cycling improvements, recent traffic counts and observations have identified the following local concerns that this project will also address:
Motor vehicle congestion – creating pedestrian safety concerns at key intersections
Increasing pedestrian volumes throughout the project area
Cycling and pedestrian safety and access concerns
General Project Process & Public Participation
Options for cycling infrastructure and traffic changes will be developed and presented to the public for feedback and input in early 2020. Based on feedback received, Staff will submit a final recommendation to the Infrastructure & Environment Committee and City Council for approval in 2020. If approved, installation will be scheduled to start in late 2020 or 2021. The schedule for the installation of cycling infrastructure and associated traffic changes will be dependent on the requirements of the recommendation.
One of the project goals is to complete installation of any improvements prior to construction impacts related to the nearby bridges that cross the Metrolinx Rail Corridor (Lake Shore East line) as part of the Union Station East Corridor Expansion. The other project goals include:
Community residents, businesses and organizations will be invited to a public consultation event in early 2020 to learn and comment on the proposed options and the criteria that will be used to evaluate the options. Please sign up by email to receive project updates.
Cycling Infrastructure & Considerations
The City will be considering the following types of cycling infrastructure:
Shared travel lanes for people who cycle and people who drive
Dedicated bicycle lanes separated by painted lines only (Bike Lanes)
Dedicated bicycle lanes separated by barrier (Cycle Track)
Combination of above
Considerations
The available roadway width may be impacted in order to install cycling infrastructure. The change in width may impact other uses of the road for things such as parking and truck travel. On narrower roads, street parking (On-Street Permit and/or Pay & Display) may need to be removed or relocated in order to accommodate cycling infrastructure.
In conjunction with cycling infrastructure implementation, traffic flow modifications may also be necessary in order to help improve safety for people who walk and cycle.
Motor vehicles changes may include:
Turning restrictions (No Left Turns, No Right Turns on Red Light)
Access restrictions (No Entry to certain blocks by private vehicles, Trucking restrictions)
Two-way/one-way conversions or one-way direction reversals
Reducing motor vehicle speed limits
Selected traffic calming options such as bump outs
Options will also consider potential impacts to:
TTC Bus Route 121
Wheel-Trans
Deliveries to businesses
Emergency Vehicles
Parking for Accessibility Permits
Cycling Network & Connections
One project goal is to improve the cycling connection from downtown Toronto to neighbourhoods east of the Don River.
The Esplanade and Mill Street provide a key east-west connection to the following popular bike routes:
Yonge Street Bike Lane
Sherbourne Street Cycle Track
Cherry Street Bike Lane
Martin Goodman Trail
Lower Don Trail
River Street Bike Lane
The Esplanade and Mill Street would also serve as a detour route for people cycling during Metrolinx bridge construction by connecting Sherbourne Street to Yonge Street and Cherry Street Bike Lanes, and the Martin Goodman Trail.
Berkeley Street will provide a key north-south route near and parallel to Parliament Street. A bike route on Berkeley Street will connect with:
Martin Goodman Trail
Shuter Street Bike Lane
Cycle Tracks on Richmond Street and Adelaide Street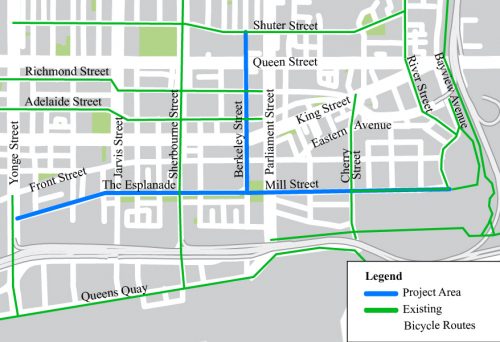 The short URL for this webpage is www.toronto.ca/CycleStLawrence